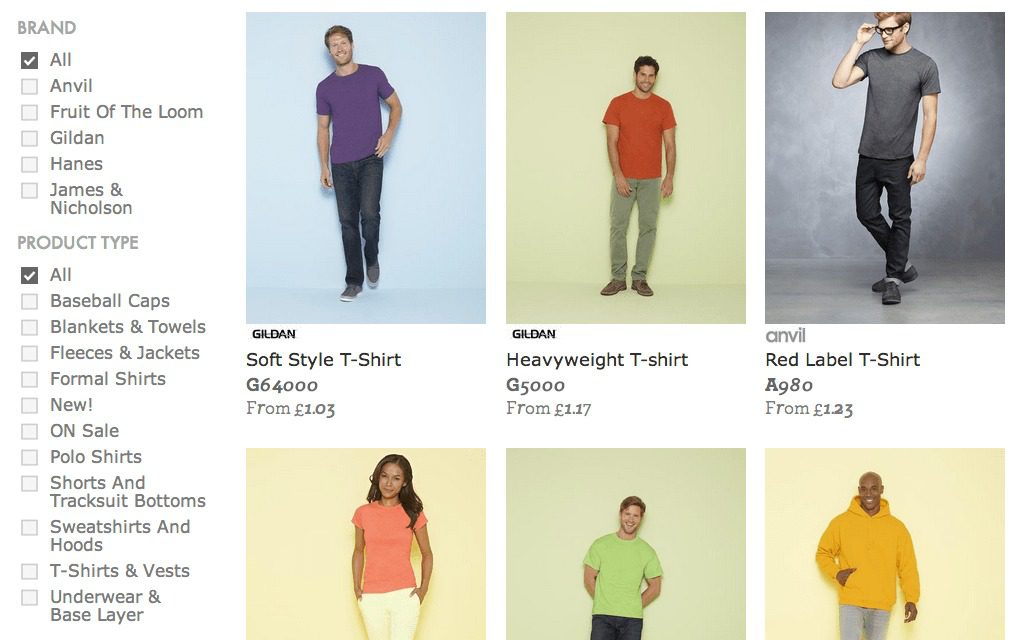 B2B organizations are taking cues from their B2C counterparts to help make the online researching and buying process more compelling. In fact, more than 80% of businesses have established new processes and implemented new technologies to respond to new buyer preferences, according to Wakefield Research.
Although apparel wholesaler PAG Leisurewear serves businesses as well as individual customers, its B2B sales are thriving. PAG Leisurewear has commissioned NetSuite to re-launch the e-Commerce site so it successfully mirrors the features and capabilities of B2C sites.
"The Internet has changed the nature of our business," said Michael Hanreck, Partner at PAG Leisurewear, in an interview with Retail TouchPoints. "We're able to put all our products on display with pricing structures and people are able to browse more easily. The whole process of taking an order is seamless, so it's no longer difficult for someone to place an order of 200 items."
A refined search section, for example, allows B2B and wholesale customers to sift through PAG Leisurewear products by brand, product type, size and other attributes. Interactive scroll functionality gives customers more detail on B2B-centric information, such as product fabric, case quantity and the number of colors available. PAG Leisurewear also is leveraging an advanced grid order sheet to help customers quickly select and add items to the cart.
"We structured the web site so it's designed for the wholesale customer," Hanreck explained. "These customers typically order across sizes in one color, whereas normal shoppers know their size and buy several colors. With that said, we've tried to make the online experience very intuitive and friendly for someone who knows nothing about the T-shirt business, and has never seen our company or web site before."
The Evolution Of Wholesale
Wholesale customers visiting the PAG Leisurewear site also are able to access current and future stock information in various time periods, an important capability for customers who may need to complete an order quickly.
PAG Leisurewear's site re-launch speaks to the ongoing evolution of the B2B and wholesale worlds, in which businesses are taking note from their retail peers to streamline the browsing and ordering process.
"If someone wants to, they can easily order one navy shirt, or they can complete a larger order," Hanreck said. "We'll be seeing this a lot more on B2B web sites, I think. There's the realization that not everything needs to look like a bad spreadsheet. But it's only recently that people in the B2B world started making their web sites look nicer."
Typically, wholesalers and distributors expect buyers to know product codes, Hanreck noted. But now, "we sort the homepage with important information, such as what is in stock, fabric weight, and other factors that are important to B2B buyers. However, the technology is still very B2C. We may be churning thousands of T-shirts to buyers, but we can still make the site look beautiful."
PAG Leisurewear initially implemented NetSuite in 2008 to run financials and other back-end business operations. The wholesaler has since deployed its web site on the SuiteCommerce platform, which provides real-time visibility and control of the entire business.
Shaping Experiences To Consumer Demands
Buying behaviors and preferences are changing on an ongoing basis — both in the B2B and B2C worlds. Cloud-based solutions can empower brands and retailers to react more swiftly to shifting attitudes, and accommodate the needs of current and prospective customers.
For example, NetSuite's cloud-based platform provides the business agility to rapidly expand into new markets and sales channels, while reducing IT costs and providing a seamless customer shopping experience.
"The nice thing about the NetSuite offering is it's quite customized," Hanreck said. "Because NetSuite has such depth to it, it's quite easy to decide on Monday that I want to integrate with a load of third-party sellers, for example. There are various bits of add-ons that are already functional and can be bolted onto the system. It's not a four-month project. You can be much more adaptable and react much more quickly."
Hanreck added that technology is constantly changing, and the pace of that change is only accelerating, making the cloud an optimal investment for PAG Leisurewear. "NetSuite is always being upgraded to offer us much more than the typical wholesale technology provider."