Many ecommerce retailers, particularly in the apparel space, have resigned themselves to return rates of 20%, 30% or more as a death-and-taxes-style inevitability. But Otero Menswear, an online-only retailer specializing in shirts for men of modest height (no taller than 5' 10"), has brought its return rates down to 3% — approximately half of which are exchanges rather than true returns.
Founder and CEO Steve Villanueva credits the quality, design and fit of Otero's shirts as a key factor, but also recognizes the vital contribution of virtual fitting room technology provided by Perfitly. The solution creates an avatar representing the shopper's body after he takes a selfie and/or answers a few basic questions (height, waist and pant lengths, and basic body type — either a rectangle or an upside-down triangle). When shoppers virtually try on shirts, the Perfitly solution reflects not only the shopper's body but also the specific characteristics of the garment's design and materials, showing almost exactly how it would move and fit in real life.
That's vital for Otero, since its shirts often are made with multiple fabrics as well as design elements to help wearers give the impression of greater height. "We incorporate vertical lines through the different materials we use to make our shirts," explained Villanueva in an interview with Retail TouchPoints. "We have a shirt that has a mercerized cotton front — that's a fabric that has elasticity but is very strong — and piqué down the side. This creates a color blocking effect that draws your eye to the center and 'leans and lengthens' the customer's appearance. Every element of the garment is unique to your height, and each shirt is in proportion to your height."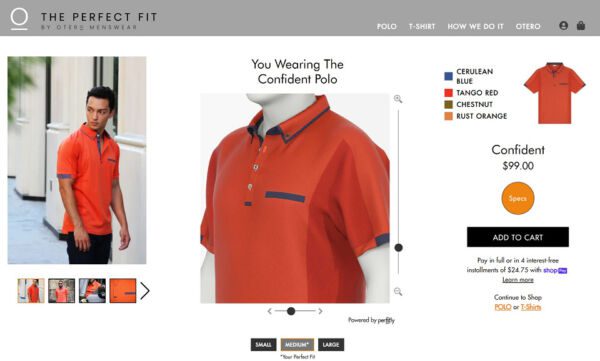 Otero's and Perfitly's goal is to re-create, as accurately as possible, the experience of buying a garment in person and being able to view how it looks in a mirror. "We create a digital, accurate replica of the consumer's individual body, not a proxy body" said Dave Sharma, Founder and CEO of Perfitly in an interview with Retail TouchPoints. Perfitly claims a 97.5% accuracy rate when the technology has a selfie to work from, and a 95% rate based just on responses to questions.
To help Perfitly provide an accurate representation of the weight, fit and movement qualities of each shirt, the solution provider uses the same digital cut patterns and construction data that designers send to manufacturers. "The same designs that are sent to Bangladesh for manufacturing are given to us digitally, and we are virtually manufacturing the garment," said Sharma.
When Otero relaunched its website in June 2021, the retailer put the Perfitly solution front and center. Previously, the virtual fitting room technology was "three layers into the site," said Villanueva. Now, visitors are asked the four basic body type questions as soon as they confirm they are not too tall for Otero's offerings — a winking nod to the signs at amusement parks saying "You must be this tall to go on this ride."
"We discovered that guys don't take their own measurements and they don't like to send selfies," said Villanueva. "We had to create a different way to get the value out of the relationship [with our customers] and the virtual fitting room technology."
Online-Only is No Problem for Otero
The retailer had operated a brick-and-mortar store in Arizona's Scottsdale Fashion Square Mall, but closed it down in March 2020 just as COVID-19's impacts were being felt. The in-store shopper experience also had made fit its prime focus. "We didn't even have price tags in the store, but it didn't matter," said Villanueva. "If we got them to try on a shirt, they bought it; shoppers were buying an average of three shirts per visit. Our goal was to get someone into the store and into a shirt."
Following the physical store's closing, "we shut everything down and reconsidered how to approach our online business in a way that would emulate the retail experience," said Villanueva. Now, with the revamped site in full operation, "we're seeing people buying multiples online, although some 'early adopters' buy just one," he noted, adding that most purchases take place on a shopper's first visit to the site.
A Treasure Trove of Data
Both Otero and Perfitly see the value of the body scan data they collect. "Our core solution takes the individual and the individual garment, and that produces a lot of data," said Sharma. "Today, data leads to analytics, and that leads to AI, and that's where this whole industry will have to go if it wants to survive in the long term."
Better data, and lower return rates, also are critical to sustainability efforts. Fewer returns mean retailers don't have to carry as much inventory, meaning there's less impact on the environment from manufacturing products that people won't end up using. Additionally, less "bracketing" — consumers buying multiple sizes of a garment and then returning those that don't fit — reduces shippers' carbon footprints.
For Otero, the data can serve as a key asset if the retailer moves into different categories. "We have scans from tens of thousands of people, every guy, every height, all aspects of their body," said Villanueva. "If we move into jeans, for example, we won't have to just follow an industry standard; we can customize by height as the key driver."
For now, however, Otero is focused mainly on providing a superior ecommerce experience. "Our goal is to take the risk out of online buying — and to have a little fun," said Villanueva.