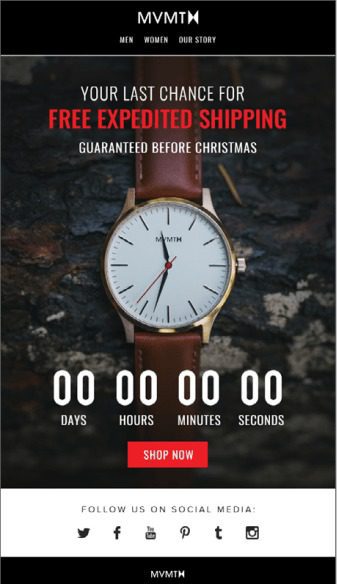 It takes two hands to show the correct time, and for e-Commerce retailer MVMT Watches it's taken two email companies to craft a successful marketing strategy. Only three months after supplementing its partnership with marketing agency Email Aptitude with the Klaviyo platform, the brand:
More than doubled its email-generated revenue with 105% growth;

Increased open rates by 30%;

Increased conversion rates by 45%; and

Grew click-to-open rates by 62%.
With the holiday season kicking into gear, MVMT introduced a flash sale for the weekend prior to Black Friday to drive engagement and interactions with the brand. Utilizing Klaviyo's segmentation and targeting technology and Email Aptitude's email content management capabilities to test preview emails the day before Thanksgiving, MVMT Watches managed to increase email-generated holiday weekend revenue 262%; improve engagement by 30%; and boost revenue by 196%.
Email Becomes Essential Amid Business Growth
These results were everything co-founders Jake Kassan and Kramer LaPlante could ask for considering the relative youth of the MVMT brand. The co-founders started the company in 2013, getting their business off the ground after raising more than $200,000 on Indiegogo. With the crowdfunding in hand, Kassan and LaPlante launched the company's first line of six men's watches in 2014. They have since expanded to include dozens of additional designs, watches for women, watch straps and sunglasses.
As the brand grew without any capital funding, the co-founders sought marketing help at affordable price points.
"Email made sense for us because it's the one area you don't have to spend much money in when you're bootstrapping a business," Kassan said in an interview with Retail TouchPoints. "It's the given channel where you can own that customer's information and you're able to market to them essentially for free. You're hitting a relevant audience in their personal inbox and there's a good chance they're going to read it if you have good tactics in place."
Dual-Platform Strategy Reaps Targeting, Segmentation Benefits
With both partnerships in hand, the retailer could deploy sophisticated segmentation and one-to-one personalization strategies. For example, when MVMT was unveiling a new product line, the retailer leveraged the services of Email Aptitude within Klaviyo's technology to offer exclusive pre-launch ordering to a segment of its subscribers — even enticing viewers with an in-email video and a launch countdown timer.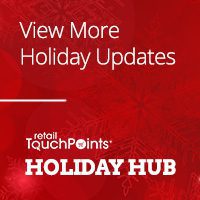 When MVMT wanted to target subscribers who had not yet purchased its products, the marketing team worked with Email Aptitude to highlight social proof, showcasing reviews and top-rated products to motivate recipients to buy.
"We have weekly calls with Email Aptitude, and we have a project management tool, Asana, that we can talk with them on," said Kassan, MVMT's CEO. "It really is an extension of our company. We work with a lot of outsourced agencies and one thing that we always look for is if they able to take over the campaign significantly. We want to provide creative assets, but are they able to work as if they were in-house and be that extension? Email Aptitude has done a great job of that."
Kassan noted that the dual-solution dynamic enabled them to successfully A/B test email strategies such as drip campaigns, which consist ofa pre-written set of messages sent to customers or prospects over time.
"The most popular campaign is a post-purchase drip or even an abandoned cart email where someone looks at a product, leaves and gets an email notifying them that it's still in their cart," Kassan stated. "The email may have a 10% discount attached if the shopper buys it within the next 24 hours. There's so many ways to implement these, and every single drip campaign we have deployed makes money."