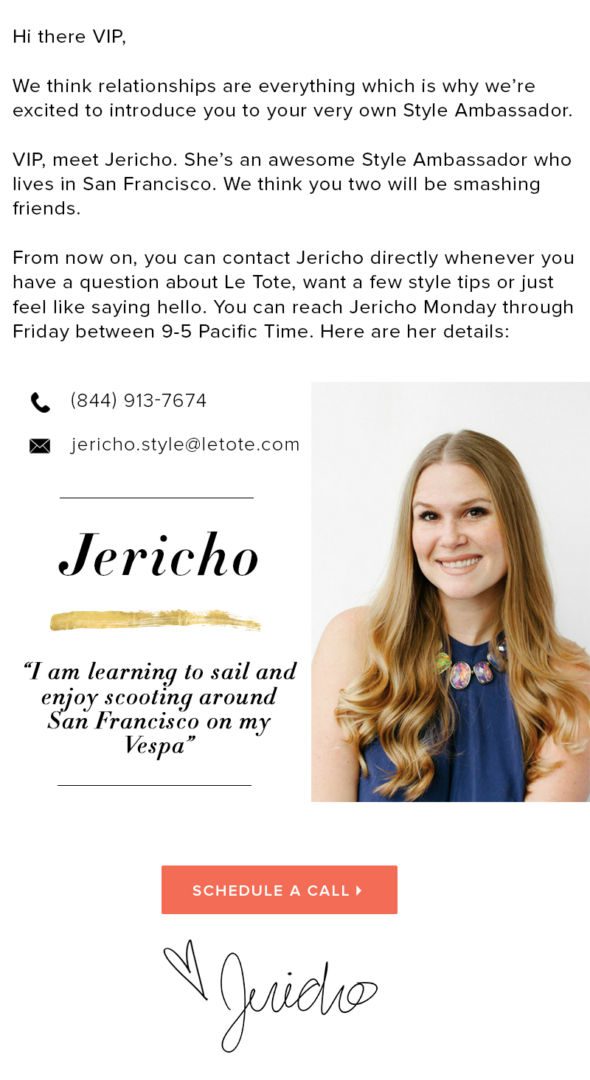 Le Tote was created to make shopping easier. After all, the brand's female audience has a big problem: They want to stay in touch with the latest trends, but don't always want to overhaul their closets.
"Our goal is to provide a personalized rental experience where women can access really great brands," noted Lauren Miller, VP of Marketing at Le Tote. Featuring thousands of brands and 80,000 different SKUs, Le Tote delivers personalized "totes" to consumers' doorsteps based on their unique tastes and preferences.
Each tote features three apparel items and two accessories, which consumers can either purchase outright or return. For $49 monthly fee, consumers can receive an unlimited number of totes.
"We want our customer to make the final edit," Miller explained, "see the final tote we create for them and swap out anything she doesn't want."
But with this highly personalized business model comes the need for intimate one-on-one communication between customers and Le Tote stylists and service representatives. At the same time, the retailer needs to accommodate a high volume of customers, while keeping costs low.
"Personalization is a huge theme for us," added Aubrie Rice, Head of Customer Support. As the business has grown and Le Tote's inventory has expanded, "we've been ramping up customer service. The relationships we're building with customers are really key."
By partnering with Zendesk, Le Tote has access to a more robust platform that streamlines customer service operations.
Previously, the team worked from Gmail. "One of the biggest problems was that anyone could jump in and answer a customer service question," Rice explained. "There would be times where we would lose emails and we just couldn't keep track of phone conversations because they were taking place on personal phone lines."
But now, the Le Tote team works from one central platform that enables them to create a personalized and consistent experience across different service touch points.
Customizing The Service Experience
In the early stages, Le Tote used Zendesk to manage email inquiries. After four months, the retailer launched chat and a corporate service line, and is now looking to launch Facebook's Business on Messenger as another service channel.
These moves are integral to Le Tote's overall goal of being more proactive and engaging in service efforts, which in turn, helps its stylists build long-term — and profitable — relationships.
"We were always reactionary with our service initiatives," Rice said. "But now we're trying to be more proactive and present at the moment of truth."
Because the Zendesk tool is customizable, Le Tote has developed a web of widgets that combines customer service tasks, Frequently Asked Questions (FAQ) articles and email service. This helps the retailer "follow customers through the experience," Rice explained.
If shoppers have a question, they first access the FAQ articles, which are displayed on a single page. However, if they have follow-up questions, they can click a question mark that's displayed in the corner of the page to connect with a service rep.
Le Tote also is leveraging Zendesk to send more proactive messages. For example, every time a new member joins the service, the customer service team sends a welcome email that shares information about the service rep and the company.
"So any time they have an issue or if they just want to talk about the tote they received, they can reach out to that person in the company," Rice said. "We also can create triggers in chat, so if a consumer takes a specific action on the site, we can reach out to them. This has been very helpful in helping us automate the personalized experience."
Le Tote team members also can use customer feedback aggregated from Zendesk to improve the e-Commerce experience, as well as marketing and merchandising tactics.
"We are a small team but we can learn really fast from the community about where we can bring our customer service," Rice said. "And the Zendesk tool is really customizable so we're able to come up with an idea and figure out how to execute it."