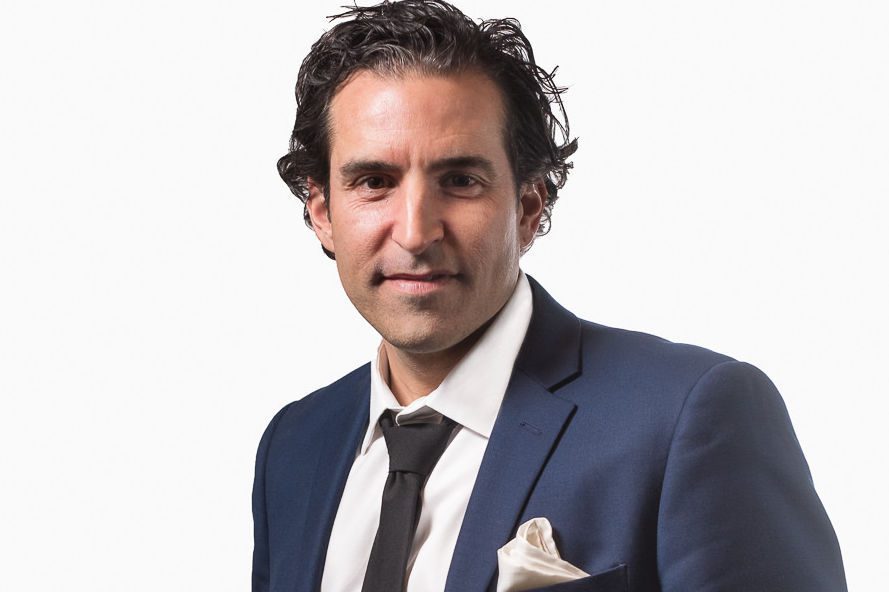 Five years ago, retail innovator Phillip Raub disrupted the industry when he co-founded b8ta, a retail-as-a-service company with experiential, data-driven showrooms designed for trying and buying new tech products. Now he has his sights set on flipping the furniture industry on its head as CEO of Model No., an on-demand custom furnishings company driven by consumer needs and led by a devotion to technology, design and environmental responsibility.
Model No. was created to solve the furniture industry's key pain points: mass production with little original design or customization ability, long delivery wait times and unsustainable manufacturing. The startup offers a digital showroom that allows consumers to fully customize items to fit their needs, from shape and color to size and budget, with the expectation of delivery within a few weeks. Additionally, through the adoption of 3D printing technology using agricultural waste from corn husks, sugar cane and sugar beet as materials, the company minimizes carbon emissions and toxic byproducts while creating an upcycled collection of sustainable home furnishings.
Retail TouchPoints (RTP): What was the inspiration behind launching Model No.?
Phillip Raub: The furniture industry hasn't evolved in decades, although environmental and consumer needs have. Currently, furniture items are mass produced with a one-size-fits-all mentality, constructed from materials that are not sustainable or eco-friendly. Model No. was founded by Jillian Northrup, Jeffrey McGrew and Vani Khosla to solve these problems and reimagine how you can access sustainable, artfully designed custom furnishings at accessible price points.
Model No. is revolutionizing how furnishings are designed, produced and sold. Our distinctive approach provides custom sustainable products that are created on-demand by consumers. Model No. seeks to be the industry standard for using the latest technology to provide home products with zero waste.
RTP: What kind of environmental impact does the current business model have?
Raub: The trend of "fast furniture" has arisen from retailers and consumers prioritizing quantity over quality, with cheap furniture that can be replaced every couple of years. This poses a great threat to the environment, as Americans throw out more than 12 million tons of furniture and furnishings each year, according to the EPA. Model No. hopes to redefine the furniture industry with a commitment to sustainable manufacturing, domestic sourcing of materials and delivery methods. While we believe that sustainability is key to redefining the industry, we also recognize that great design and customization must be prioritized as well, to deliver furniture items that match customers' unique styles and needs.
RTP: How does Model No. respond to consumers' shifting needs? How has the pandemic upended those needs or accelerated certain trends the brand is responding to?
Raub: The past year has accelerated the need for change with a shift in lifestyles. When COVID-19 hit, increased time spent working and schooling from home added to the need for quality custom items delivered in short time frames. Additionally, recent negative climate events — from wildfires to hurricanes — raised the alarm and created wider consumer awareness to really re-evaluate the products and services they invest in and how they are impacting the environment.
Model No. has responded to this shift through our cutting-edge approach to prioritize technology, customer experience, design and environmental integrity. In response to consumers' dynamic needs presented by the shift in lifestyles, Model No.is offering a comprehensive collection of products for every room of the home, such as dining suites, coffee and side tables, chaise longues, office suites and home accessories.
RTP: How have tech advancements like 3D printing helped Model No. execute on its business model?
Raub: 3D printing and CNC (computer numerical control) fabrication are widely used in other industries; however, we believe we are the first to adapt these technologies for use in the furniture industry. Jeffrey McGrew, Model No.'s CTO, designed and built our 3D-printing machines in-house, which has enabled us to provide customers with high-quality products that can be ordered on-demand.
In the same way that you can easily build the car of your dreams or customize a pair of Nike shoes online, customers are looking for a similar method to order a desk for their makeshift office or a kitchen table that doubles as a homeschooling desk. Companies such as Tesla have not only transformed what customers can expect in the car purchasing process with sustainability, customization and leading technology, but also pushed other companies in the industry to follow suit. Similarly, Model No. hopes to be a leader in the industry to not only create change, but also inspire other companies to do the same.
RTP: How does Model No. support sustainability?
Raub: Model No. prioritizes sustainability through the manufacturing process, distribution of items and sourcing of materials. Model No. works with partners that turn unused food crops into BioResins. We then use those specially formulated BioResins to make furniture and accessories. Because most furniture contains highly toxic materials such as flame-retardant chemicals, Model No. uses an innovative method of sourcing BioResins, sustainably harvested woods and reclaimed hardwoods. In the 3D printing process, Model No. uses a BioResin (or BioPolymer) instead of a petroleum-based material.
Our materials are sourced by our partners from agricultural waste — corn husks, sugar cane and sugar beet. Using these materials not only minimizes carbon emissions and toxic byproducts, and they also are biodegradable.
Additionally, Model No. aims to reduce its carbon footprint by sourcing materials locally and shipping within the U.S. Model No. has begun exploring creating micro-factories around the U.S., where products can be 3D printed in consumer hot spots to aspire toward carbon neutrality. While most mass furniture brands require large distribution centers and warehouses with excessive space to house overproduced furniture items, these micro-factories would only require a small area. Model No. plans to add recycling facilities in these spaces in order to take back used items and re-use the materials to manufacture upcycled products.
Finally, Model No. aspires toward zero waste and seeks to develop products for the circular economy. Each product has its own individual model number, making it seamless to identify the type of material that the product was built with and the year it was manufactured, which can then be broken down to raw materials to be repurposed through 3D printing.
RTP: How do personalization and customization fit into the online experience of Model No.?
Raub: At Model No., we believe that the one-size-fits-all approach is not efficient for providing customers with options tailored to their individual needs and budget. That's why Model No. provides consumers with the opportunity to customize an item's size, color, shape and materials. When shopping at Model-no.com, consumers can pick from presets (colors, shapes, dimensions and materials) when designing an item, or they can utilize Model No.'s digital studio, which provides the deepest level of customization offered on the market with the fastest turnaround. While other manufacturers may take up to three months to deliver a non-custom product (and six-plus months for a custom product), Model No. is able to produce and ship the customized product in approximately three weeks.
RTP: Are there plans for brick-and-mortar locations or pop-up spaces?
Raub: Model No. is partnering with b8ta to provide a unique retail experience for customers to seasonally view the company's furniture. Through this partnership, Model No.'s digital showroom is available to experience in person for the first time. This engagement will last through the end of March 2021 at b8ta's Palo Alto, Calif., location.