The CBD industry has seen explosive growth in recent years, especially in the booming wellness sector. U.S. consumers spent an estimated $14.9 billion on CBD products in 2020, with that number projected to increase to $26.4 billion by 2025, according to research from New Frontier Data and Square.
This growth trajectory is particularly impressive given the regulatory disconnects that the industry has to contend with. In the absence of formal governance from the FDA, states have moved ahead with their own patchwork of regulations. These have made it generally legal to sell CBD nationally while simultaneously making it difficult to advertise, especially since major platforms like Facebook, Google and Amazon currently ban the promotion of CBD products.
As a result, CBD brands are getting innovative with their marketing tactics in order to engage new customers and educate consumers about an often misunderstood subset of the cannabis industry.
CBD, cannabidiol, is derived from the cannabis plant like its counterpart THC, but it doesn't create a psychoactive response. To skirt advertising bans, many brands talk around the term CBD in their advertising, focusing on wellness messaging and using words like "hemp" instead.
Using Interactive Quizzes to Engage and Inform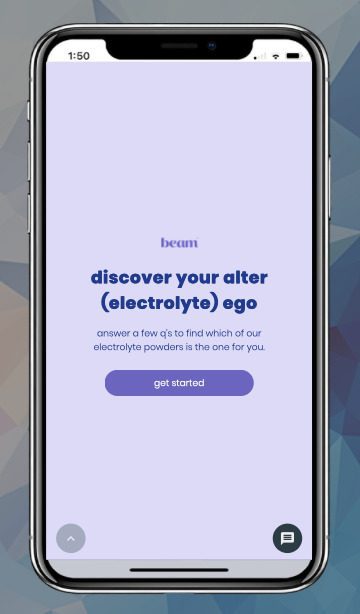 Direct-to-consumer CBD brand Beam, which sells powders, tinctures, capsules and topicals with a wellness bent, uses a combination of influencer marketing, paid social and paid search to get the word out about its products. Recently, the brand added a new tactic ­— custom quizzes that help Beam navigate the unique circumstances of the CBD category and achieve the twin goals of education and conversion. As a bonus, Beam is using the consumer data gathered via the quizzes to create more personalized marketing communications.
After first trying to build its own custom quiz solution, an endeavor that turned out to be expensive and time-consuming, Beam deployed a series of quizzes from Jebbit.
"Since we are in a high consideration industry, the Jebbit product match quiz is instrumental in building trust with our customers by finding the right product for them and then educating them about their specific product," said Alyssa Warth, VP of Growth at Beam in an interview with Retail TouchPoints. "It is a great tool to use on our site and in advertising. We see very high engagement through it."
Deployed on social media and the brand's own website, the Beam product match quiz guides visitors through a series of questions to determine the wellness issues they want to target, and what product will be the best fit. Since launching the product match quiz in spring of 2020, more than 19,000 customers have participated, with a completion rate of 87% and a marked increase in conversions, said Warth.
Enhancing Engagement with Gamified Experiences and Personalization
In addition to helping quickly zero in on a customer's needs, interactive features like quizzes are an easy way to "gamify" the shopping experience, a practice that has been shown to increase consumer engagement.
Beyond the initial acquisition and product matching, Beam also uses the insights gathered through the quizzes to get visibility into customer preferences and behavior. Beam then integrates data points such as preferred products and reasons for using CBD with the marketing platform Klaviyo to create more personalized marketing communications.
"With Jebbit's Klaviyo integration, we are able to integrate our email marketing to personalize product information and education," said Warth. "This helps up provide the appropriate information to people that are most interested, which supports user engagement and acts as a piece of the funnel."
By all accounts, the strategy is working. Beam completed a $5 million Series A funding round in early February 2021 that included investments from a number of celebrity athletes, including racecar driver Danica Patrick (who is also an ambassador for the brand), NHL player Kevin Hayes and former NHL player Brooks Laich.