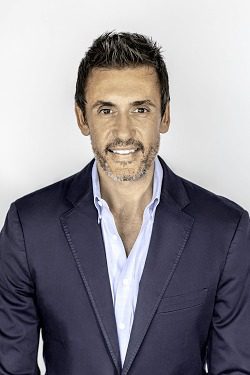 Technology has supported the creation of cashierless stores in the form of Amazon Go and its competitors, but totally unattended retail requires even more extensive support. Generation NEXT Franchise Brands seems to have cracked the code with Reis & Irvy's: self-contained, 15-square-foot robotic vending machines offering frozen yogurt, ice cream and gelato with a choice of six toppings.
The Reis & Irvy's machines create the personalized desserts in full view of the customer in 60 seconds or less, accompanied by music and animation. The machines, operated on a franchise model, use supplies from Dannon as well as major food distributors US Foods and Sysco.
Rising labor costs and other challenges faced by retailers, particularly convenience stores and QSRs, could make robotic retailing a more attractive option, according to Nick Yates, CEO of Generation NEXT Franchise Brands.
Retail TouchPoints (RTP): Your company has had a recent growth spurt with placements of the Reis & Irvy's robotic vending machines. Where have you had the most success in terms of locations?
Nick Yates: We really just started ramping up recently. We started with our alpha test units of the robotic vending machines in summer of 2018, and by May 2019 we had approximately 270 units in the field — and about half of those had been delivered in the eight weeks prior. We've pre-sold approximately 4,000 units, or approximately $160 million worth of robotic kiosks.
When we first started, we were doing placements in a range of locations: grocery stores, family fun centers, airports, work environments. We also expanded to big sports complexes like hockey and ice rinks, as well as malls. Corporate environments with just one eight-hour shift of workers have been more of a challenge — we've done better in places with two or three shifts. Also we're in a large number of hospitals. We hadn't been too sure about that, but we're seeing that we really appeal to that third-shift worker who may be relying on this as a healthier alternative meal replacement. We've also had some heartwarming experiences, where a doctor brought a kid that had just had surgery to see the frozen yogurt robot, and that put a smile on the kid's face.
RTP: The machines are equipped with proximity sensors and data monitoring for operational support, such as when they need to be restocked with cups or other supplies. Are they capable of capturing other types of data that might be useful for analysis?
Yates: We know by how a customer pays for the product — with a credit card, Apple Pay or Google Wallet — whether they are a repeat customer or a new one. We're also able to track times of day when the most sales take place, as well as which products and toppings are trending in a particular area. Now we're evolving toward capturing more analytical data, for example what the weather was outside at a particular time of day. As we start to put more units out into the field, we'll try to find more data to collect, as well as ways to communicate with consumers, perhaps through an app. If we know someone is close to where a machine is located, we can send a message saying 'By the way, there's a Reis & Irvy's machine near you, and here's an offer.'
RTP: How do you see unmanned retail or robots fitting into larger consumer and retailing trends?
Yates: We're seeing retail, particularly food-related retail, struggling right now. With minimum wage levels increasing, the cost of labor is increasing. Then there are the basics of finding the right building, fitting it out and marketing the location to bring customers into the store. All of those components of this retail model seem to be a bit flawed.
One of the reasons McDonald's is trying automated ordering systems at checkout and robots in their stores is because of the impact all these elements are having on their business model. With frozen yogurt retail stores, I've seen them closing down quickly. They are often more focused on emerging markets outside the U.S., where they can generate higher revenues per store, in places like Dubai, Abu Dhabi or India. That's why I think the robotic model is the future of this business — this disruptive technology could be applied to other types of consumables like coffee, popcorn or sushi.
RTP: What are your key goals going forward?
Yates: We're already ramping up production and increasing installations of the Reis & Irvy's kiosks, month by month. It's critical to us to get these units built, placed and shipped. We're also testing our Print Mates kiosk in some of the largest retailers in the U.S. This is an instant printing station that allows customers to edit, crop and manipulate the photos on their phone, and then create six different-sized prints. People can order the images for booklets and refrigerator magnets, which are then shipped to the customer's home. Rather than doing these on a franchise model, we'll own this through our company, which is publicly traded. It's a bit more of an emotional component, because we feel like photos shouldn't be stuck on your phone. They should be on your desk or other places you can see them.
RTP: Has your background been in technology or retail?
Yates: I'm actually a vending guy; I come from a family of vending entrepreneurs, including my dad and my father-in-law who did this back in Australia. I grew up in this business, and my goal has been to find a product that I can modify, upgrade or sell in a different way, via vending. I wanted to create a footprint around the world. I started in Australia and for the past 13 years I've been in the U.S.
Coming to the U.S. as an Aussie, you get to understand that the geography and the population here is much bigger, so you have to think bigger than you do at home. And you evolve by making mistakes, and trying to learn from them.