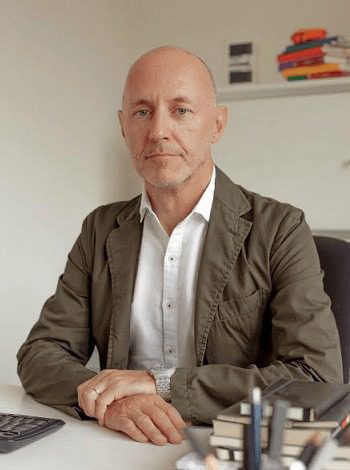 In this exclusive interview with Retail TouchPoints, Moleskine CEO Arrigo Berni explains the company's transformation, from a single branded notebook to a global retailer featuring branded boutiques and cafés.
Loyal consumers have depended on Moleskine as their go-to brand for notebooks, diaries, sketchbooks and planners since 1997. Designed based on products sold in Paris in the 19th and 20th centuries, the Moleskine brand was trademarked in 1997. By the early 2000s, sales reached $26 million; and the company was purchased by a European private equity firm in 2006. Moleskine products were sold in 22,000 stores across 95 countries by 2012; and the company went public in 2013.
By 2012 the company also began opening branded stores, and it also went digital, partnering with Evernote to produce a digital notebook that could be synced with a smartphone, and offering print-on-demand photo books.
Fast forward to 2016: Moleskine now operates close to 70 stores in the U.S., Europe and Asia, with plans to add 20 new locations per year, according to Berni. And cafés featuring food and beverages are popping up.
Cafés Take Creativity Cues From The Brand
Moleskine is testing a café concept, starting with two locations in Geneva and Milan (the location of the company headquarters). If successful, the concept will be expanded and could enter the U.S.
"The cafés are part of our expansion into new categories, starting from the assumption that Moleskine as a brand can be expanded beyond core paper products," Berni explained. Moleskine is now selling bags, wallets, smart pens and apps in addition to its core paper products. "We want Moleskine to be considered more of a lifestyle brand, focused on creativity, exploration, culture and personal expression."
With Starbucks in mind… "We are looking to create spaces that represent the values of the brand and provide people with an experience that combines food and beverage, built mainly around coffee," Berni noted. "Taking inspiration from the way Starbucks was started — to give people a new kind of space, a home away from home — hence the sofas and chairs. Likewise, we are considering the Moleskine café a contemporary interpretation, blending a certain type of experience consistent with the creative brand positioning."
Marketing Focus Is Experiential
The new Moleskine cafés are indicative of the type of marketing Berni and his team are focused on for the brand. "Marketing for Moleskine is doing things that make sure the brand is perceived correctly by our target audience," he explained. "It's not really about talking about the brand directly, so you won't see traditional advertising, its more about doing projects like the cafés: we will host events, exhibitions and book presentations, for example, that will nurture the perception of the brand. And obviously, this being 2016, we will make sure we have a presence on social media."
Currently in the café, Moleskine is providing opportunities for professional and non-professional artists. For example, Hamilton creator Lin-Manuel Miranda, Adele, and Airbnb co-founder Joe Gebbia all conceived ideas for their work in Moleskine notebooks. A café exhibition space will feature sketches by architects Cino Zucchi and Kengo Kuma, as well as illustrator John Alcorn and fashion designer Salvatore Ferragamo. Moleskine fans from around the world also will be invited to provide their own artwork for an interactive sharing wall.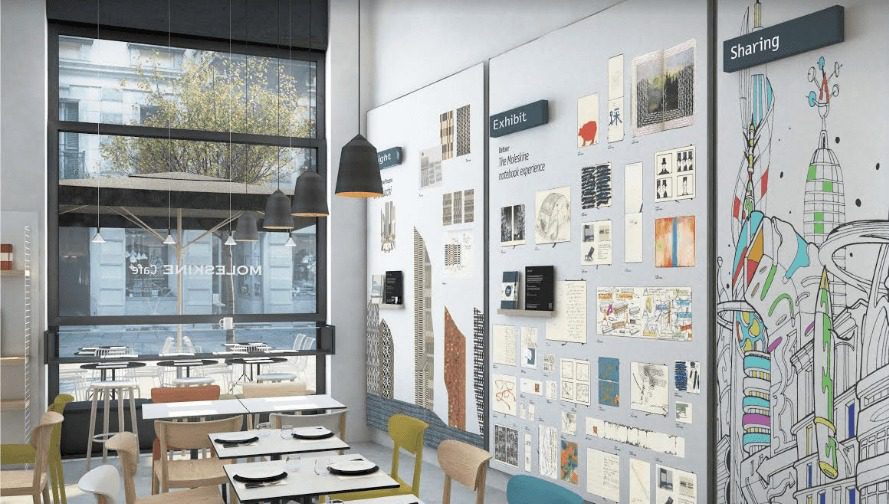 Reaching A Diverse Group Of Target Customers Via Social Channels
Moleskine's target customers range from approximately age 18 to 55 and the company doesn't discriminate by income, Berni said. "Most have achieved high education levels and many are involved professionally in activities that involve a certain degree of creativity, such as architects, designers, illustrators and writers. But more and more we are expanding our reach to people in business who recognize the attractiveness of the brand."
Because the Moleskine target audience is so diverse, the company has ventured into social media in different ways. "Most recently we started on Snapchat to reach a younger audience," said Berni, "and Instagram is one of the channels that works best for us." Although, he added, "It is tricky with Snapchat because it is difficult to measure success."
So how does Moleskine define social media success? "We look at the level of comments, likes, engagement and interactions on what we post," Berni explained. And while he acknowledges that Facebook is a target because of its sheer size, "we have made a few attempts but haven't figured out the right way" to market and sell on the platform.
Focus On Product Personalization
Although Moleskine is still in its infancy when it comes to the latest store technology, according to Berni, a focus on product personalization is the top priority. On its e-Commerce site and in a few stores, Moleskine offers the ability to personalize notebook covers with a name or other copy.
"We saw an immediate positive uptick in our e-Commerce sales the moment we started offering that personalization," Berni said. "We are working on more personalization for the future. But the name of the game is quality of execution. So we are talking about things but we must make sure they work once we offer them."
Constantly on the move with creative new ideas and approaches to brand transformation, Moleskine is definitely a company to watch.