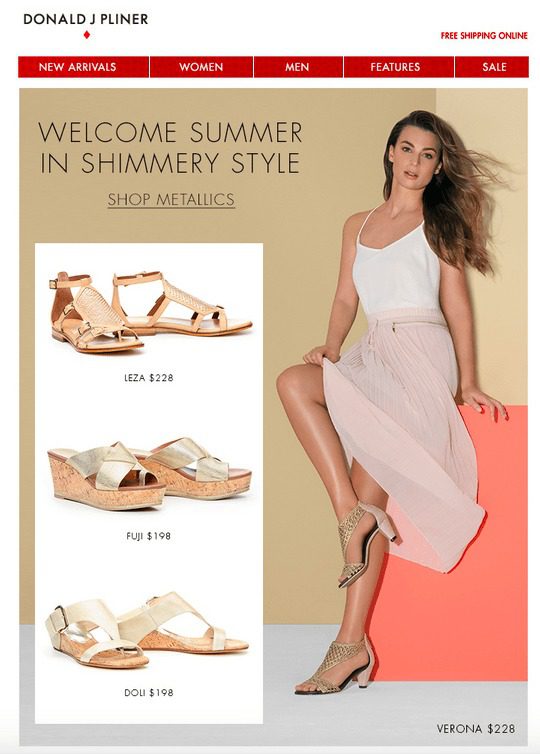 To better gauge the wants, needs and preferences of shoppers, brands and retailers must build comprehensive profiles that outline their entire relationship with the business.
Over the years, luxury footwear and accessories brand Donald J Pliner has developed a business that spans across channels. In addition to six branded stores and a direct-to-consumer e-Commerce site, Donald J Pliner sells through major department stores such as Nordstrom and Neiman Marcus, independent shoe boutiques and online retailers such as Amazon and Zappos.
As a result, the brand has faced challenges in creating a comprehensive picture of customers and their overall loyalty.
"If I buy Donald J Pliner shoes from the Garnett Hill catalogue or Nordstrom, how do you know I'm a regular customer?" noted Julian Chu, Operating Partner at Castanea Partners, which is the holding company for Donald J Pliner and several other brands. "Like most brand manufacturers, we have limited visibility to the customer in our wholesale channels."
Because Donald J Pliner doesn't technically "own" the customer through these wholesale networks, team members have a limited understanding of these customers, including their recency, frequency, monetary value and merchandise preferences.
"We only see what is selling through by store and in the aggregate," Chu said. "So in this channel we rely in close partnerships with our retail partners to collaborate on putting together seasonal assortments that will best meet the wants and needs of their customers."
Although Donald J Pliner's direct channels provide the brand with a wealth of data about individual customers, the company previously had issues accessing this information. Moreover, team members lacked the tools to analyze data across touch points, Chu explained. "We didn't have a cross-channel view of the customer, so we couldn't identify where and when customers shopped across different stores including the online store."
A Push Towards Customer-Centricity
A new partnership between MarketLive and AgilOne is now empowering Donald J Pliner to create a more unified view of its customers by combining their digital and physical entities. Recently, MarketLive launched ML-360 to give retailers a complete picture of customer preferences and purchase intent. ML-360 was developed in partnership with AgilOne, which provides the predictive technology to facilitate highly targeted customer acquisition, retention and loyalty campaigns.
Donald J Pliner initially moved its e-Commerce site to MarketLive in early 2013. This provided the brand with improved site stability, performance and manageability.
"We stopped worrying so much about the technology and could focus on marketing and merchandising," Chu noted. This led to the brand implementing AgilOne in 2014 as its integrated customer analytics and marketing database system.
"The ability to combine our retail POS and online transactional data gave us a single view of the direct-to-consumer business," Chu reported. "AgilOne also provided householding and customer de-duplication capabilities, which are essential to developing a more accurate picture of your customers."
With AgilOne, the brand was able to identify a segment of repeat buyers and implement an email campaign designed specifically re-engage and reactivate them. The marketing team also was able to identify VIP customers, track repeat purchase patterns and communicate with these customers at the right time. Since implementing these more advanced marketing campaigns and tactics, Donald J Pliner's online revenue has increased by approximately 50%.
In addition to improving its email campaigns, AgilOne has helped Donald J Pliner maximize ROI on its direct mail program.
"The catalog is not dead — far from it, in fact — but it's an expense medium so one has to be careful," Chu said. "AgilOne gives us the ability to analyze the incremental return from each direct mail campaign so as we expand the program, we'll know which customers to target with direct mail, and how often. And thus, hopefully add to the bottom line!"
Over time, Donald J Pliner has been able to mine deeper customer insights, such as the total number of categories shopped and overall rebuy rate. The brand also can determine how many consumers shop across multiple channels. Chu noted that these insights "directly influence important decisions we are making every day."
Customer-centricity now has become a strategic focus for Donald J Pliner, and both MarketLive and AgilOne are helping the brand see success, according to Chu. By breaking down organizational silos, Donald J Pliner will be able to answer crucial questions, such as:
Which marketing programs serve best to acquire new customers?
How much do we have to spend to acquire them?
Which customers can we retarget primarily via email, and which ones are really influenced by our direct mail campaigns?
What content/offers should be in any of these campaigns?
What kinds of products/price points does a given customer prefer?
"By understanding these attributes for our customers, we can tailor our marketing strategies and offers to the right customers to both increase their relevance to the customer and improve the return from our marketing investments," Chu explained. "In the end it's about becoming a more profitable business."