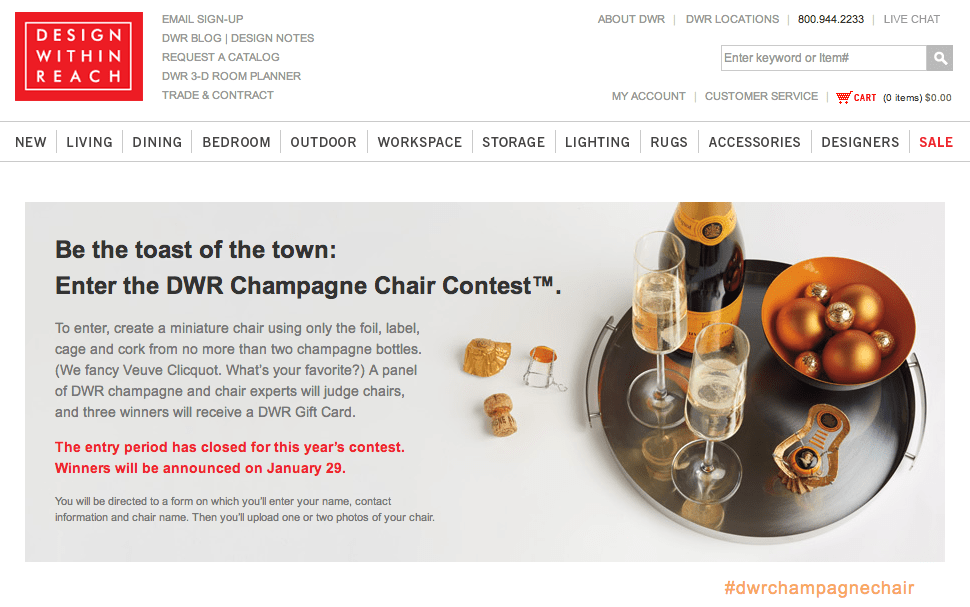 Social networks have become thriving communities for like-minded individuals to share their thoughts and opinions. Using social syndication and curation solutions, retailers can recreate these highly interactive groups on their e-Commerce sites, generating more interest and engagement around the brand and its products.
Design Within Reach (DWR) took a more unique approach to social media and user-generated content. Rather than having consumers simply snap photos of their purchases and share them on Instagram or Facebook, DWR encouraged fans to enter the "Champagne Chair Contest," asking them to create and upload a photo of their own miniature chair, using only the foil, label, cage and cork from a maximum of two champagne bottles.
Using the Fanreel solution from Curalate, DWR created a custom landing page on its web site, providing a seamless way for fans to submit photos for the contest via Instagram, desktop or mobile phone. The retailer was then able to moderate and display photos on a custom gallery on the landing page.
During the campaign's entirety, more than 710 photos were submitted via the Champagne Chair gallery on the DWR web site, and nearly one million impressions were generated on Instagram, a 108% increase over the retailer's standard engagement rate on the social network.
"The Champagne Chair Contest gives us a chance to engage with our fans and customers on a personal level in a public forum," said Lauren Guerrieri, Social Media Coordinator for DWR, in an interview with Retail TouchPoints. "People love the idea of even having their chair featured by DWR, let alone winning. We have a large group of design fans who look forward to this every year; not only to enter but also to watch and see the other creative submissions. For us, this is the ultimate way to engage with people outside of our main brand messaging and also to leverage user-generated content."
Legend has it that DWR Founder Rob Forbes came up with the idea of the Champagne Chair Contest at a New Year's Eve party, Guerrieri explained. It eventually turned into the company's "most unique design contest. It has become a design challenge that allows our audience to showcase their creativity, originality and design knowhow."
The Champagne Chair Contest first launched in 2003, however, the campaign was rejuvenated in 2013, when it was rolled out through the Fanreel solution.
While the Fanreel platform offered a seamless experience for consumers to actively participate in the contest, it also provided valuable insights and metrics into campaign engagement and overall effectiveness.
Over the course of the latest campaign installment, which ran from Dec. 27, 2013 to Jan. 14, 2014, total Instagram engagement for DWR grew 238%, resulting in an increase of more than 9,700 interactions, including photo comments and likes on brand-related photos. Additionally, the retailer's total Instagram follower count increased by 32%.
"During the Champagne Chair Contest, we could see which photo entries were most popular among users in real time," Guerrieri said. "Additionally, we didn't want the contest to have a barrier to entry. Fanreel allows participants the option to upload via Instagram or from their desktop computer, which was crucial. Finally, we needed the campaign to be on brand. Fanreel's capabilities allowed us to design the look and feel of the online gallery and entry page to our branding standards. The Fanreel team worked with us on every level and met our requirements every time, constantly exceeding our expectations."
The Value Of Instagram
More than 235,000 followers across social networks, including Pinterest, Instagram, Tumblr, Facebook and Twitter refer to DWR to shop and seek decorating advice.
"Social media plays an integral role across departments, from customer service and questions to home décor inspiration, e-Commerce and digital marketing," Guerrieri said. "We also use social media to showcase our personality as a brand, fueled by the talented design fans that make up our internal teams."
Over time, Instagram has become especially valuable because "as a brand, DWR relies heavily on visuals," Guerrieri explained. "We like to give our followers behind-the-scenes,sneak peek and exclusive photos that are not foundanywhere else. Additionally, Instagram's notoriety as a platform forsharing impromptu photos challenges us to think about engagingpotential and existing fans in the moment."
Its growing base of social followers, coupled with the tremendous success of the Champagne Chair Contest, is motivating DWR executives to brainstorm new contests and campaigns that involve fan input and user-generated content.
"User-generated content is an insightful way to see what interests our fans have and howwe can make decisions based on them," Guerrieri said. "We continue to evolve our efforts around this strategy."