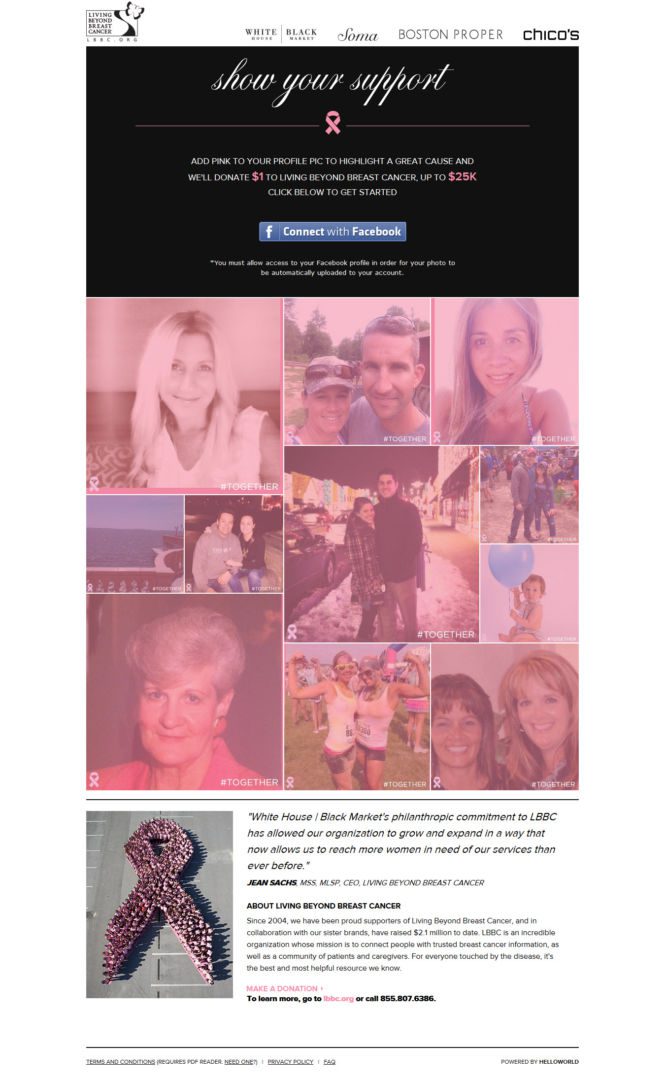 Chico's FAS and its family of brands — Chico's, White House Black Market, Soma and Boston Proper — have developed a set of core values and principles supporting a commitment to giving back.
Over the past 10 years, Chico's FAS has developed a strong relationship with Living Beyond Breast Cancer, an organization dedicated to connecting people with trusted breast cancer information with a community of support. To date, Chico's FAS has donated more than $2.1 million to the organization.
"In our lives and in our business, we are constantly touched by the individual power of women," said Jessica Wells, VP of Social Marketing at Chico's FAS. "We are deeply committed to helping organizations that improve their health and wellbeing, like Living Beyond Breast Cancer, a resource where everyone touched by the disease can go for information and support. Our customers and associates have told us that they appreciate this commitment to giving back."
In conjunction with Breast Cancer Awareness Month, Chico's FAS has launched a new campaign called Pink My Pic, which encourages customers to upload photos, treat them with pink coloring and include the hash tag #TOGETHER. The multichannel campaign was developed in partnership with HelloWorld, and will run through the end of October.
"This year, we created Pink My Pic, an innovative and engaging digital campaign," said Wells in an interview with Retail TouchPoints. "While White House Black Market is leading the effort this year, Pink My Pic is supported by all four of our brands."
At its core, Pink My Pic "is a way for our customers to show their support for breast cancer awareness," Wells explained. "It also is designed to make people more aware of the work that Living Beyond Breast Cancer is doing to help women and their families who have been affected by this terrible disease. Our goal is virality — the more people who engage, the more attention is brought to the cause."
The campaign is hosted on a mobile-optimized microsite branched off from each Chico's FAS brand web site. Upon visiting the site, customers are asked to connect to Facebook, select or upload a photo and add a pink filter as well as the hash tag #TOGETHER to the photo.
For every individual who saves a Pink My Pic image as their Facebook profile photo, White House Black Market will donate $1 to Living Beyond Breast Cancer, with an additional $1 donation for every share via Facebook, Twitter and email. The retailer's goal is to raise $25,000 through the multichannel campaign. All user-generated content will be syndicated on a photo gallery on the White House Black Market homepage.
Chico's FAS decided to incorporate user-generated content into the Pink My Pic campaign after seeing success with a fall 2014 initiative in which customers were asked to upload images of themselves wearing White House Black Market clothing.
"Though Pink My Pic is different," Wells acknowledged, "we took a cue from that experience by leveraging the power of customer photos to help spread the word about breast cancer awareness and Living Beyond Breast Cancer."
Putting a charitable spin on multichannel marketing initiatives has significantly improved customer engagement and overall loyalty. Wells explained: "Our customers tell us, via Facebook and other social sites, how much they love participating and how pleased they are to see that their favorite brands are supporting a cause."