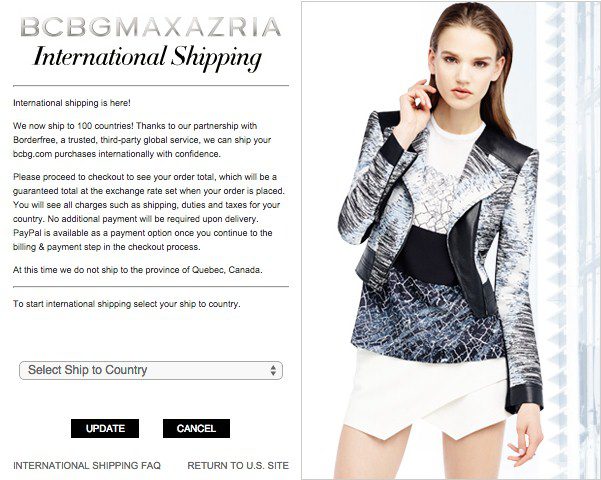 Brands and retailers are expanding their online presence to take advantage of the booming e-Commerce market.
Women's fashion house BCBGMAXAZRIA Group, for example, has implemented the cross-border e-Commerce solution from Borderfree to extend its brand to international online shoppers.
The BCBGMAXAZRIA flagship line is now available in 100 countries, with the brand offering free shipping to all countries with a minimum spending threshold. All purchases also will be duty-free in all countries except Japan and Canada. Later this year, BCBGMAXAZRIA will expand its international e-Commerce assortment to include its BCBGeneration and Hervé Léger brands.
With the Borderfree technology, BCBGMAXAZRIA was able to quickly bring international, cross-border shipping to its e-Commerce site, according to Alex Golshan, VP of International e-Commerce and Omnichannel at BCBGMAXAZRIA. Team members receive accurate calculations of taxes and duties for each product, and have access to catalog review, customs compliance and restricted product management tools.
"Borderfree's technology and services platform manages all aspects of the international shopping experience and allow retailers to maintain the brand experience they seek to provide," said Golshan in an interview with Retail TouchPoints. "The company also offers local market intelligence and strategic marketing support to help merchants successfully grow their presence in key international markets."
Because all prices and taxes are managed and updated automatically, customers receive a guaranteed price at checkout, eliminating any last-minute charges before the final purchase is made. "This is very important to us as it helps remove any element of surprise for the customer," Golshan said. "Once customers complete a purchase on our site, they are guaranteed the amount they approved during checkout in their currency and will not be charged any additional fees."
BCBGMAXAZRIA partnered with Borderfree because the team has "the deepest experience with global logistics and integration with our e-Commerce platform," Golshan explained. "We also felt that we can enable International shipping for our brands in the fastest timeframe with this solution."
In the short term, BCBGMAXAZRIA has established plans to provide local sites in several languages, including French and Spanish, that will tout customized and localized content. The brand also will focus on enhancing site navigation and checkout to create a more seamless and delightful shopping experience.
"We may consider providing local fulfillment capabilities for countries where we have a large retail presence in the future," Golshan said. "Last but not least, we plan to continue to improve our customer service and multi-lingual international customer support."