In photo: Greg Marsh, CEO of KeyMe
KeyMe, a startup that is placing self-serve key duplication kiosks within retail stores, is seeking to make life easier for consumers who need a new key immediately. Also, by placing the kiosks in more than 2,000 retail locations including Albertsons/Rite Aid, Bed Bath & Beyond, Kroger, Mall of America, Sears/Kmart and 7-Eleven, the brand is helping drive more foot traffic into brick-and-mortar stores.
"Our existing retailers are currently requesting more than 10,000 kiosks," said KeyMe CEO Greg Marsh in an interview with Retail TouchPoints. "The reasons they're requesting such a high number is primarily because we're driving traffic physically into these stores in a really compelling way. For every single kiosk that we launch, within 48 hours, our marketing team is getting that specific location listed on Google Maps as the best place locally to copy a key. Through SEO we typically rank No. 1 for that listing. When someone types 'copy keys' into Google, our listing is coming up first."
KeyMe grew its revenue by more than 300% in 2017, and with the expansion, is on track to more than triple it again in 2018. Marsh is confident that the expansion will continue with its other retail partners. For example, the company recently signed an exclusive contract with Albertsons Cos., and is expanding the presence in its grocery stores from 358 kiosks in May to 500 by late July 2018.
At KeyMe kiosks, shoppers can scan, store and create duplicates of their home, office, mailbox, high security, automotive and even RFID keys in less than 30 seconds. The company's iOS and Android mobile applications allow customers to scan and save a digital copy of their key, facilitating quicker access to their keys in the future. For example, if a customer gets locked out of their home, they can visit KeyMe at a local retail location, log into their account and print out a spare key.
'New Movers' Power KeyMe, Retail Stores
Marsh classified many of the shoppers that search KeyMe online as "new movers" — people who recently moved into an area, are making big shopping decisions and typically spending approximately $15,000 in the first two months of moving.
"We're bringing them into these brick-and-mortar retailers at a really attractive time to have that retailer convert them into a regular customer," Marsh said. "That traffic generation is a fundamental value proposition from a retail perspective. A lot of our retailers talk about neighborhood services, or ways to become more relevant to their customer base, especially in light of the amount of competition such as Amazon and Walmart. This is a super-large offline service industry — the locksmith industry is approximately $10 billion per year in the U.S., and $50 billion globally."
KeyMe Drives Growth Via Paid Media, Bi-Coastal Ad Campaign
Marsh credits CMO Jessica Harley for spearheading KeyMe's data-driven approach to bringing traffic to retailers via paid media such as coupons and Google Adwords. Harley formerly served as CMO of Etsy and SVP of Marketing at Gilt Groupe and VP of Marketing at FTD.com.
"Typically, there's been a big challenge for brick-and-mortar retailers who create strong attribution between digital ad spend and those people who are physically going into a store," Marsh said. "We've come up with some sophisticated, clever ways to get high-quality attribution there. As we're spending money online, we can see which customers are going to the kiosks and then buying things, and when we show that data to retail partners, they get excited."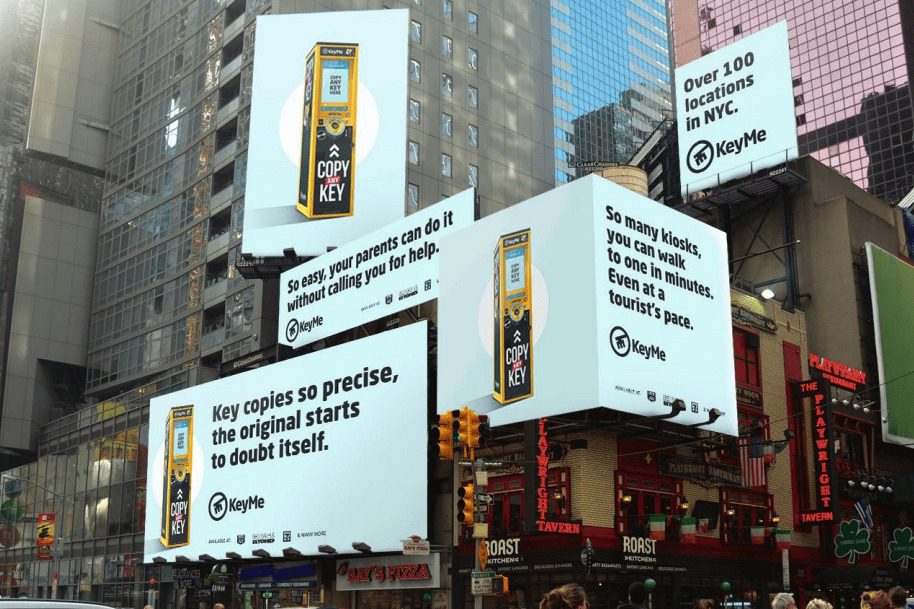 KeyMe is focusing on advertising campaigns to help fuel its expansion. The first campaign test launch targeted New York City consumers; and a second launch went out to both New York City and San Francisco on June 4, 2018. The New York campaign includes several outdoor billboards across Manhattan, including Times Square, with lighthearted slogans such as "Copy keys at over 100 locations in NYC. No eye contact necessary." The San Francisco campaign includes public transit station takeovers with Silicon Valley-related lines such as "Copy a key in less time than it would take to avoid an elevator pitch."