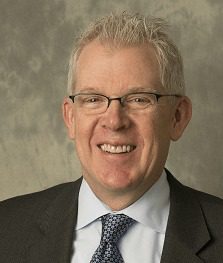 Long gone are the days when supermarkets were the most risk-averse, tech-unfriendly retailers on the block. In fact, the nation's largest supermarket chain, Kroger, displays a commitment to data, innovation and tech savvy that other retailers should envy.
The leadership of Chris Hjelm, who has been EVP and CIO at Kroger since 2005, is one reason Kroger has been able to keep up with the times. "I came from a background of high-tech at companies including Orbitz, eBay and FedEx," said Hjelm in an exclusive interview with Retail TouchPoints. "I created a research and development team shortly after I got here, and that's been a huge contributor to innovation — and it's a unique capability compared to many of our competitors."
Some of the innovative solutions in place or being piloted at Kroger include:
• EDGE (Enhanced Display for Grocery Environment), shelf-edge high-resolution screens that display prices, nutrition and allergy information, videos and images that might boost sales. EDGE is being tested in approximately 20 Kroger stores and will roll out to more locations in 2018;
• The Scan, Bag, Go technology that allows shoppers to scan products with a provided handheld scanner or the Kroger mobile app, which the retailer will expand to 400 stores this year;
• Targeted, personalized offers presented to shoppers via the retailer's ClickList online ordering service, which delivers more than three billion personalized recommendations to customers each year;
• QueVision, which combines infrared sensors, predictive analytics and management tools to better manage checkout queues and foot traffic in stores. It's in place in 2,400 stores and has been credited with lowering checkout times from an average of four minutes to less than 30 seconds; and
• The FAST (Food at Safe Temperature) Alerts, the retailer's first operational IoT solution. Developed by Kroger's in-house R&D team and installed in 2,800 stores, the technology monitors temperature trends and alerts store management and facilities engineers when anomalies indicate a problem. Associates can react to negative temperature trends before they become food safety issues.
Retail TouchPoints: Kroger has a number of technology initiatives under way at the moment. How do they interact with each other?
Chris Hjelm: With the whole 'digitization' of the store, including EDGE and Scan, Bag, Go, we're thinking about how we combine those to help the customer. Say you're a gluten-free consumer and you're shopping for nutrition bars. There might be 100 or more options in some stores, so how do I help you find the gluten-free ones? With the locationing technology that's built into Scan, Bag, Go-equipped digital devices, combined with the shelf-edge technologies, we would be able to highlight the gluten-free bars for you. This is in a potential future, but I see it happening sooner rather than later.
Another way these technologies interact is that in order for Scan, Bag, Go to work, we had to enable granular locationing within our stores. So we used a network we had originally created for the FAST temperature monitoring system. It triangulates with handheld devices via access points located in the stores' ceilings. It's another example of the fact that we don't think about these things as individual projects, but as part of a platform. That allows us to quickly enable benefits for customers and associates, because of the investments that we've made. Even the shelf edge itself is now a platform.
RTP: Which technologies have helped Kroger realize that vision, of turning the shelf edge into a platform?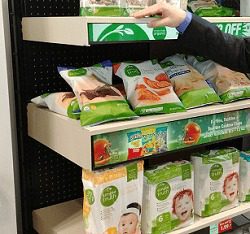 Hjelm: The EDGE system uses the Microsoft Azure cloud platform to manage all the data and content, including prices, promotions and dynamic advertising. At the National Retail Federation Big Show in January we showed off both the two-inch shelf display, which is the traditional height of a grocery aisle shelf, and also a four-inch version. We also have an endcap version with full color, high-definition quality — you can literally play videos at the shelf edge. It's in close to 20 stores now, and we'll be deploying it to approximately 200 stores during 2018. In one store we plan to use the technology for the full grocery set.
Not every retailer has the type of R&D or innovative capabilities that we've been fortunate enough to build over the years, involving skills like circuit board design and mechanical engineering. We also partner with companies globally to bring solutions like EDGE to market. And as we've gone down this path, we've had quite a few other retailers that are intrigued with what we've been doing, so I think you'll hear more about the commercialization of our technology. We're excited about the work, and we think every food retailer would want, for example, higher quality and safer food, which they would get with better temperature controls.
RTP: What has been behind Kroger's decision to expand the Scan, Bag, Go solution to 400 stores?
Hjelm: The driver of it is really the customer. We're seeing that they enjoy the personalized experience it provides. They like knowing what they're spending as they scan each item and to have a running total. It allows them to bag their groceries as they like them to be bagged, so that they can easily load them into their refrigerators. We're working on adding new payment capabilities so that part of the checkout process is streamlined, and we're also integrating digital coupons that they have downloaded. There's a full road map of incremental capabilities that we'll be bringing to our customers.
They really do love the convenience. I was in a store with one of our board members, and a customer came up to us. (I promised the board member that this encounter had not been 'staged' by me!) The customer said they bypass other Kroger stores to shop at this one because of the technology. They are a shopper on a budget and they don't want to over- or underspend. We'll be looking at more things we can do to help customers manage their budgets better.
RTP: What do you see as your key roles as the CIO?
Hjelm: One element is that we're a large business doing millions of transactions per day, so it's partly keeping those trains running on time — that the stores are there, clean, and ready to operate, including manned and self-checkout lanes. It's essentially everything that goes into running a $115 billion retailer. That's just part of the job, but it's a really important job.
The other part is creating a sustainable competitive advantage. Our standard for our R&D teams and our innovation labs is simple: we want them working on things that aren't being done elsewhere in retail.