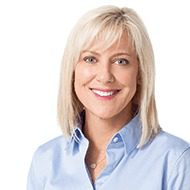 Only 18 months after taking the helm of Target's food business, the retailer's SVP of Grocery Anne Dament will be leaving her position on Nov. 18.
Upon initially hiring Dament as SVP of Merchandising, Target had extensive plans to reposition its grocery business and the food assortments offered within stores. But the addition of more healthy, organic options and revamped designs at select stores hasn't jumpstarted the business the way CEO Brian Cornell hoped it would, with the company still struggling to bring consumers into the stores.
In Q2, Target showed its first comparable store sales loss in two years (1.1%) and experienced a 2.2% decrease in store transactions.
As consumers visited Target stores less often, the retailer apparently had difficulty selling off perishable items before they spoiled, according to a WSJ report. The issue, in part, is that Target's supply chain wasn't built to transport items with a short shelf life.
"We have seen some trip erosion with guests coming in for that fill-in trip," CEO Brian Cornell said on an investor call in May.
This marks the third time a C-level exec has left Target within four months, sending further signals that the retailer is struggling through all channels. In August, then-Chief Marketing Officer Jeff Jones left Target to head Uber's ridesharing program, and in September, then-Chief Digital Officer Jason Goldberger departed. While the stores have performed poorly, e-Commerce growth slowed in the latest quarter as well, illustrating that Target hasn't yet found a way to make its online presence stand out against Amazon and Walmart (now powered by recently acquired Jet.com).
Target is launching a search for Dament's replacement, with Chief Merchandising Officer Mark Tritton serving in Dament's role in the interim.