Walmart delivered a glimmer of hope to retail as its Q1 results included net sales of $31.6 billion, an increase of 4.3%. But the good news for Walmart only highlights further the trouble for Target, Macy's and other big box and department stores.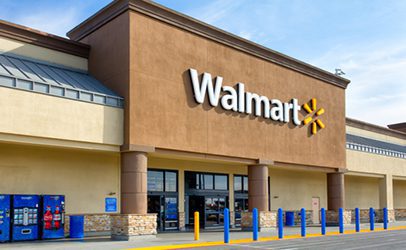 The retail giant's U.S. comparable store sales rose 1%. Walmart's profit amounted to 98 cents a share, beating the 88-cent estimate of analysts, and it was followed by further promising news, including:
Globally, on a constant currency basis, e-Commerce sales and GMV increased 7.0% and 7.5%, respectively;
Operating cash flow was $6.2 billion and free cash flow was $4.0 billion, both higher than last year due to solid operating performance and improved working capital management; and
Consolidated operating income declined 7.1%, as planned investments in people and technology, as well as currency exchange rate fluctuations, impacted results. Excluding currency, operating income decreased by 4.6%.
"We're improving our stores, adding critical capabilities and deepening relationships with customers," said Doug McMillon, CEO of Walmart, on a prerecorded conference call. "We are encouraged by the Walmart U.S. comp and believe it's attributable to real improvement in our store experience."
The stock jumped as much as 8% to $68.20 in New York trading after the report was released, marking the biggest intra-day gain since October 2008. The retailer's stock price had been up 3% this year before the rally. Revenue for the quarter came in at $115.9 billion, against the comparable year-earlier figure of $114.83 billion, an increase of 4%. The company also issued Q2 guidance for earnings per share of 95 cents to $1.08, versus estimates of 98 cents a share.
E-Commerce Slow, But Rising
Walmart's e-Commerce business sales only grew 7% last quarter, a deceleration from previous periods. The company is trying to increase its online product assortment — it currently offers about 10 million SKUs — but that takes time, McMillon said. Walmart also is expanding its e-Commerce grocery program, which lets customers order food online and have it delivered to their car in the store parking lot. The service is now available in 40 markets.
"Growth here is too slow," McMillon said about the online business. "The U.S. number is better than the global number, but neither is as high as we'd like. We are focused on building the e-Commerce capabilities we need to drive growth to a higher level and deliver the seamless shopping experience for customers they deserve."
Both Macy's and Target posted slower-than-expected sales growth for Q1 this week, with shares dropping 7.4% and 7.6% respectively. Macy's blamed a lack of international tourist traffic and Target cited "an increasingly volatile consumer environment."