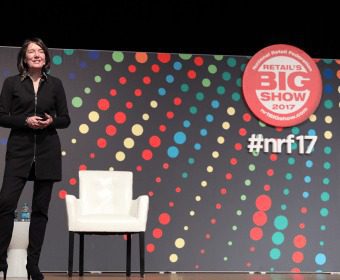 From social to AI to VR, these sessions showed why retailers must be on the cutting-edge to engage and keep pace with today's savvy shoppers.
Social And The Art Of The Influencer
This session discussed why partnering with key influencers to engage audiences has become an essential component of retail marketing. The panel featured Vicki Cantrell, Former SVP of Communities and Executive Director, Shop.org; Melissa Davis, EVP and General Manager, Shopstyle; and Abigail Posner, Head of Strategic Planning — The Zoo, Google.
Key takeaways:
It's not about how many followers a potential influencer has; it's about whether or not your brand will resonate with their audience;
Before working with an influencer, define your own goals to make sure that person is a fit for your brand;
Authenticity is crucial: Let influencers have some creative power because they know their audience best;
The most effective brands are the ones that create a human relationship with a consumer; and
Empower your employees to become brand ambassadors, or influencers, for your company.
Winning Today's Socially Aware Consumer
Christopher Gavigan, Founder, Chief Purpose Officer at The Honest Company, and Lars Petersson President of IKEA U.S., explained the importance of building and demonstrating trust for brands. "You can't self-describe yourself or your brand as 'authentic.' It's a view or observation someone has about you," said Gavigan. This trust is also essential to bringing in Millennials who "expect transparency, and are more likely to trust companies that are honest about their social responsibility efforts," Petersson said.
Key takeaways:
Don't talk about your product; talk about its purpose;
Consistency and commitment are vital; be accountable for what you're doing;
Transparency is critical for consumers; your standard will help you stand apart; and
Try to create a better everyday life for everyone.
How Sleep Number Uses Social Media To Make Smarter Decisions
Kevin Brown, CEO of SleepNumber, and Sarah Panus, Senior Manager of Social, SEO for Select Comfort, discussed how digital communication platforms like Twitter and Facebook are more than just cost-effective channels for driving revenue and boosting brand awareness. Consumers wield more power and influence than ever, and retailers that listen and engage can find opportunities for business growth. "We view social as the 'reality department,'" said Panus. "It's not information you can make up. There's complete transparency because the customer is telling us what they think in real time every day."
Key takeaways:
Social listening, or tracking conversations about the brand, has been one of the company's most valuable tactics; and
If you're looking at social listening stats alone, you're missing holistic opportunities to observe trends and inform cross-functional strategies
Deciphering 2017's Digitally Demanding Consumer
This quick-hitting session dived into Kibo's latest consumer research and how retailers can build omnichannel strategies for success. Speakers included Mark Bishop, Senior Direction of Application Engineering, e-Commerce, Stein Mart, and Jennifer Sherman, SVP of Product and Strategy, Kibo.
Key takeaways:
Pricing drives purchases over brand loyalty: 70% of consumers say price is the most important factor when considering online purchases;
Consumers expect optionality and want multiple fulfillment options;
94% of consumers will research products before walking into the store, compared to last year's figure of 86%;
Consumers demand intimate personalization, such as personalized promotions on the home page (85%), targeted recommendations on product pages (44%) and product recommendations on shopping cart pages (92%); and
Stein Mart's e-Commerce sales increased 31% in Q3 compared to the same time the year prior by enhancing its shopping cart and product page functionality and usability.
Retail Opportunity For The Fast Changing World And The Human Mind
"Automation is coming and retailers must adapt and adopt," said Kate Ancketill from GDR Creative Intelligence. "There is a race on to lead in AI and there is a big upside if you're the disruptor. The winner will rule the world." Ancketill went on to discuss AI as one of 2017's biggest trends and its impact on the future of retail — and the world.
Key takeaways:
Store associates of the future will need to be extremely well qualified;
Retailers must adopt AI. If you don't do it, make sure it's only because you choose to do so, not because you missed it;
Automation will bring a reduced workforce and thinning of the middle class; and
Consumers expect ethical transparency, individualized products and services and 24/7 seamless availability.
Chris Wong, VP of Strategy and Ecosystem for IBM Global Consumer Industry, highlighted findings from an IBM and NRF study titled: Uniquely Generation Z: What Brands Should Know About Today's Youngest Consumers.
Key takeaways:
67% of Gen Z prefer shopping in stores all the time, while another 31% prefer to shop in brick-and-mortar stores sometimes;
Gen Z has a low tolerance for things that don't work and are very quick to abandon them;
Gen Z has a significant influence on family spend (93%);
25% of Gen Zers spend more than five hours on their phone every day; and
75% of Gen Zers said they spend more than half of the money that is available to them each month.
A View From Walmart: How Retailers Are Creating Economic Opportunity
Kathleen McLaughlin, Chief Sustainability Officer, Walmart and President of the Walmart Foundation, discussed the importance of serving the community and store associates. After Hurricane Katrina, Walmart contributed $20 million in cash donations, 1,500 truckloads of free merchandise, food for 100,000 meals and the promise of a job for every one of its displaced workers. The retailer thought about how it could make that kind of a difference every day, and is now looking to create a more sustainable model of consumption and provide economic opportunity for its associates.
Key takeaways:
Walmart announced a $2 million grant to the NRF Foundation for its Retail Industry Fundamentals training/credentialing program;
Walmart also announced a $2.9 million grant to the League for Innovation in the Community College for curriculum development; and
Entry level jobs need to be improved and must lead to the next level of opportunity through training and advancement.
How Target's Technology Team Is Leading The Way On Transformation
Mike McNamara, EVP and Chief Information and Financial Officer for Target, explained why the retailer has moved away from an IT outsourcing model and is instead growing its own ranks of engineers and digital experts. He discussed how reorganizing into product teams and focusing on fewer, bigger initiatives is driving results. This focus, coupled with an agile engineering culture, allows retailers to build technology that better serves existing customers and helps create new ones.
Key takeaways:
Ruthless prioritization is essential: Focus on fewer, bigger initiatives to drive results with the greatest impact for customers;
Create and cultivate an agile engineering culture; and
Bring everything together — people, process and technology — to better serve existing and future customers.
How Technology Fuels Kohl's Omnichannel Innovation
Ratnakar Lavu, CTO and CIO of Kohl's, shared his experience driving technology to evolve a traditional department store into a leading omnichannel retailer. Lavu discussed the decision to implement Kohl's Pay to make the payment experience as frictionless as possible for its 40 million customers, and teased some tech-heavy future initiatives.
Key takeaways:
Empower teams by fostering a "one team" mentality to turn inspired ideas into market-ready solutions;
Leverage data-driven insights to identify opportunities to simplify the customer experience; and
Move with speed and agility to operate at the speed that retail requires today.