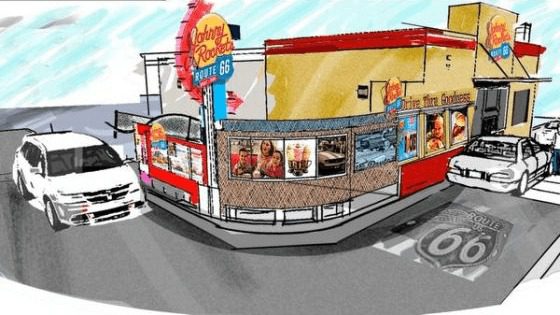 International restaurant chain Johnny Rockets has unveiled four new restaurant prototypes to boost brand awareness and overall sales. The drive-thru, drive-in, food truck and pop-up concepts are expected to debut as early as Q4 2014 as part of the company's Route 66 concept.
The Route 66 concept was established to allow guests to order from Johnny Rockets while they are in their car or watching a drive-in movie. The drive-thru prototype, which will be the primary focus for Johnny Rockets, will be placed in high-volume, regional plazas located off major freeways and highways.
"The drive-thru option will potentially increase our market share and overall sales, improving the economic model of our restaurant franchise," said James Walker, Chief Development Officer of Johnny Rockets. "Not only will these in-town and travel center locations offer high-quality food, including a breakfast menu, but they will also provide the Johnny Rockets experience through digital projections and signage. Guests can enjoy Johnny Rockets' one-of-a-kind atmosphere from the comfort of their vehicles."
To open its drive-in locations, Johnny Rockets has entered a strategic partnership with USA Drive-Ins LLC, which plans to open 200 new drive-in locations. With the help of USA Drive-Ins LLC, Johnny Rockets will build a pop-up theatre prototype that also has a mobile restaurant, so restaurant owners can develop dinner-and-a-movie experiences throughout the country.
The Route 66 food trucks are expected to help provide current restaurant owners increase visibility and sales. The food trucks can be used for catering and community events or added to a city's existing food truck line up.