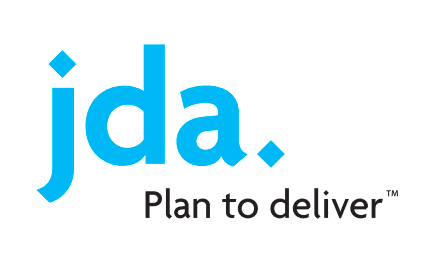 JDA Software, a provider of retail and supply chain planning and execution solutions, has unveiled a new brand identity that includes a revamped logo, tagline and enhanced messaging.
Touting the tagline "plan to deliver," JDA is striving to reinforce its position as an end-to-end solution provider, something the company achieved after a string of acquisitions. As the retail and manufacturing industries continue to evolve, JDA is trying to bring its expertise, solutions and customer success stories to the forefront.
"Earlier this year, we put 130 different solutions into five 'super solutions,'" noted Kevin Iaquinto, CMO of JDA Software. "They span across planning and store operations, planning and category management and intelligent fulfillment. We wanted to modernize our brand to go along with the modernization of our solutions and offerings."
JDA partnered with Lippincott, a consulting firm that specializes in brand image and identity, to develop the new logo and messaging, which will be promoted extensively over the next few months referring to keywords such as quicker, faster and better.
"Retailers need to have the people, processes and tools to meet consumer demands — it's critical," said Iaquinto in an interview with Retail TouchPoints. "While retailers are delivering, they're not delivering intelligently, and are not planning and optimizing how they're going to deliver across channels. Our new tagline really reflects the current state of the market."
A broad marketing campaign spanning across digital, print and event advertising channels, will bring "plan to deliver" to the forefront. One specific campaign will be focused around the theme of "meet your new boss," who is characterized as an empowered consumer, Iaquinto explained. "It could be a 12-year-old boy who is looking for the latest version of the Xbox, for example. It's the idea that the empowered consumer is the leader, and meeting their demands and being there in real time is what these bosses are demanding."
JDA also will feature the new identity during several events, including its FocusConnect event in Barcelona on November 10-12 and as part of a JDA "Delivery Tour," which will travel across the U.S. Current dates and locations for the tour include: Chicago on December 4, Toronto on December 9 and San Francisco on December 16. The National Retail Federation BIG Show in New York City also will be pivotal as JDA educates the public on its new brand mission and message.
"We're investing in events and trade shows where our audience will be," Iaquinto said. "We also will be investing in our own events, partner conferences and road shows which will focus on topics like omnichannel and taking them on a vertical basis."
JDA will be investing more in collecting user feedback to guide future product roadmaps and strategies. Although the company has an annual Voice of the Customer survey that it rolls out, it also has launched a customer advisory board, which will improve two-way dialogue.
"As an organization we're making a commitment to delivering to customers," Iaquinto said. "From sales, to service and support, we're making a number of changes to better focus on them."