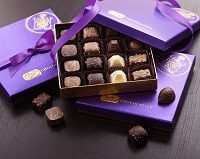 Online customers of Purdys Chocolatier will gain access to rich interactive content and simplified navigation on the retailer's newly launched web site, serving both its direct-to-consumer and group fundraising businesses. The revamped site simplifies browsing for products using factors such as type, price point, Kosher certified and/or free from allergens, as well as "staff picks," "most popular" and "new."
Purdys, which also operates 74 brick-and-mortar stores in British Columbia, Alberta and Ontario, deployed Aptos Digital Commerce and Integrated Aptos Enterprise Order Management solutions to create its new site, replacing two of its legacy e-Commerce systems in the process.
"One of our big problems was that [we had] two completely different web sites, and our customers likely shop in all three channels: online, group savings and fundraising," said Bob Hermanutz, VP of eCommerce at Purdys, in an interview with Retail TouchPoints. Each site needed "different sign ups, email addresses and passwords, so it was difficult for customers to see their options," he added. "We wanted to make it really easy for customers to discover the different channels and shop however they'd like."
Key features of the new site include:
• Chocolate U: Enabling chocolate lovers to enjoy an immersive and delicious out-of-the-box chocolate experience;
• Insider Clips: Video providing a look at the making of Purdys' best-loved chocolates and a virtual factory tour;
• A Chocolate Legend: Offering a fun and interactive menu of Purdys' products, inviting customers to hand-select their own ideal mix of chocolates, truffles and confections; and
• Content about Purdys' community involvement, green initiatives and sustainable cocoa usage.
"We've benefited from the proven and scalable Aptos Digital Commerce suite in the cloud and Aptos professional services including comprehensive journey mapping, business requirements planning, front-end design, development and technical support," said Hermanutz in a statement.