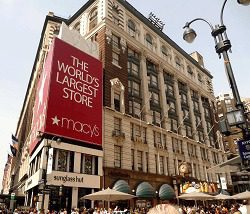 Unseasonably warm weather that depressed sales of winter apparel, and lower spending by international visitors due to a still-strong U.S. dollar, combined to give Macy's a blue Christmas. Comparable store sales for November and December fell 4.7% compared to the same period in 2014, and the retailer expects January's results to show similar declines.
It's been a tough season for department stores in general, with quarterly same-store sales declines of 5.6% at Neiman Marcus and 3.6% at Saks Fifth Avenue. Only perennial overachiever Nordstrom was able to generate positive numbers, and then by only 0.9%, according to a Business of Fashion report.
In response, Macy's will institute cost cuts totaling approximately $400 million in 2016, using a combination of store closures, staff reductions and the closing of one of its four credit and customer service facilities.
Specifically, Macy's will:
Reduce store staffing levels by an average of three to four positions in the 770 Macy's and Bloomingdale's stores nationwide, for a total of approximately 3,000 affected associates;
Cut an additional 600 positions in back-office departments via improved efficiencies; only 150 of these associates are likely to be reassigned to other positions;
Implement a voluntary separation opportunity for as many as 165 senior executives who choose to leave the company beginning this spring; approximately 35% of these positions will not be refilled;
Close 36 stores in early spring of 2016, in addition to the four locations shuttered during the final three quarters of 2015. These 40 stores account for approximately $375 million in annual sales, some of which is expected to be absorbed by nearby stores and e-Commerce sales; and
Close the company's St. Louis customer service facility, affecting approximately 750 employees, and reassigning its functions to facilities in Tempe, Ariz., Clearwater, Fla., and Mason, Ohio, where approximately 640 positions will be added.
A Flatter, More Agile Organization
"In light of our disappointing 2015 sales and earnings performance, we are making adjustments to become more efficient and productive in our operations," said Macy's Chairman and CEO Terry Lundgren in a statement. "Moreover, we believe we can operate more effectively with an organization that is flatter and more agile so we can pursue growth and regain market share in our core Macy's and Bloomingdales' omnichannel businesses faster and with more intensity."
Online and mobile sales were one of the few bright spots for Macy's during this season, reflecting the overall industry trend favoring e-Commerce. During November and December, the retailer filled nearly 17 million orders at macys.com and bloomingdales.com, "a new record for our company and an increase of about 25% over last year, based on significant new fulfillment capacity, site functionality and aggressive digital marketing," said Lundgren.
This present round of cost cutting represents more than two-thirds of the company's goal of reducing annual SG&A (Selling, General & Administrative) expenses by $500 million, net of growth initiatives, from its previously planned levels, by 2018. "Our eye is on a long-term vision of Macy's, Inc. as a dynamic retailer that serves existing customers and acquires new ones through innovative approaches to the marketplace," said Lundgren.