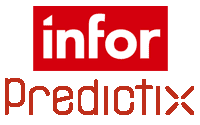 Six months after investing $25 million for a stake in retail analytics firm Predictix, Infor has acquired the entire company for an undisclosed amount. Predictix will become part of Infor CloudSuite Retail.
Predictix experienced more than 40% growth in SaaS subscriptions in 2015 and is growing at a 60% rate this year following the investment from Infor. The company manages more than $60 billion in weekly forecasts, with customers including Home Depotand Whole Foods Market as well as five of the top 15 global retailers.
To complete the acquisition, Infor bought out a group of Predictix investors that include Marlin Equity Partners, Kinetic Ventures and ITC Holding Company.
"The synergies between Infor and Predictix were greater than we could have hoped," said Charles Phillips, CEO of Infor in a statement. "Buying out the other Predictix investors makes sense to bring the teams together and provide the scale and resources needed to accelerate the retail revolution."
"Becoming part of Infor will further accelerate our retail revolution by providing scale and integrating two teams that sit at the intersection of cloud, analytics, machine learning and self-service," said Molham Aref, CEO of Predictix.