I used to live near the Palisades Mall in Nyack, N.Y. For those not familiar, it's an enormous structure, and like most auto-centric suburban shopping centers, it's surrounded by acres of parking spaces. But nothing much happens on its outside, except for signage big and bright enough to be seen by speeding cars on the interstate highway it abuts.
Making more creative, engaging use of all this essentially wasted outside space will be one of the key elements of successfully future-proofed malls, according to Supreet Barhay, Principal in WZMH Architects' retail practice. She noted that the concept of "partial de-malling," which could include integration of outdoor spaces for walkable plazas and eating areas, food carts/trucks, skating rinks, miniature golf courses and the like, all will contribute to the experiential and entertainment value of a trip to the mall.
Shopping centers that will be successful in wooing shoppers back also will need some combination of:
Technology that supports a better customer experience, including the use of real-time data collection to enable live people mapping and high traffic updates;
Digital experience integration that creates more personalized, optimized customer engagement and newly popular BOPIS functionality; and
Autonomous vehicles for shuttling customers to and from remote parking areas as well as for curbside pickup operations.
Retail TouchPoints (RTP): You've talked about redefining the entertainment and experiential nature of malls by focusing not just on what's inside but what's on the periphery. Why is this so important?
Supreet Barhay: Even before the pandemic, we were looking at ways shopping centers could draw more foot traffic by creating additional places for community and engagement. The big shift from COVID was that malls still needed foot traffic, but in a socially distanced environment. That put outdoor places like sidewalks and parking lots into play as safer areas for outdoors engagement. It's also an outgrowth of the fact that many malls already had large spaces sitting empty because the traditional anchor stores had left.
We worked on the Don Mills shopping center, which was an indoor mall that was almost completely de-malled and replaced by an open-air lifestyle center. A big public plaza that can host both winter and summer activities, with restaurants around it, created a place where people are going not just for shopping but for much more.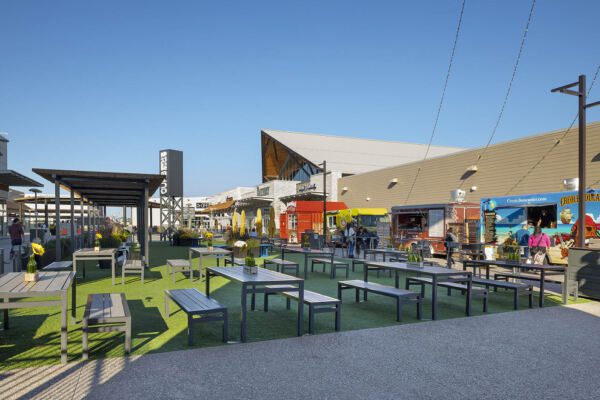 At the Outlet Collection at Niagara, another project we worked on, there was a nice area next to the eatery, so we said let's make it an outdoor/seasonal/pop-up concept where you could have a picnic in the park. We were able to include a three-season kitchen by combining two storage containers on a slab and adding a kitchen, but still keeping it as part of the outdoor space. There were other food options with nice tables and chairs and casual seating that could be booked for events, like a winery's tasting. This created an added value by utilizing areas that changed as different pop-ups came in.
RTP: What roles do you see for technology in the malls of the future?
Barhay: Reimagining the physical mall means integrating seamlessly with a digital experience, to attract [both] great retailers and high-value customers for experiences that can't be matched online. And now more than ever, personalization and optimization is the key to empowering users. Malls had always used technology for things like people counting, but now we're seeing solutions that allow customers to schedule and map a strategic route through the mall based on real-time information like wait times.
With tools like digital queueing and appointments at their favorite stores, this means shoppers can wait out the heavy traffic — they don't have to "stack up" outside a particular tenant. While we haven't yet seen live mapping and these types of high traffic updates implemented, it would be a big plus that could be accomplished with heat mapping and by analyzing shopper movements. Malls can also deploy digital kiosks for customer service, so people don't have to wait to talk to a customer service rep. Some of this is already being used, but some of it is still under development.
A lot of landlords have already implemented solutions to create digital portals that showcase the complete inventory of the mall. One of the big developers has already created a digitized real-time store inventory with one-card checkout. That's a great advance, because it means customers don't have to go from store to store to store. It can be a combined physical-digital experience, where the customer digitally reviews their orders and just picks it up. We've seen that BOPIS has become an important concept in retail in general.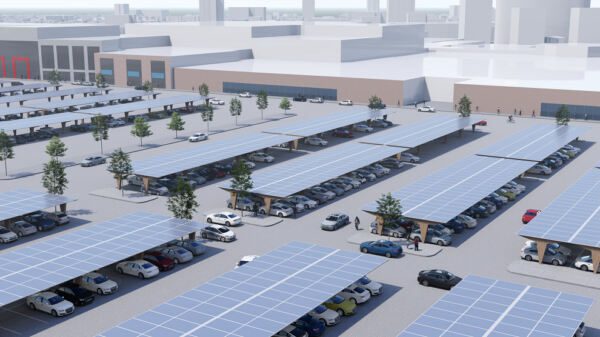 Another big thing is that autonomous cars are just around the corner, and they will change the way drop-offs, pickups and parking happen. For the parking areas themselves, we've been seeing properties put solar canopies in and use the power to charge EV [electric vehicle] stations. When we're designing a mall or reshaping the exterior, these are all things we take into consideration.
RTP: With malls putting a greater emphasis on dining, entertainment and events, is there a danger that people will come just to do those things and not to shop at the retail stores?
Barhay: I think that combining all of these functions makes the mall trip more valuable — you park once and do it all. And "retailtainment" has been a big concept over the last decade for generating foot traffic and keeping customers engaged, particularly if there's something for everyone. For instance, I love to shop, and some weekends the "event" is just the shopping. But I don't like to shop alone, and sometimes I have to bribe my children by adding going to a restaurant, watching a movie or going to a candy store as part of the day's activities.
As people are making choices to visit a particular shopping center, they'll be looking at the level of hospitality and customer service they'll get when they go there. They'll also be looking at connectivity for the technology side of things. Good, interactive wayfinding goes a long way, especially if it includes what live events are happening and what entertainment is there that day. Eating, playing and entertainment are good ingredients to make brick-and-mortar shopping outweigh online shopping, because they make it worthwhile for people to make this kind of combination trip.
All photos courtesy WZMH Architects