As a company that sources its designs from local African designers, it was critical for Thando's to develop more than just an e-Commerce destination for footwear. For Co-Founders Taffi Ayodele and her husband Jibolu 'J.G.' Ayodele, giving back to the community that inspired the Thando's collection of foldable flats for women was just as important as scaling the brand.
The company started in 2015 when the couple moved to J.G.'s home country of Nigeria. The rich design community inspired the Ayodeles to use Thando's as a means to empower these artists. The company has since generated a more than 100% increase in web site traffic thanks to its partnership with Stripe, a payment platform for e-Commerce businesses. Additionally, of those who visited the Thando's web site, 40% end up making a purchase.
"Africa is known as this cradle of humanity," said Taffi Ayodele in an interview with Retail TouchPoints. "There is so much art, culture and community, but there really wasn't a brand that took all of those elements and really put it together into some form of consumer products. We wanted [Thando's] to be more than just a footwear company, but a platform to empower African artists and create something beautiful and practical."
Thando's uses art from local artists in Nigeria and crowdsources those designs. The company then pays royalties to the artists, who also share royalties with an NGO that supports the continent. The current Thando's footwear selection supports flood victims in Lagos, Nigeria; the Ayodeles stated that there are 500,000 to 600,000 families that end up homeless every year because of flooding."Our customers really feel like they are doing something that's helping the African artist community," added Taffi Ayodele.
"I come from a less advantaged background and my parents, even though they didn't have much, always gave back," she added. "Moving to a brand-new continent for me and seeing a lot of the potential, but also a lot of the tragedies going on in our backyard, I couldn't not figure out a way to make an impact. We can make money from selling shoes but if we can do it in a way where we give back to those less fortunate or who don't have the advantages that we have, that makes our work a lot more fulfilling."
Payments Platform Stresses Security Of Transactions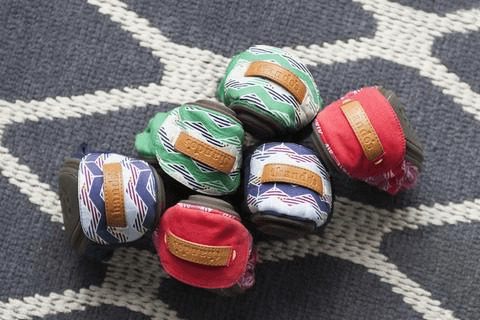 Since the company is based in Nigeria and pays royalties to artists within the community, it was crucial for the Ayodeles to partner with a trustworthy payments platform for its e-Commerce shop.
"We were selling in Nigeria — from the trunk of our cars, in different flea markets and online," said J.G. Ayodele in an interview with Retail TouchPoints. "What we realized from selling online in Nigeria was a lack of trust," he said, citing the early stage of e-Commerce penetration in the country and a high rate of fraudulent online transactions. The mistrust had to be overcome, however, because "at Thando's, we always had a vision of being a global company," said J.G.
The company partnered with Stripe for its security and streamlined checkout experience. "From a security standpoint, it allowed our customers to feel comfortable to make purchases on our site through a trusted brand," added J.G. Ayodele.
Thando's has seen fewer abandoned carts with Stripe, and of those who visit the company's web site, 40% make a purchase. J.G. added that the conversion rate has continued to rise. "We believe that that's specifically because the payments process is seamless for the customer."
Additionally, the company's web site traffic increased by more than 100% from 2016 to 2017, while the number of styles Thando's produced from 2016 through 2017 increased by 300%.
Stripe also makes facilitating royalty payments to its designers and NGOs easy and secure. "Because it's directly linked to our bank account, the transfers are very seamless," said J.G. Ayodele. "In turn, we make wire transfers from our account to stakeholders in Nigeria. We haven't had anything but positive experiences so far."
A Bright, Scalable Future
As for what's next for Thando's, the Ayodeles plan to add more product categories — including men's footwear— to the collection. The company also intends to invest in SEO and digital marketing efforts. "Everything we've achieved so far has been purely organic and through word of mouth," said J.G. Ayodele. "We need to invest in digital marketing and outreach efforts, as well as further deepen our relationship with Stripe with crowdsourcing efforts."
Later this year, Thando's will begin focusing on helping women who were victims of sex trafficking through their footwear collections.
"Unfortunately, Nigeria happens to be a major gateway for sex trafficking," said J.G. Ayodele. "We met this remarkable missionary couple that are right on the front line of saving some of these girls. They have a mission to save 2,000 girls by 2020. So far, they saved 50 girls. It's so inspiring to us and we hope it inspires our community as well, to come up with something really beautiful that comes out of something tragic."