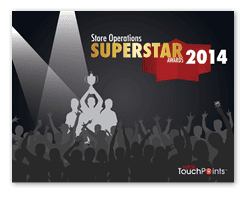 Successful store operations improve the customer experience and ultimately, the bottom line. But today's store operators are constantly juggling numerous challenges, from managing mobile technology to motivating employees.
As competition continues to heat up, along with pressure to hold the line on expenses, store operations executives are faced with an uphill battle.
In our third annual Store Operations Superstar Awards, Retail TouchPoints is recognizing 14 companies that have implemented the most innovative, successful store operations strategies in the following categories:
Workforce Management
Social/Mobile Strategies
Inventory Management/Loss Prevention
Customer Engagement
Winners include GameStop, Safeway, Deb Shops and Tumi, plus 10 other retail innovators.
The complete list of categories and corresponding winners are as follows:
CUSTOMER ENGAGEMENT
GOLD A&W Canada
GOLD GameStop
SILVER Sprouts
SILVER Rutter's Farm Stores
BRONZE Baer's Furniture
WORKFORCE MANAGEMENT
GOLD Safeway
SILVER Talbots
BRONZE COOP Switzerland
SOCIAL/MOBILE STRATEGIES
GOLD Deb Shops
SILVER Alex and Ani
INVENTORY MANAGEMENT/LOSS PREVENTION
GOLD Tumi
SILVER Chico's FAS (Soma Intimates)
SILVER Stein Mart
BRONZE Wet Seal
View the full report below:
---
Click here to download the PDF.