According to the UN, the transportation sector accounts for approximately 25% of all carbon emissions globally, and Amazon transports a lot of goods. To combat the climate impact of all those deliveries, Amazon has teamed up with Infinium to begin powering its transportation fleet with ultra-low carbon electrofuels beginning in 2023.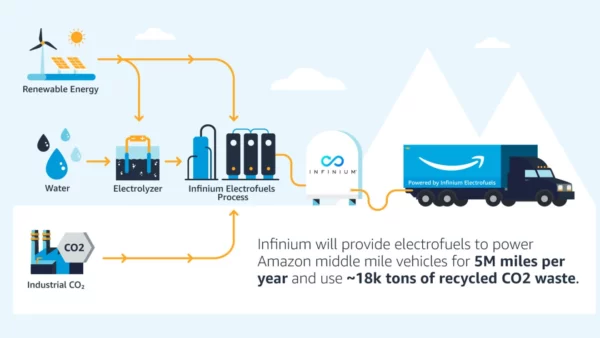 Infinium develops ultra-low carbon fuels that can be used to power cargo trucks, airplanes and marine freight without engine modifications. The company estimates that its electrofuels reduce greenhouse gas emissions by approximately 95% over traditional fossil fuels.
Under the new agreement, Infinium will supply enough electrofuels to Amazon to replace diesel fuel for approximately 5 million miles of travel per year. Amazon will initially use the electrofuels in trucks in its middle-mile fleet in Southern California, moving customer orders from vendors and fulfillment centers to its network of sortation and delivery stations.
Amazon previously invested in Infinium through its Climate Pledge Fund, a $2 billion venture investment program that invests in companies building technologies, products and services that can help accelerate the path toward a net-zero carbon future.
"Infinium's electrofuels can help Amazon reduce carbon emissions across our transportation fleet, which is important to both us and our customers, and will help us move closer to our goal of net-zero carbon by 2040," said Kara Hurst, VP of Worldwide Sustainability at Amazon in a statement. "We've supported Infinium's technology through our Climate Pledge Fund, and it's exciting to see our investment turning into usable fuel that will help us, and others across the industry, decarbonize transportation in the long run."
In addition to the new partnership with Infinium, other steps Amazon has taken toward its net-zero carbon goal include:
An agreement with Plug Power to supply 10,950 tons per year of green hydrogen for its transportation and building operations starting in 2025. Amazon will start to use green hydrogen to replace grey hydrogen, diesel and other fossil fuels as it works to decarbonize its operations. This green hydrogen supply contract will provide enough annual power for 30,000 forklifts or 800 heavy-duty trucks used in long-haul transportation;
Investments in Electric Hydrogen and Sunfire, two developers of electrolyzers, a technology that makes emissions-free green hydrogen for use in heavy-duty transportation; and
An order for 100,000 custom electric delivery vehicles from Rivian, which started to hit the road this summer in the U.S. The new EV delivery trucks are expected to be making deliveries in more than 100 major U.S. cities by the end of this year.