At a rental cost that could reach $1,000 per square foot for retail space in SoHo, Google will need a strong business case to open a store in New York City (reportedly an 8,000-square-foot space on Greene Street, near the Prince Street Apple Store location), as its first venture into the brick-and-mortar retail space.
So is Google really going through with this plan? And if so, why? Since 2012, the online giant has been rumored to be opening brick-and-mortar stores, but has yet to pull the trigger.
Google may be feeling pressure from Amazon, which is eating up media time with talks of drones and other innovations. Amazon also was rumored to be opening retail stores for several years, including Kindle-branded locations, but the idea was dropped. Microsoft, on the other hand, has opened dozens of stores around the U.S., so perhaps Google is looking to compete with Microsoft and Apple, while outshining Amazon.
The other question is: What will Google sell in a retail store? Some speculation has included Google Glass and/or Google-branded hardware (although Google bought Motorola Mobility in 2011 and then sold the company to Lenovo at a significant loss). Google's Android division may introduce new home entertainment devices, smartphones and tablets; Chromebook laptops also are a possibility. Additionally, Google may be expanding beyond Google Glass in the wearable technology arena, with a new smart watch being developed along with LG.
But this also could be a move to increase brand presence while testing a concept, similar to the Samsung Experience store that was located in Columbus Circle in NYC (which closed in 2011) or the Tesla store located in the Short Hills Mall in New Jersey.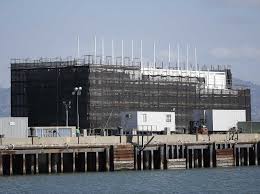 Certainly, a store in the upscale luxury SoHo market will be a visual improvement to the Mystery Barge floating off the coast of San Francisco.