Lowe's has unveiled a new solution, developed in its Innovation Labs division, designed to combat retail theft in way that is invisible to customers through the use of RFID chips and the blockchain.
Called Project Unlock, the new technology combines low-cost RFID chips and IoT sensors to activate power tools at the point of purchase while also creating a secure, publicly accessible and anonymized record of legitimate purchases on the blockchain.
Organized retail crime has been on the rise since 2020 and costs retailers an average of $700,000 per $1 billion in sales, according to the National Retail Federation. Solutions up until now have typically involved locking up high-value merchandise, but Lowe's new technology could allow the company to throw away its padlocks and shelf gates.
"It's our job to make sure customers experience as little friction as possible — that's why we're so concerned about retail theft and committed to preventing it," said the company in a video demonstrating the new technology. "We see a future where technologies like Project Unlock can help the entire retail ecosystem create a great environment for our customers."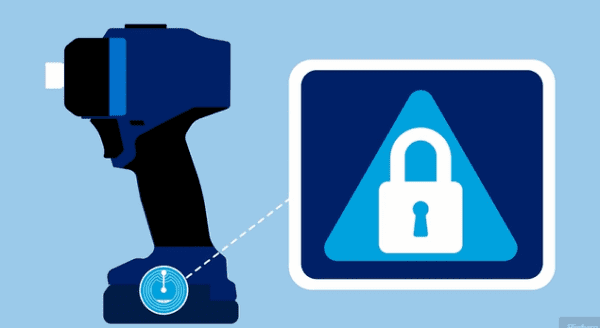 Project Unlock features two interconnected solutions. The first is point-of-sale product activation by which only products that are legitimately purchased are activated. This means that if a power tool is stolen, it won't work. The POS activation is powered by an RFID tag that is embedded in the product by the manufacturer and pre-loaded with each item's unique serial number. That serial number also is embedded in the box's barcode, and the product is set to "inoperable." When the barcode is scanned at the register, it is then activated for use.
The second piece of the solution is a transparent purchase record to hep retailers, manufacturers and law enforcement authenticate validate ownership. Once a customer buys a product it is recorded to the blockchain. Then these records, which contain no personal customer information, can be checked by anyone. For example, resellers like marketplaces can check the record to ensure they're not buying a stolen good. To make this work, a unique NFT is created for each physical product.
At the outset, Project Unlock will be deployed at Lowe's stores across its power tools assortment to offer proof of concept, but a Lowe's spokesperson said the company "sees potential to use this invisible blockchain and RFID system for other items in its stores and across the entire retail ecosystem."