To create a brick-and-mortar experience that is engaging and, most of all, differentiated from its digital counterpart, brands and retailers need to embrace what makes the store special on a fundamental level. For design and experience strategists like Michelle Collins, it's the opportunity to have authentic, spur-of-the-moment interactions with fellow shoppers that makes stores so special. Hence the inspiration behind the Brand Closet Showroom Social, which Collins describes as an "industry-disruptive, brand engagement and publicity platform" that creates curated, personalized shopping experiences.
"We seek out opportunities to reinvent, redesign spaces and inspire people to authentically engage as they prefer — whether that's to relax, discover or shop," Collins said in an interview with Retail TouchPoints. "We like to describe the Brand Closet Showroom Social as a hospitality retail platform service for businesses, and a private showroom social for consumers seeking an escape. We reinvent and design beautiful amenity-rich spaces that engage the local community and provide unique opportunities to curate social experiences filled with bespoke products, designs and services."
Many define "curation" as simply selecting the right brands and products to place on the floor for specific customer segments. But after the pandemic hit, Collins saw an opportunity to transform spaces that naturally support entertainment, social interaction and the discovery of new artists and brands. That's why the Brand Closet Showroom Social was designed to combine the best of hospitality, boutique shopping, a social club and pop-up into one immersive experience.
Collins explained that the Brand Closet Showroom Social philosophy and approach is inspired by Omotenashi, a Japanese concept that encompasses "a very different approach to hospitality. This is an attitude and manner with which you host with heart. We don't [just] see retail spaces, work spaces, dining spaces."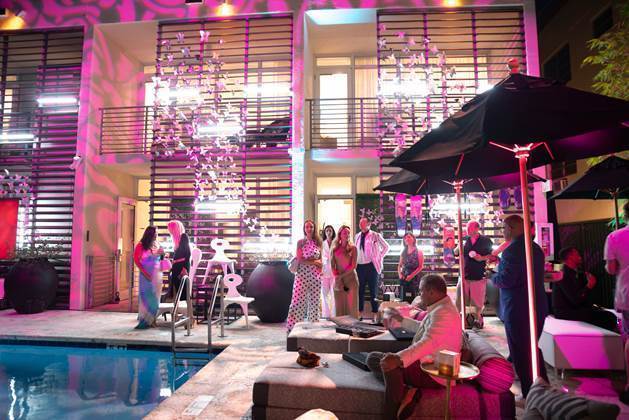 Success in Miami Sparks U.S. Expansion
The first installment of the Brand Closet Showroom Social was held in May 2021 at the Kimpton Angler's Hotel in Miami Beach, Fla., where visitors could browse a curated assortment of women, Black, and LGBTQIA entrepreneurs and artists, renowned luxury brands and bespoke services as they enjoyed the posh exclusivity of the hotel's poolside area — complete with adjoining bungalows.
Over 32 hours, 85 people across different demographics enjoyed sipping champagne, shopping and mingling with their fellow guests. Ticketed and walk-in guests paid between $30 and $475 to partake in the experience, giving them access to dining options as well as the opportunity to be up close and personal with some of the designers.
Guests spent between 45 minutes and 2.5 hours on average within the Miami Brand Closet Showroom Social, browsing emerging and established brands alike including BEAUTOLOGY LAB, North Menswear and RALPH PUCCI. More than 63% of guests made a purchase, and more than one-third of them purchased items across multiple categories, according to Collins. The average purchase per customer totaled $130.
While the core value of the Miami Closet Showroom Social was in brands' ability to come together as part of a more meaningful commerce experience that combines dining, shopping and even culture, they also enjoyed a digital "ripple effect" before, during and after the launch. During the activation's five-week promotional period, brands earned more than 500,000 social impressions, 650+ QR code product scans as well as local and national media mentions.
Due to the success of the Miami installment, the Brand Closet Showroom Social Showcase at Spring Place New York launched on May 26-27, 2021. Collins noted that she will continue to partner with top hotel brands, including Kimpton Hotels, as well as private travel operators and real estate developers, to host more Brand Closet Showroom Socials in emerging market cities on the East and West Coasts of the U.S.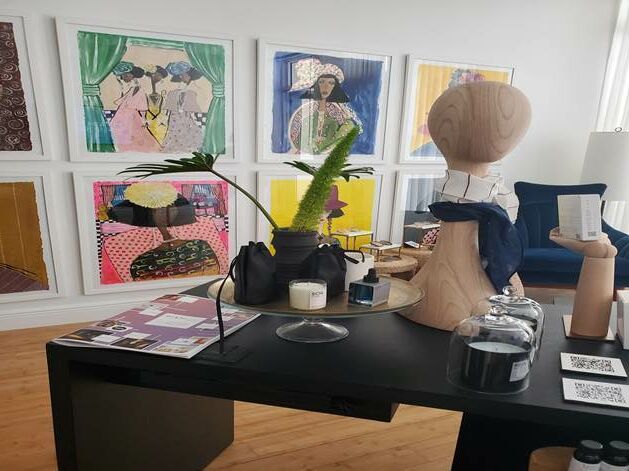 A Viable Alternative to Pop-Ups?
Many brands and retailers have entered the pop-up market, either on their own or with a select number of partners. The value, of course, lies in being able to open a temporary space either to generate buzz or test new markets. The benefits of the Brand Closet Showroom Social Showcase are similar, allowing both emerging and legacy brands to collect unique, valuable customer data while simultaneously breaking into new markets, testing new products and/or gaining press and exposure.
Despite the fact that pop-ups give brands the benefits of a physical space without the long-term costs, Collins believes the barrier to entry for pop-ups is still high. A standalone pop-up experience can cost a brand more than $100,000 – not including all necessary advertising and promotion. By implementing a more customized sponsorship and fee model, the brand closet concept gives participating companies more flexibility while allowing them to benefit from more meaningful and social engagement opportunities.
Besides the cost differential, Collins emphasizes the unique aspects of the Brand Closet Showroom Social:"Our design experience is about introducing a relaxed luxury touch and the belief that hospitality should drive every consumer experience that claims to be personalized," she noted.