Amid the sleek fashions and high-end furniture that grace the shop windows in NYC's SoHo, there is a new inhabitant — a 60-million-year-old Triceratops skull. This incredible relic could have been decorating Jeff Bezos' superyacht, but in a twist of fate, it instead reigns over a stretch of downtown Broadway for all to see. And that is exactly the point of the Rally Museum.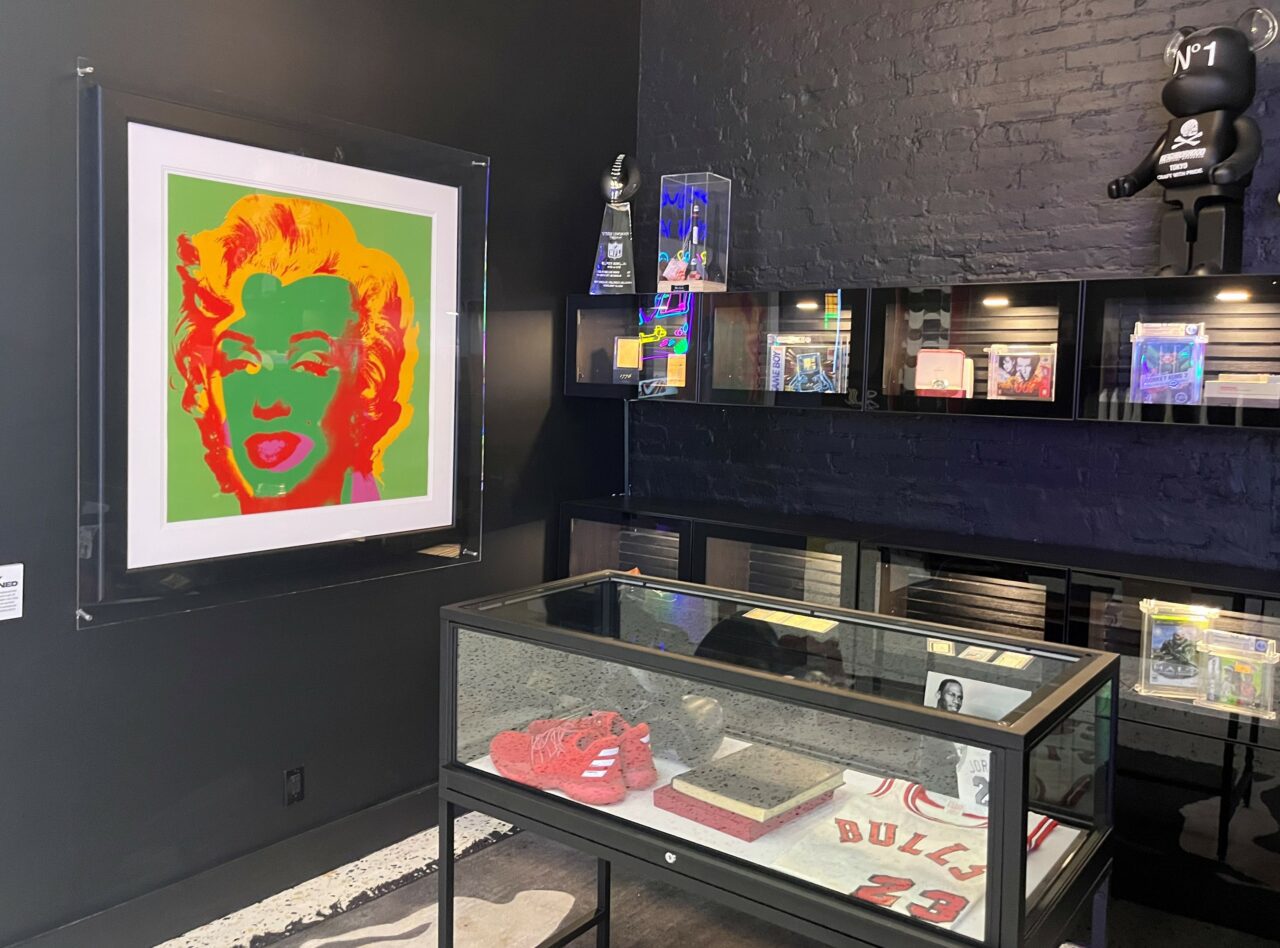 The Triceratops is just the beginning. Visitors who step inside the free museum and event space will be able to view an eclectic assortment of some of the world's rarest collectibles — Andy Warhol's Marilyn Monroe screenprint, a 1955 Porsche Speedster, a pair of signed game-worn Air Jordans, a first edition of Harry Potter and the Sorcerer's Stone, an Hermès Sellier Faubourg Birkin handbag, a Honus Wagner T206 baseball card and much more. The museum truly offers something unique for everyone, and most unique of all, each item on display can owned be anyone.
The museum, which opened in June 2023, displays some of the more than 450 collectibles that are collectively owned and traded on the investment platform Rally. "This space is the amalgamation of what we always wanted to be — a place that brings nostalgia to life, and you can invest in and own the things that are around you," said Rally Co-founder Rob Petrozzo in an interview with Retail TouchPoints.
To understand the Rally Museum, you have to first understand the Rally platform, and so we begin our tour of the museum online.
Collectibles for the Common Man
Almost everyone is a collector of something, and so almost everyone will understand the feeling of seeing their own "white whale" — that rarest-of-rare thing that only a handful of people in the world can afford, so just getting the chance to see it feels like a prize. But with Rally, the common-man collectors of the world now have the chance to own it as well.
The platform allows investors to buy shares of high-end collectibles, just like one can buy shares of companies on the stock market. It launched in 2017 with classic cars and has since expanded to 26 asset types. The most recent addition is real estate, which debuted in October 2023 with the offering of shares in Mickey Mantle's childhood home.
Petrozzo and his co-founders Christopher Bruno and Max Niederste-Ostholt started with classic cars because the category has a massive enthusiast group but high barriers to ownership. "You go to these auctions, and you'll see a 10-year-old who can tell you every single detail about the 1970s Ferrari that's on the auction block, but he's literally behind a velvet rope and can't get within 30 feet of it," said Petrozzo. "That is the gap we want to close — between the people that care and the ones that have the access."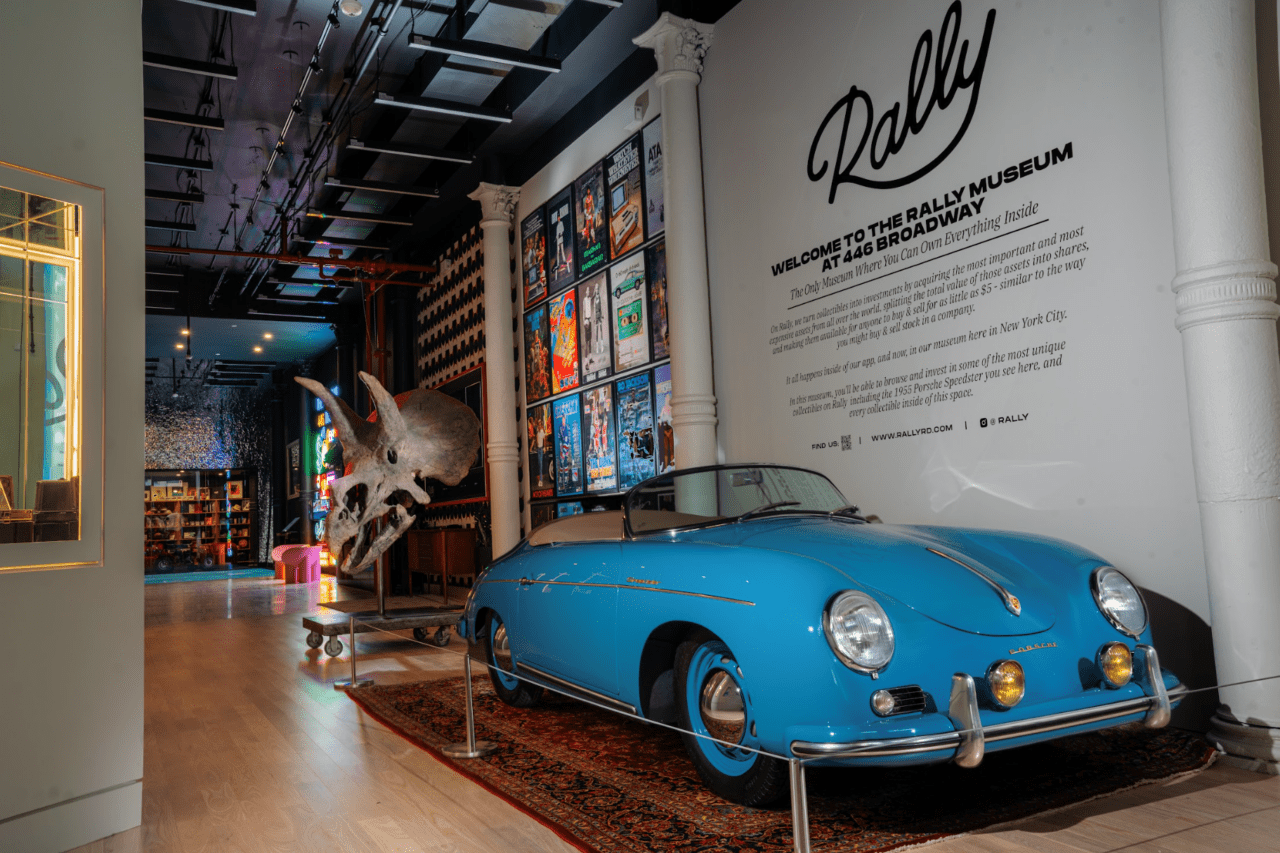 The first three assets the company bought were a $77,000 Lotus, a $320,000 Porsche (which is on display at the museum) and a $150,000 Lamborghini. Shares in each sold out "pretty quickly" simply through word of mouth, said Petrozzo, and that's when he and his partners knew they were on to something.
"Cars are probably one of the hardest [categories] — it's this 2,500-pound piece of dirty metal and also everybody is so trained to think of cars as a bad investment," he said. "So when it worked with [cars] — people understood the concept and spent real money on it — we knew we could do this with just about any other asset class that has the same dynamics [of] a huge enthusiast group where the people that care the most are usually on the outside of the ropes when it comes to the best stuff."
Things like sports collectibles, rare art and books, luxury accessories, vintage technology, iconic real estate…and fossils. Jeff Bezos did in fact have his eye on that Triceratops skull, but Rally ultimately emerged victorious because the paleontologist and archeologist behind the sale preferred the idea of it being owned by a community.
By the Many, for the Many
The Rally Museum is the ultimate expression of this idea, making these collectively owned artifacts available for anyone to experience rather than having them locked up in a vault or only on display in some billionaire's mansion.
Anyone can visit for free, because the museum's goal is to promote and bring together the Rally community. "We call it a museum, but really we want to make it more of a Collectibles Community Center, a place where, if you have an interest in any of this stuff, you're likely going to find the best version of it as well as people that share that same ethos."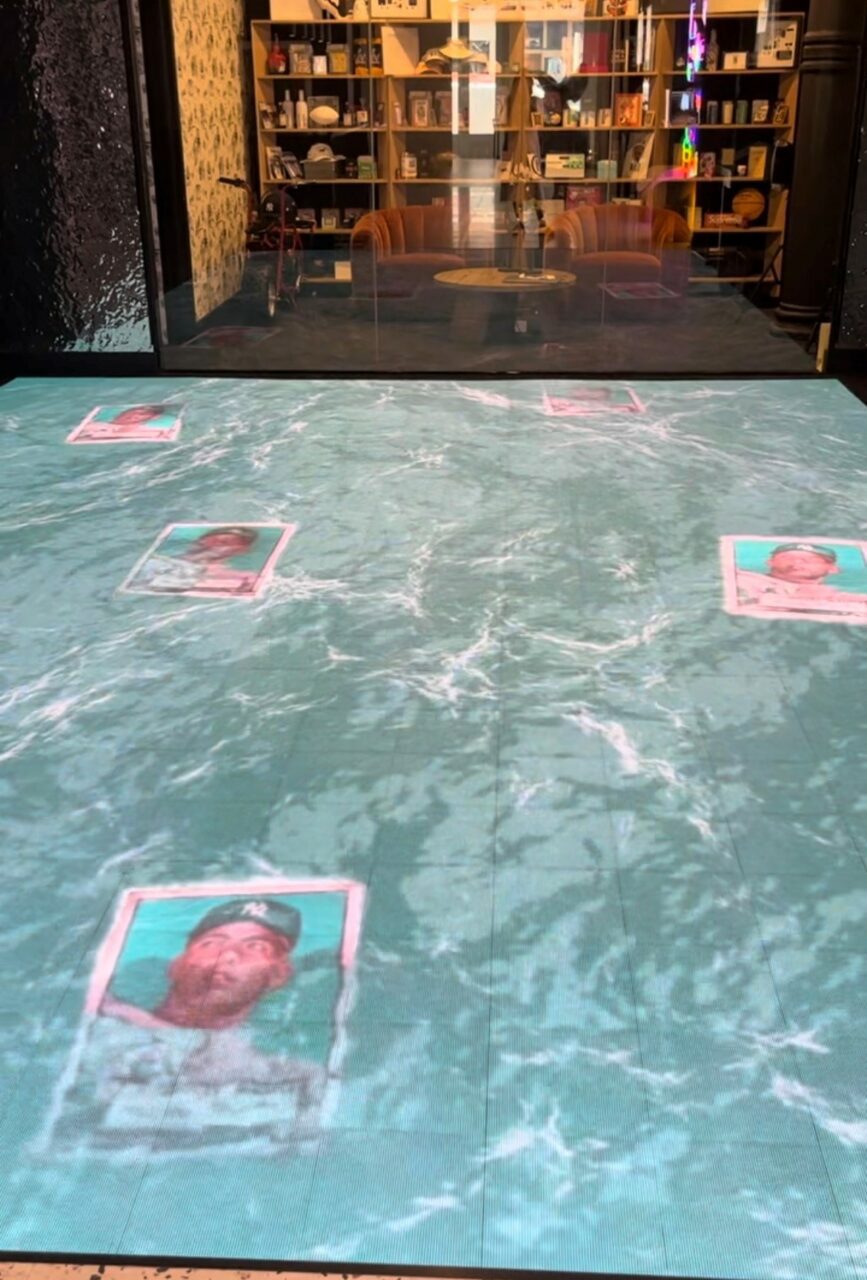 In addition to a dizzying array of collectibles, the space also features:
A podcast studio (a second season of The Best Money I Ever Spent, which debuted in 2022 and features famous enthusiasts talking about what they collect and why, is in the works);
An interactive video floor;
An NFT station where users can create and mint their own NFT;
Rally-branded clothing and gear; and
A bar area that will eventually offer coffee and bites.
It also serves as an events space and has already hosted more than a dozen gatherings, including the museum's opening party. That event drew 1,000 people, most of whom were Rally investors who traveled from as far away as Texas, California and Florida to celebrate the museum's debut. "That to me was an indication of how strong the Rally community already is, that people who maybe hadn't even made money on Rally and only had like five or six investments, would travel 2,000 miles to come and talk about it on a Wednesday."
Rally currently has approximately $40 million worth of assets under management (AUM) and the museum displays more than $15 million of it. And when a new asset is ready for release, the museum serves as a launch pad to allow potential investors to preview the item and reserve their shares.
But at its core the museum is an acquisition tool, serving both to keep current investors engaged and bring in new ones. Approximately 70% of people who find their way to the museum end up either opening the Rally app or exploring an interactive product page while they're there.
A New Kind of Investment
Beyond the thrill of owning a piece of something that was previously inaccessible, the Rally platform is also based on the idea that these items can in fact be good investment vehicles. "Most people come to Rally first because they recognize something," said Petrozzo. "It's passion-driven to start, but what inevitably happens is that after one or two 'let's see what happens' [type of purchases], they start to treat it more like an investment. You can see it on Twitter and Discord and Reddit where people are talking about Rally; they go from 'This is cool' to 'This is an opportunity.' Right now I think we're still on that precipice of people treating these as real investments, but these are all real things and so for many collectors that's more interesting than putting money into a 401(K) or a ticker symbol."
To understand how Rally investors make money, we have to first back up and explain how the platform works. Once acquired, each asset is set up as an individual company, so "the Warhol and the Jordan jersey and the dinosaur are each an LLC that owns and operates one asset," explained Petrozzo. "That asset is the collectible, and it has its own value, its own shares, its own cap table, its own expenses. If it makes more money than it costs to operate and manage, it becomes a dividend for the investor."
The idea is to "mimic all the dynamics of a regular stock, so that people don't have to learn something new," said Petrozzo. And just like the stock market (and unlike many other similar marketplaces such as those based on NFTs) everything goes through the SEC.
When Rally acquires a new asset, it goes public through an IPO on the Rally platform, at which point investors can buy shares. Then, 90 days after the IPO, those shares open up for trading on the secondary market, so investors can sell their shares to other Rally investors in the app.
An asset can also "exit," which is the equivalent of the item going private because it has been bought by a single owner or entity. "Sometimes people come in and they want to buy the whole asset," said Petrozzo. "When that happens, it goes go to a vote [of all the current shareholders]. [The potential buyer] submits an offer, and our team validates that it's within the fair market value of that asset. It then goes to the investors of that individual asset and they vote 'yes' or 'no' based on the price, the return, etc. They have a 48-hour window to cast their vote, and if 51% of them say 'yes,' it goes to our third-party advisory board to ratify the sale, and then it sells off the platform."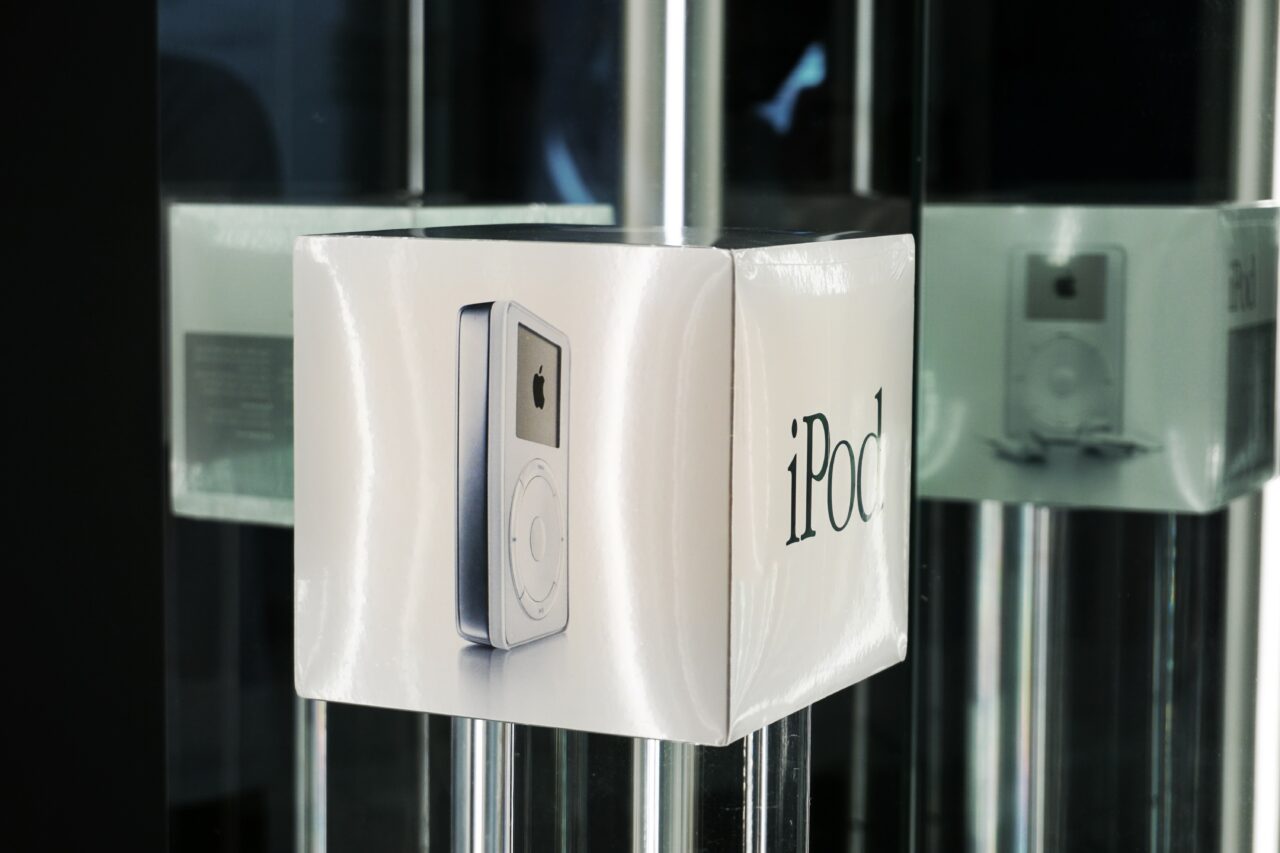 More than 40 assets have exited the Rally platform since it launched. For example, just this past August, Rally broke the world record for the most expensive iPod ever sold, when a 2001 first-generation iPod exited the platform for $29,000, representing a 16% return since its IPO.
Petrozzo credits timing for much of the platform's success: "When we launched, Robinhood was starting to proliferate and people were getting used to self-directed investing; Coinbase was starting to take off, [putting] crypto in a place that was really easy to find; the last frontier in our mind was alternative assets and collectibles," he said. "Now after GameStop and AMC and all those crazy run-ups, retail investors realize they have a lot of power in certain marketplaces. And they're starting to find places like Rally, where they feel like they're seeing around a turn that no one else does yet."
As for Petrozzo's own passion (outside of the business, of course), in his younger years it was cars, but now he's more into vintage technology, which he said is a "big, burgeoning asset class." The favorite thing in his collection at the moment? An original Theranos machine. Hey, maybe that company will actually make some money after all.