3D and AR design studio QReal is moving deeper into direct commerce with the launch of the new multi-brand, multi-category shopping app TRYO.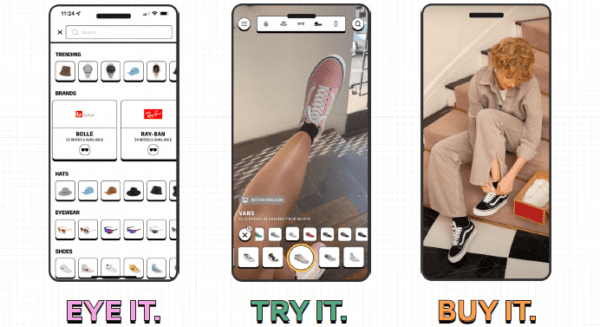 With more than 500 items at launch — including products from Cartier, Gucci, Adidas, New Era and Rolex — TRYO wants to "revolutionize how people shop online" by making AR try-on experiences more easily accessible to both shoppers and brands.
At launch the app features products across four categories — footwear, watches, hats and eyewear — all of which are showcased through high-quality 3D models and can be "tried on" virtually. Users can also share the images on social media and other platforms to get feedback or just for fun.
To create this new commerce experience, QReal developed all the product imagery in the app on spec (read: the featured brands didn't pay a dime up front). And while purchases are facilitated through affiliate links, selling items isn't the primary goal.
"TRYO is a front-facing lens for all of this tech, and then it drives to purchase through other places," said Mike Cadoux, Co-founder of TRYO in an interview with Retail TouchPoints. "Warehousing and payment systems is not what we're interested in — we wanted to create an experience that can showcase the best of 3D modeling and AR try-on. All the technology is there for it, but most of the previous experiences are either siloed into specific tech or within a social platform that has tons of other features so it's kind of hidden, like on Snap or Instagram. The goal of TRYO is to get people experiencing it, loving it, sharing it and hopefully returning."
While the benefits of 3D modeling and AR (higher engagement, better conversions and lower returns, to name just a few) are well-documented, the problem, as Cadoux explains it, is that developing that catalog of 3D content is very expensive and is often taken on by just one of the many potential beneficiaries. Under the TRYO model, brands and retailers alike can license the product imagery for use on their own websites, apps and marketing campaigns.
"The investment required to create a 3D model catalog has been a huge limiting factor, so the initial idea was to create our own large catalog of universal 3D models," said Cadoux. "The same 3D model can serve the brand and the retailer, and honestly the cost should be dispersed across the full sales channel. So what we're creating behind TRYO is a large database of branded items that can then be distributed to all the different sales channels, and the costs can be shared by all of them."
As major retailers with big pockets like IKEA, Walmart and Amazon continue to make advances in AR try-on tech and 3D modeling, the race is on to keep up. This urgency was only heightened by Google's recent announcement that it would increasingly prioritize 3D visuals in search results. The TRYO platform and model offers a low-barrier entry point for both consumers and brands to get in on the action.
At the outset, QReal itself selected the brands and products to feature in the app, with an "80-20 mix" of accessible and aspirational products — 80% are products that are accessible in style and price point, but 20% are higher-end products, often with unique designs, to give users the opportunity to not just buy with AR but also try out the tech with fun, aspirational products. Eventually Cadoux said he does hope TRYO will build partnerships with larger retailers in order to focus new app product launches on items that those retailers are looking to bring into these formats.
"Not only do we want to change the future of shopping and make it more fun and easy for consumers, we want to show brands how easy it can be to embed a virtual try-on experience into their own websites," said Cadoux. "It may seem like a daunting task, but we're able to do it, and TRYO shows it can be done."