The bankruptcy of David's Bridal in April — its second in five years — signaled more than just the potential demise of another ailing retailer, but a larger shift in the U.S. bridal industry. After being significantly disrupted by COVID, an underlying transition that was already beginning to surface pre-pandemic is continuing: couples are marrying later, throwing smaller weddings and shopping for those weddings (including for the dress) online. A key reason for the last trend may be that many of today's younger consumers aren't in love with the drawn-out, showroom-style shopping experience of traditional bridal retail.
One of those disenchanted customers was Charles Zhong, who, after helping his wife through the process of finding a dress for their wedding, decided that the whole process needed to be reinvented — and that he was the guy to do it. In 2014, he launched the online bridal brand Azazie, which has experienced massive growth every year since, including during the pandemic, and now sells around 5,000 dresses every day — all without showrooms, snooty salespeople or stick-thin mannequins.
"Bridal retail has always been very traditional, but it has really evolved over the last five years," said Ranu Coleman, CMO of Azazie in an interview with Retail TouchPoints. "One of the key things we do at Azazie, and a big industrywide push, is more customization and personalization. Modern brides don't always want to feel the pressure of a salesperson telling them what they should buy, so what we have done is design this whole process be more on her terms."
The propellants of Azazie's success provide some insight into what may be dragging down David's Bridal (which is still hoping to secure its survival through a sale or some other Hail Mary alternative), including offering customers affordable, on-trend and customized (for free) bridal fashions from the comfort of their own homes. Here are the five principles they're using to accomplish this.
1. Affordability
Wedding dresses on Azazie start as low as $199, with bridesmaid dresses starting at $79. That price point is possible because "we don't have stores and we don't have overhead," noted Coleman. The brand doesn't even hold inventory (with the exception of samples), because every dress is made to order.
Coleman also points to the company's strong network of supply chain and infrastructure partners as another factor in keeping prices down.
"[Our Founder] Charles set out to create a platform that would cut out the middleman and deliver a higher-quality, custom-fit dress to the consumer directly," said Coleman. "He also wanted to help brides of different shapes and sizes, because traditionally you don't really get a lot of size options when you go to a store. And he wanted to make all of that possible from the comfort of somebody's home."
2. Convenience
With its made-to-order model, Azazie earns enviable sustainability street cred, but Coleman said that while she thinks customers appreciate that aspect of the brand, it's not the deciding factor. In her opinion, convenience is where Azazie wins.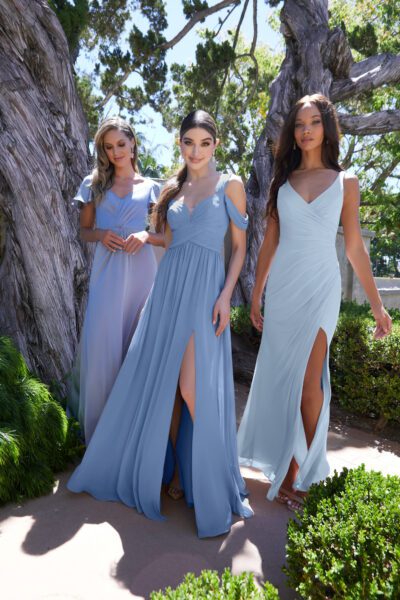 "Many consumers don't like having a lot of strangers watching them when they're trying on dresses," she said. "Yes, some people love it, but many others don't — it's a personal preference. Making it possible for people to go through this process in the comfort of their home is something that I think has really helped our business."
And because of the wide range of styles and colors that Azazie has available, the platform makes it very easy for bridesmaids to shop as well. "We hear a lot that brides will say, 'Okay, this is my color, go to Azazie and find your dress,'" said Coleman.
Customers can order dresses in one of two ways: they can order a standard dress size from zero to 30, or they can put in their measurements to have the dress custom-fit, which is free. To help shoppers take accurate measurements, Azazie offers a measurement guide.
For customers who want to try on dresses before deciding, Azazie has a sample program that allows shoppers to order up to three dresses to try on at home, for a fee of $10 to $15 per dress (to cover the cost of shipping). Dresses arrive within three days and customers can keep them for one week. If a customer likes one of the samples, they can buy it outright. If they like it but want it tailored, they can send it back and order the dress they picked with their custom measurements.
3. Staying On Trend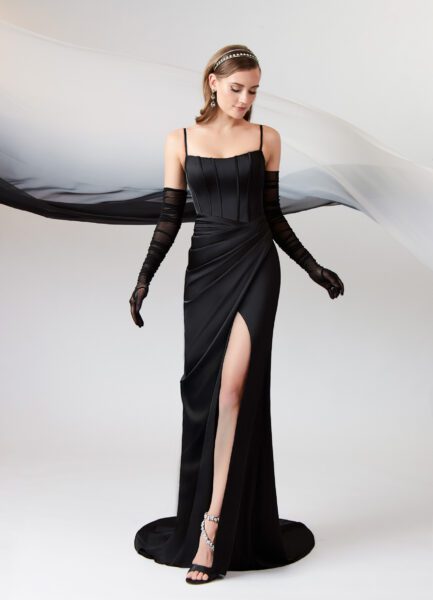 Because Azazie's customers tend to be on the younger side — most are 18 to 34 years old — having the latest fashions is essential. To enable this, the company's LA-based design team stays "in the thick of it, always researching what's coming up, what's happening at Fashion Week and staying on top of what colors and fabrics are trending," said Coleman. For example, just this month, Azazie launched a black wedding dress capsule collection for brides whose "wedding vision doesn't include traditional all-white gowns."
Coleman also said the brand's ongoing collaborations — which have included pairings with couture bridal designer Pnina Tornai and the Kendall and Kylie brand — help Azazie stay on top of what's new and trending.
"We hear a lot from brides that they want their dress to be unique; they don't want to know that a lot of other girls have purchased the same dress," said Coleman. "Our design team sketches and designs every dress themselves, which helps with the uniqueness factor and being able to stay on top of the trends. Brick-and-mortar stores tend to have limited sizing and style options, and they tend to be very mass produced, so they're not as unique. They're not really staying on top of the trends."
4. Customization and Size Diversity
One of Azazie's first moves was to make every dress on its site available in sizes zero to 30, something that many other retailers have since replicated. Beyond that, the site offers more than 70 different fabric colors and 500+ styles in various categories, allowing for infinite customizations beyond just sizing.
And those custom designs can be completed much more quickly than many brides have come to expect: "If you go to a brick-and-mortar store, sometimes it can take three to five months [for a made-to-order dress], but we typically get the dress in three to four weeks," said Coleman.
5. Community
While not everyone is a fan of the traditional in-store wedding dress shopping experience, it is a moment that many people want to share with their friends and family. Azazie helps brides facilitate this with tools to host try-on parties alongside its sample program, including "The Ultimate Pre-Wedding Playlist" on Spotify and guides about how to host a fun try-on party.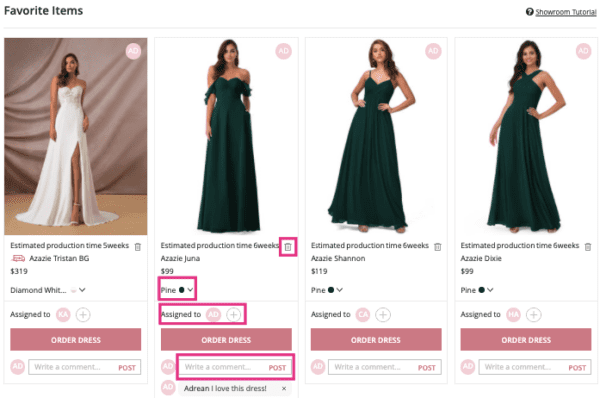 The Azazie site also features a virtual showroom, where brides can place styles they're considering, either for themselves or for their bridal party, and get feedback from friends and family. These kinds of virtual solutions are becoming especially important because "these days, people have bridesmaids all over the country, and it just becomes harder to do those types of things in person," said Coleman.
"One of the key pillars for us is to just be as helpful as possible," she added. "This is such an emotional purchase, so even though we are an online company, we want people to feel like there's a person behind it. It's not AI speaking to you, even from a customer service point of view. And we do a lot of content on social around things like what colors match, great styles to wear for a destination wedding or how to throw your try-on party."
Committed to Thoughtful Expansion
With any successful business, questions around expansion eventually arrive, but Azazie has been slow to move outside of its core competency, which Coleman described as "dressing our customers for their more memorable special moments."
The company has no plans at the moment to expand beyond the wedding and special occasion categories, although Coleman does point out that many of its cocktail and bridesmaid dresses are easily applicable to events like prom. In fact, the company's special occasion category has expanded 1,000% in the last year. Azazie did recently expand into footwear and handbags, but Coleman said those categories felt like a "natural extension" for the brand.
And while the brand also is expanding geographically — having recently added Mexico, Australia and the UK to its existing markets, which include the U.S. and Canada — one arena not on Azazie's radar at the moment is brick-and-mortar.
"Right now, with the growth that we're seeing, we don't feel like it's something we need," said Coleman. "We're not completely ruling it out for the future, but I would never see us with a traditional brick-and-mortar store. Maybe showrooms or pop-ups or other things like that, but not a traditional store."