Subscription retail first came on the scene as a disruptor to the industry in the early 2000s, and it continues to make waves as it grows. The sector began with digitally savvy startups popping up to offer consumers a monthly box of goods, usually curated based on a quick personality quiz. Today it has evolved to become almost table stakes for many different types of retail brands. In addition to the original disruptors that started the subscription scene, more traditional brands including Petco, Walmart and Gap are offering the services, alone or in partnerships, to provide consumers with a convenient way to discover and sample new products for a low price.
In return, the retailers get access to a treasure trove of customer data. Some long-standing subscription services, such as Stitch Fix, are applying artificial intelligence (AI) and machine learning to this basic data to help create new products and target specific subscribers.
"[Subscription is] not just for digital startups like Stitch Fix," said Jill Standish, Senior Managing Director for Accenture's Retail practice, in an interview with Retail TouchPoints. "Now I see the Gap going into subscription — they have a service for baby clothes. Gap is getting to know the customer and understand their baby preferences as parents. They're opening up a new way to get consumers to continue to shop at Gap. They're [acquiring] consumers early on."
Subscription retail has come a long way since companies like Birchbox entered the scene. Recent research from Hitwise, titled: The Rise of Subscription Boxes and the Consumers Behind Them, revealed:
Approximately 5.7 million U.S. consumers currently are subscription box shoppers;
Monthly visits to subscription box companies' web sites surpassed 40 million visits in January and March 2017, with a 290% increase since 2014;
Between 2014 and 2017, monthly visits increased in several sub-categories:

Pets: up 1,060%;
Lifestyle: 441%;
Apparel: 415%;
Beauty: 268%;
Food: 232%; and
Kids: 149%.
So as more players join the subscription game, how do existing subscription companies remain relevant and top-of-mind for customers? Some brands, such as Loot Crate, are providing relevant content, in addition to boxes, to keep customers interested. Others, including Stitch Fix, are leveraging customer data to refresh offerings and strategies.
And is there room for other companies to get in on the success? Examples from retailers Loot Crate, Glossier, Care/of and Lola reveal inspirations on how best to dip a toe into the subscription scene.
Content And Community Fuel Loot Crate Success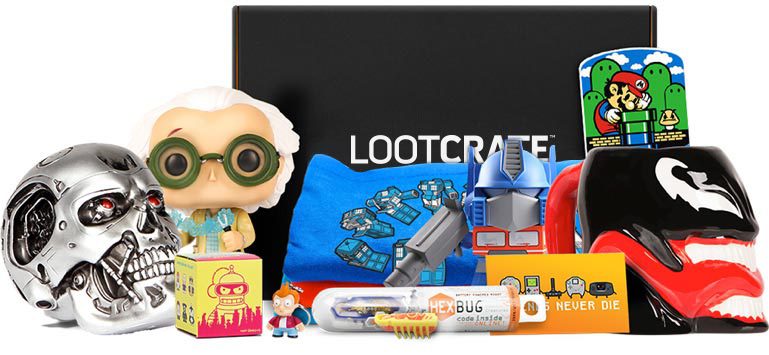 As a subscription box service that has thrived for five years — especially as more subscription box services saturate the market — Loot Crate isn't only focused on the box itself. In fact, some have gone so far as to say the brand is not focused on the box at all.
Given that the industry is more competitive than ever, Loot Crate believes that editorial content is key. Aside from its line of 27 unique subscription box offerings — ranging from themes such as Harry Potter, Marvel and Stranger Things — the company also offers its community an editorial outlet called The Daily Crate. Loot Crate creates fan films and thematic videos every month, runs promotions with WWE superstars, writes editorial content and event coverage, and shares video interviews with stars of new movies and TV shows.
"Content is a big part our evolution of the space," said Erik Reynolds, VP of Product Marketing and Communications for Loot Crate in an interview with Retail TouchPoints. "You can't just send someone your product every month and have that be the only touch point and transactional relationship. You have to realize that it's a relationship; it's not a transaction. That relationship — for us — needs to be a celebration of the things we love, of our fandom. So every month, we're celebrating Marvel and DC. When a big film comes out, like Wonder Woman or Thor: Ragnarok, we're hyped with [the community] and writing 1,000 words about how amped we are.
"I think the subscription model itself is evolving," added Reynolds. "We're seeing people rush to put anything in a box and find their subscribers. We didn't approach it that way. We're in the community development business. We are from the geek, gamer, sports community. We're focused on heightening fandoms. As we've evolved as a company, we went from just leveraging the subscription model as the innovation, to saying 'that's not enough.' So we needed to create a whole ecosystem and community around our subscribers to give them more benefits to their membership, and give them access and unique collectibles that no other retailer can provide for them."
The Loot Crate community also plays a significant role in developing new products and box themes. Reynolds said the company has an "incredibly in-depth" feedback system that allows fans to shape the original crate. The feedback lets Loot Crate know who liked and disliked the products in the box, which helps them define what goes into future boxes. "They have a sense of ownership over these crates, and man do we hear it," he added.
Recurring Subscription Models Can Help Brands Compete With Amazon
The subscription model has evolved from simply being a surprise box of a pre-fixed menu of products, to a "recurring" model that enables consumers to receive their favorite brand of, say, paper towels once a month. This strategy can be used to compete with Amazon, according to Kirk Anderson, EVP of North American Sales of Snapfulfil Cloud WMS, a cloud warehouse management software provider that works with subscription box services like Loot Crate.
"General retail storefronts have their own battle against Amazon," Anderson said in an interview with Retail TouchPoints. "But in order to be creative, they have to go to this subscription model where it gives the customer the ability to put [a product] on autopilot. If [a consumer] gets a recurring [subscription] model, that takes the ownership of him or her having to go to Amazon or a retail store to make the buying decision."
Just a few of the retailers that have implemented a recurring subscription model include:
Glossier: The cosmetics brand gives shoppers an option to buy a product once or have it delivered every one, two or three months;
Care/of: This startup requires consumers to take a quiz about their nutritional needs and concerns, and ships vitamins based on the results through a recurring model; and
Lola: This company ships a box of feminine hygiene products on a recurring basis, allowing consumers to choose the delivery dates every month.
Existing Data Helps Define Opportunities To Expand Offerings
Subscription services such as Stitch Fix or Trunk Club have an advantage over services that are just starting out. They are sitting on years of customer data that can help them innovate and move the business to another level — with help from AI.
One opportunity for existing services revolves around private label, said Tracie Kambies, Principal at Deloitte Digital, in an interview with Retail TouchPoints.
"Existing companies like Stitch Fix are really starting to leverage their data and using machine learning and AI capabilities to change the products they offer and how they offer them to different sets of consumers — and they can get really specific," said Kambies. "Before, they had questionnaires and could service consumers based on the types of products they were sourcing.
"Now, they can create their own set of products and own the product lifecycle based on all the data they have about the customer — what they selected to buy, what they didn't like, how much they paid for certain items," Kambies added. "Then, they could watch what trends are happening more holistically and actually build their own products."