Editor's note: As retail interfaces and systems continue to evolve, the way we design retail experiences to user needs and behaviors is also transforming. In the new series "Stimulating Retail," join award-winning sensory designer and Harvard neuroscientist Ari Peralta as he breaks down the science and tech behind some of today's most stimulating sensory retail experiences. From 3D billboards to spatial scent to ChatGPT, meet the brands leading the next wave of multisensory retail innovations, and learn best practices to help strengthen your brand's sensory presence in this new, multi-dimensional experience market. Read part one here.
Art, in its many forms, has continuously inspired the human mind across different stages of our evolutionary journey. When it comes to retail, art has always played a key role in helping shape brand aesthetics and is often used to deliver non-verbal communication. Now, a new category referred to as "generative art," a type of tech-driven art often presented in installations, is revolutionizing the customer journey, stimulating multiple senses to create personalized and memorable interactions.
With its ability to empower artists and brands to craft an infinite number of unique and immersive personalized experiences for customers, generative art is poised to become the next big thing in retail design — if it isn't already. Beyond its ability to entice the customer's gaze, generative art can also become a medium for retail brands to promote customer wellness and long-term goodwill that extends beyond the shopping experience.
Brands such as Bulgari, H&M and Adidas are leading the way in using generative art in-store, designing environments that are captivating, inviting and grounding.
But how exactly does generative art work? Why has it proved to be so exciting for retailers, artists and consumers? And what does this all mean, when it comes to the evolving relationship between art, design and retail?
Generative Art and AI Offer a New Approach to Stimulation and Engagement
Generative art uses algorithms to create unique, complex and evolving works. It is a subset of AI technology that enables artists and brands to build innovative and hyper-personalized experiences. Paired together with creative storytelling, generative art can significantly increase customer immersion and help bring a sense of dynamism to any static retail space.
Artists and designers create generative art using computer algorithms that produce a range of potential solutions based on a set of pre-established parameters. This empowers artists and designers to rapidly explore multiple, sometimes large-scale ideas, while breaking from traditional thinking patterns and formats.
Several pioneering tech-driven artists have illustrated the power and sense in balancing the art side of the equation with the retail side.
Creation is no longer solely understood as an expression of the artist's inner creativity, but also as a result of collaboration between the artist and observer.
In terms of technology, they utilize game engines, 3D modeling, animation, VFX and rendering software as well as AI and machine learning. Interfaces, computers and sensors can respond to human bodily elements such as temperature, proximity and motion to create immersive light art and kinetic sculptures.
Inside the store, technology is altering how guests use and journey through spaces as well as how they view interior design. Over the last 10 years there has been a substantial growth of culture as an experience. The shift from an analog to a digital society has drastically transformed the way in which we create, engage with and appreciate art.
Imagine giving customers the ability to slow down and become transported by artistic statements that seamlessly marry technology and design to create a moment of mindfulness. Here are some of the top reasons why generative art is an effective medium for customer engagement:
Sensory Appeal
The unique environment produced by art-centered spaces enhances the attractiveness of the storefront or the art installed in-store. This can be true whether the art installation is temporary, whether it makes up the entirety of the retail space (such as with a pop-up) or if it's an ongoing experience that balances a gallery setup with retail enhancements.

By incorporating sound, touch and even smell, retailers can create a truly immersive experience that engages multiple senses at once. This multisensory approach can be particularly effective in enhancing the emotional impact of the retail space, making it more memorable. The unexpected and novel nature of generative art installations can provide a break from the mundane shopping experience, or even from a shopper's entire day or week, encouraging them to spend more time in the store as they explore and interact with the art.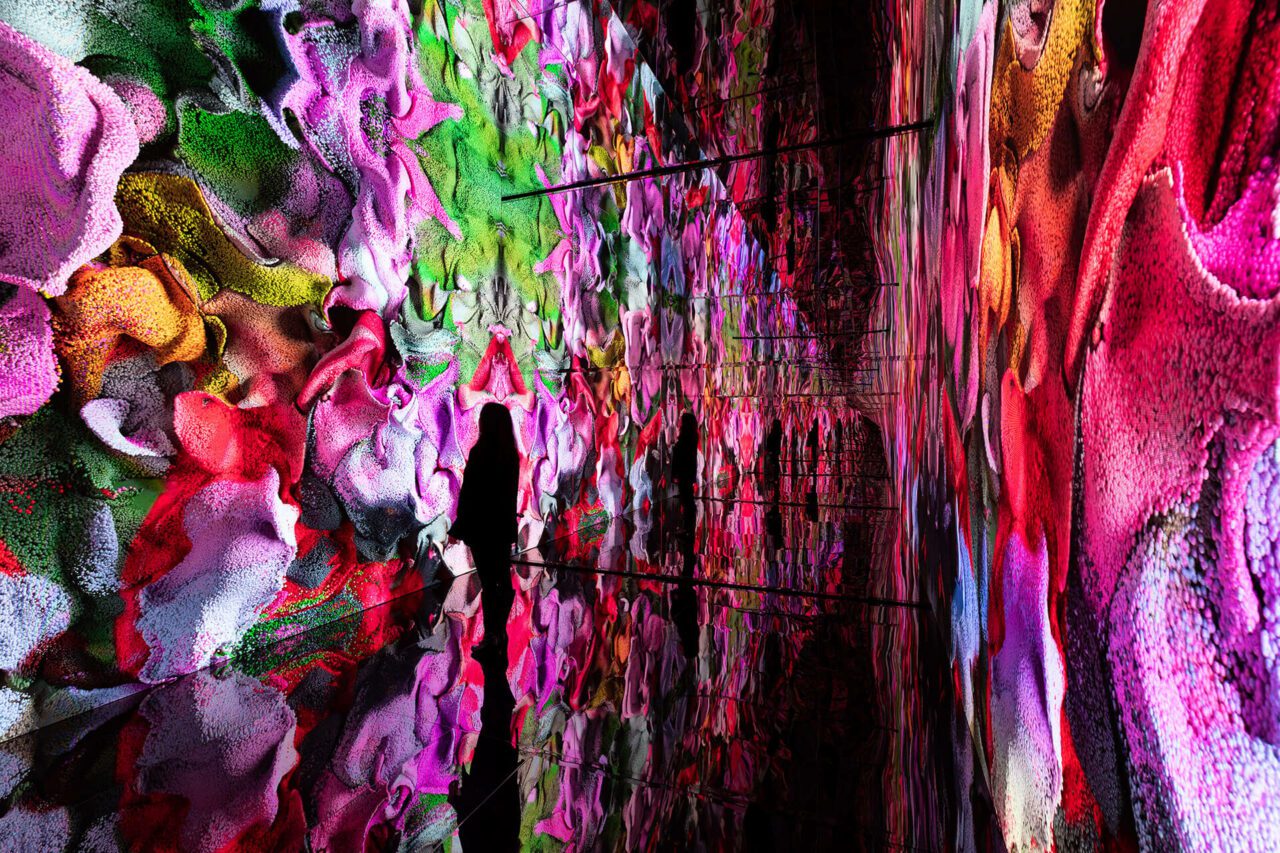 Bulgari and Refik Anadol
Bulgari invited award-winning media artist and director Refik Anadol to create an artwork inspired by the concept of metamorphosis, embodied by the maison's most coveted design icon. An immersive multisensory sculpture created by artificial intelligence, Serpenti Metamorphosis celebrates the beauty of nature through the reprocessing and transformation of algorithm-processed data — an extraordinary experience evoking Bulgari's ability to shape the rarest and most precious materials into magnificent creations.
Social Interaction
From a growth perspective, generative art has been shown to produce Instagrammable shopping experiences that increase foot traffic and sales via social media sharing. Some tech-enabled examples have been explicitly engineered for this purpose, especially when catering to millennial and Gen Z shoppers.
Generative art and artists have succeeded in this sense by sticking to the framework of using algorithms in service of the human experience, focusing on delightful and thought-provoking interactive installations that people feel compelled to discuss, both in-person and online. A key component to this interplay is the ability of generative art installations to bring the audience into the artwork itself. This can be done more casually or more deeply.
A prime example of a deeply immersive and interactive generative art and technology experience can be found in the share-worthy work Adidas accomplished with an installation in its flagship store in Beijing.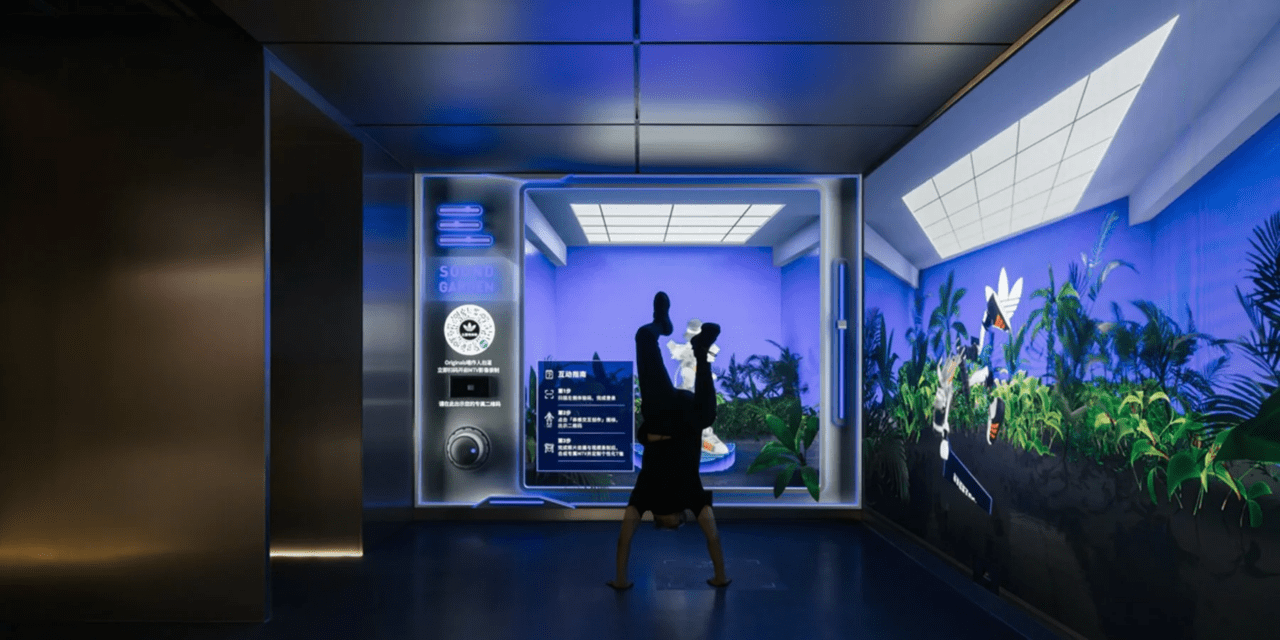 Adidas and YSP
Adidas and design partner YSP leveraged generative art and AI to create an interactive installation where shoppers could design their own sneakers in real time. Visitors engaged with a series of interactive pods in the store, each equipped with digital display screens, scanners and a touch pad. Customers scanned their feet and observed the results as the AI software generated a custom sneaker design based on their biometric data.
Customers could adjust the design from there, choosing their own colors, designs and other details. Then, their shoes were sent to an on-site factory for production. Adidas was able to offer a unique and memorable shopping experience, with customers encouraged to take photos and share their designs on social media, creating a buzz around the brand and driving foot traffic to the store.
Personalization
With generative art, retailers can approach personalization in novel ways that delight shoppers of all ages. According to a recent study, 60% of consumers say they'll become repeat customers after a personalized shopping experience. Generative art installations that respond to customer movements or biometric data can create such a personalized experience. This is exactly what H&M did at its flagship store in London.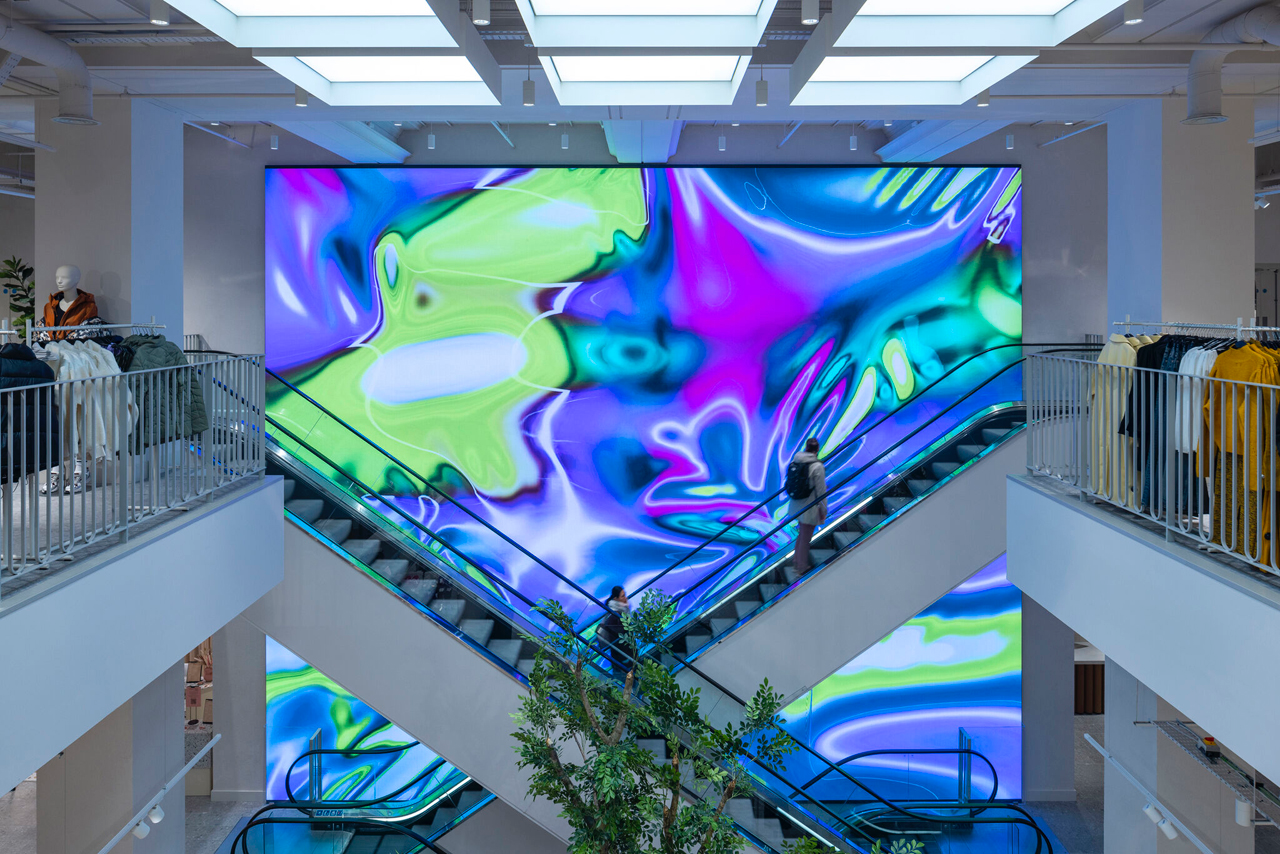 H&M and Hirsh & Mann
H&M worked with design agency Hirsh & Mann and creative coding studio Variable to create a large-scale example of generative artwork that evolves in response to customer movement. As customers travel on escalators between the ground floor and first floor of H&M's store, the artwork's flexible technology allows for various modes to be displayed on an LED canvas. 3D depth cameras track their position on the escalators, enabling ripples and folds to appear on the algorithmically generated material behind them. The artwork is displayed on 4,200 x 3536 pixels of 2.5mm LED, which fills nearly the entire rear wall of the store. This element engages not only the customers on the escalators but also others in the store observing the artwork from afar.
Art Enhances our Mood, in Retail and Beyond
In her best-selling book Your Brain On Art, co-author and neuroscience pioneer Susan Magsamen (co-founder of the International Arts + Mind Lab at Johns Hopkins University) presents a collection of scientific research that validates the extent of positive benefits that experiencing (or creating) art can have on people's thoughts, emotions and actions.
Consider also that incorporating generative art and AI technologies in retail design can enhance customer wellness. By leveraging these technologies to create immersive and memorable experiences for customers, retailers can support customers' mental health while ushering in a new era of retail design that prioritizes wellness, personalization and inclusivity.
In contrast with more static art forms, generative art allows retail customers to step in, respond to and shape the artwork in their own way, leaving behind a trace of their experience.
Ultimately, brands must broaden their mission. We have arrived at a time when most people consider a store more than a place to shop. Brands must become more creative at enriching experiences, and part of that effort means considering the art on view. When considering generative art, location, architecture and design all matter, and can descend into a meaningless void if they don't provide the foundation for true human interaction.
---
Forbes-recognized neuroscientist and award-winning sensory designer Ari Peralta serves as the official Sensory Design Innovation Chair for the 2023 Retail Innovation Conference & Expo. No stranger to RICE, Peralta champions ways to use the senses to elevate quality of life and promote self-awareness through Arigami — an innovative research consultancy dedicated to multisensory research. The "40 under 40" Harvard alumnus makes a positive impact through interdisciplinary design projects that focus on using the senses and technology to support people's mental health.