Digital luxury platform Saks is doubling down on the success of its exclusive Limitless membership program for top clients with expanded services and benefits, including access to members-only experiences and one-of-a-kind merchandise.
The invite-only program requires a spend threshold in "the five figures," according to a Saks spokesperson. Members of the program (who currently number in the thousands, according to Saks) have access to digital and in-person styling services, dedicated customer support and perks throughout the year, including early access to pre-order sales events, Try Before You Buy and surprise gifts for birthdays, holidays and membership milestones. Members also receive SaksFirst Diamond member benefits, including free upgraded shipping, complimentary valet parking at Saks Fifth Avenue stores and SaksFirst Beauty Rewards.
Now Saks is expanding the program to include more "experiences that money can't buy," including exclusive events around the world such as Fashion Week in New York, Paris and Milan, shopping trips to sought-after travel destinations such as Rome, Venice and Sicily, international film festivals and prestigious sporting events, as well as working with designers to offer special merchandise to clients at these events.
Just this week, Saks Limitless hosted an exclusive pop-up shopping experience in Dallas, a key market for the program. On April 18 and 19, Saks Limitless clients were invited to shop from a specially curated selection of designer merchandise inside the private rooftop penthouse suite at the Joule Hotel in the heart of downtown Dallas. The retailer also partnered with Dallas Contemporary and Headington Companies to host a special dinner for Saks Limitless clients and the Dallas community at Sassetta at the Joule Hotel to celebrate the opening of the museum's spring exhibitions.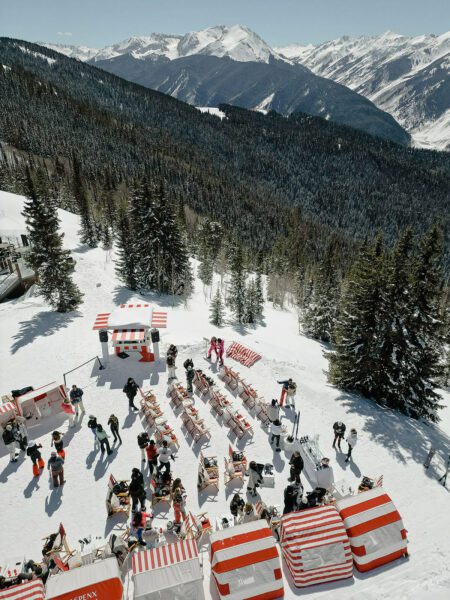 Last month, Saks Limitless hosted a weekend getaway for top clients in Aspen. Throughout the weekend, Saks Limitless clients enjoyed horse and sleigh rides to the legendary Pine Creek Cookhouse, a mountaintop après-ski party at the AspenX Beach Club, guided skiing and snowboarding on Aspen Mountain, on-demand spa treatments and private shopping appointments with local Aspen jewelry brand Atlas Fine. Guests also enjoyed 5-star accommodations at The St. Regis Aspen Resort and access to the members-only Caribou Club.
"We are excited to see Saks Limitless continue to grow as we deliver highly personalized service and access to once-in-a-lifetime experiences that money can't buy," said Mariel Sholem, VP of Client Engagement at Saks in a statement. "Our recent activations in Dallas and Aspen are perfect examples of how we bring the Saks experience to life in unique and compelling ways that are relevant to our top clients' lifestyles."
Saks is the separate ecommerce entity of the Saks Fifth Avenue brand, which was spun off from the brick-and-mortar business in 2021. Despite the ecommerce and brick-and-mortar businesses operating as separate companies, the two do partner to enable seamless customer experiences. For example, Saks Limitless stylists can service clients digitally or in a store.
"As the largest luxury ecommerce platform in the U.S., we are committed to serving the full spectrum of luxury customers, especially those who are most loyal to Saks," said Emily Essner, Chief Marketing Officer of Saks in a statement. "Luxury consumers are an important part of our long-term growth strategy, and we look forward to building deeper relationships with these customers both online and in-person through our expanded Saks Limitless program." Key markets with burgeoning ecommerce top client demand include New York, Los Angeles, Dallas, Houston, Las Vegas and Miami.
[Editor's Note: This story was updated on April 27, 2023 to revise an inaccuracy with regards to the program's current membership requirements. The previously shared numbers were outdated.]