One of the most powerful elements of the cross channel shopping experience is customer reviews. Nearly nine out of 10 US online buyers read customer reviews at least "some of the time" before making a purchase, according to research from The e-tailing Group.
Focused on providing customers with quality natural and earth-friendly products, Greenfeet.com has been a go-to source for finding green products online since 1997.  "One of the things that brought us to the PowerReviews solution is that 'green' is becoming more competitive," says Jill Richard, Web Marketing Manager, Greenfeet.com. "It's a big deal now. Lots of people want to be in that market place and cut into our margin. So we're constantly looking for new ways to connect with our customers and make it more about them."
Richard says in the green industry, it's especially important for customers to know and feel how Greenfeet products work, and, ultimately, what to expect. Greenfeet needed to reinforce that its environmentally friendly products work just as well as the alternatives, without saying it themselves. In addition, the company wanted to have more consistent and direct communication with their customers to further strengthen loyalty and to gain access to feedback that could help shape their business. Establishing that line of communication is key motivator for offering product reviews on the Greenfeet site.

Asking the Right Questions
In October 2008, Greenfeet implemented the PowerReviews platform onto their e-commerce site. Working closely with Richards and her team, PowerReviews VP of Marketing Darby Williams devised questions to ask customers based on the product they review.
Customers are invited into review capture form to fill out forms. The trained PowerReviews team uses technology tools to monetize feedback, making sure that the content is relevant to the product. The content is captured and sent to the product page where visitors can view reviews.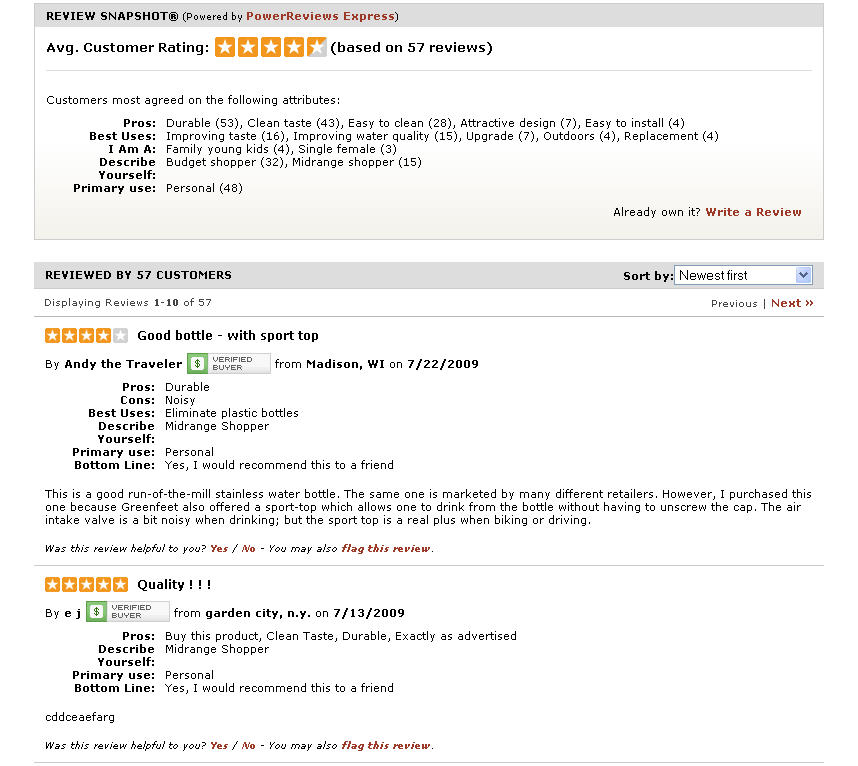 The reviews ask customers to share pros, cons and uses of the product, and how it relates to the customer's lifestyle, a criterion called tag-based reviews. The reviews collected are summarized into a review snapshot make it more efficient for customers to view the information most relevant to them and their lifestyle preferences.
"This whole idea of a tag-based form would completely break down if you didn't have each product category have exactly the right words for pros, cons, best uses and lifestyle," Williams notes.
"One of the things that I like about [the platform] is that we can have different kinds of reviewers," says Richards. "Because reviewers are not required to log in, we have verified reviewers which allows us to have the flexibility to have people who have used the product but haven't purchased it from our site. We also have reviewers who have bought it from our site."
Seamless CRM
Richards and her team can monetize negative reviews by looking up their email address if they are a qualified buyer contact that person to try to remedy the problem for the customer. The platform offers the opportunity for the Greenfeet team talk about the problem directly on the site after the review, so there is a direct line of communication. This feature also enables customer to share tips and thoughts on products. All comments are directly viewed by Richards to ensure that she can interject if customer service is necessary.
Though the platform was implemented in October 2008 during the initial stages of the recession, Greenfeet has since seen a 16% conversion rate increase. "We feel like this has given us the time during the recession to get reviews on our site, but it also allows us to be primed and ready to substantiate growth coming out of the recession," says Richards.
Williams says PowerReviews will soon enable a feature that will allow reviewers to comment on reviews and start a discussion thread, in addition to a Q&A feature on the product page. "The reviews end up being the platform for a whole lot of community," he says. Once a customer posts a review, a feature allows them to post that review to their own blog to maximize viral impact.
Richards says the PowerReviews platform allows Greenfeet to stay true to its community repertoire, acting as a great supplement to Greenfeet's efforts including podcasts, forums and a company blog.