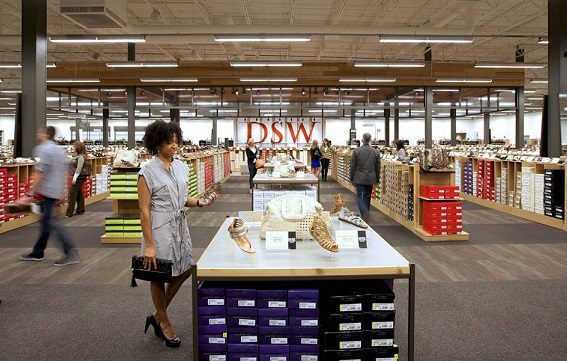 With 400 stores and growing, DSW is constantly challenged with providing the right selection of shoes for every shopper. Adding a series of smaller format stores to the mix has heightened the challenge.
"These [smaller format] stores are 8,000 to 12,000 square feet so the precision of the assortment has to be right," said Linda Canada, SVP of Planning and Allocation of the shoe retailer. A typical DSW store is approximately 20,000 square feet, she explained.
While opening 10 smaller format stores in 2014 to start, DSW also is adding 30-40 total stores per year moving forward. "The first two [smaller format] stores are telling us it's a pretty good initiative. It opens many markets for us to go into."
DSW also segments it shoppers into 12 different groups of loyal shoppers — which includes as many as 22 million current loyalty program members. For example, the "Return Tripper" buys a lot of shoes but also returns some. "This is one of our more valuable customer segments," noted Canada.
Size Optimization In Relative Infancy
With approximately 25,000 pairs of shoes per traditional location, it's somewhat of a surprise that DSW implemented size optimization only about two years ago. After seeing the results, a few DSW executives may be asking themselves that question as well.
"It's had a significant impact on our business," said Canada (noting that they have been able to quantify the results but she is unable to share the specific metrics).
When initially researching size optimization, "We looked at a number of software packages," said Canada, and chose SAS, following a test in a handful of stores. "We liked the power of SAS analytics. We felt like we were getting a richer, more accurate answer to our questions."
The month-long test was not designed to validate SAS per se, but to "validate the importance of being in stock with size," noted Canada. "During the test we gave a small group of stores a lot of inventory so they would not be out of stock. It allowed us to show company leadership that size is critical and here's the value it will bring us."
Canada described how the SAS solution works, compared to some competitors' offerings: "Most companies' size applications throw out data if you are out-of-stock…reducing the data used to develop the size curves…SAS actually adds data through an algorithm that predicts what the sales would have been if the item had been in stock."
Further explaining the company's IT journey, Canada talked about the importance of setting up a dynamic model that couples size and allocation together to deliver more effective replenishment.
A Forward-Thinking Omnichannel Organization
Looking toward the future of retail, DSW moved forward with an omnichannel focus earlier in 2014. "It is an evolution of our business model," said Canada. To set up the new format, "We pulled together seven individuals — all Director or above — to work together as a team and be empowered to make recommendations."
The new team is now headed by an EVP of Omnichannel and includes executives representing all aspect of the business. "We had separate dotcom and store organizations; now they are working together," Canada explained. Other executives hailed from Allocation, IT, Marketing and HR.
To help plan and format the new organizational structure, DSW brought in IBM to conduct assessments — including a cost analysis and execution plan — and Deloitte to help with strategic planning.
A Technology-Driven Future
With size optimization in place, DSW is implementing Assortment Planning with JDA and is looking at Visual Analytics from SAS. Previously the company used a homegrown solution for assortment planning.
Visual Analytics will help DSW provide a consistent customer experience "no matter where she is shopping," said Canada. "Our store assortment is very broad and not all stores have the same assortment. We are working to open every style we have — in-store or online — for all customers. Visual analytics will make it easy for our store associates to view the information using whatever tool works best for them."