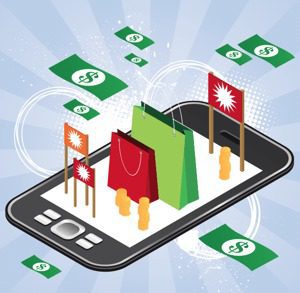 More than two billion consumers will complete a transaction using a smartphone or tablet by the end of 2017, an increase from 1.6 billion in 2014, according to a report from Juniper Research. Additionally, mobile shoppers will complete 195 billion mobile commerce transactions annually by 2019, almost tripling from the 72 billion transactions estimated for 2014.
The report, titled: Mobile Commerce Markets: Key Sector Strategies, Opportunities & Forecasts 2014-2019, assesses emerging trends in key m-Commerce markets. Seven different markets are analyzed in the report, including: digital and physical goods; NFC mobile payments; mobile money transfer; mobile ticketing; mobile coupons; mobile banking and mobile gambling.
The digital goods market, which includes downloadable content such as music and streaming media, is expected to capture the most new transactions. Increased micropayments for in-app purchases, notably within social gaming, will influence these transactions, according to the report. Consumers also are purchasing physical goods through smartphones and tablets more often, as they continue to migrate from the desktop to the tablet for their e-Commerce needs.
"If you look at a desktop purchase, you're limited to sitting at one particular desk, wherever that PC is located in the house," said Windsor Holden, Research Director at Juniper Research. "With the tablet, you can take it in the lounge and watch the TV while you buy your week's groceries or buy your presents for Christmas."
The highest penetration of m-Commerce currently occurs in North America (56%), but Western Europe is estimated to take the number-one spot by 2018 due to further tablet adoption.
Mobile transactions also are projected to escalate due to the proliferation of in-store payment options. The Near Field Communication (NFC) mobile market will increase substantially in the next few years. Apple's entrance into the market with Apple Pay and the anticipated Host Card Emulation (HCE) technology deployed by banks are both expected to provide NFC with the momentum for further adoption among mobile consumers.
"If you look what Apple has done in the consumer smartphone space, it effectively created the consumer smartphone market," Holden stated. "It effectively created the consumer app market, and it effectively created a tablet market. Apple is very good at marketing a product not just with an Apple brand, but in educating the marketplace that these applications exist. We're at the point where Apple is reengaging with NFC and it has the potential to educate a market that is crying out for education. "
While consumer concerns regarding transaction security continue to be the primary inhibitor to mobile payment adoption, Apple Pay's features are changing that perception, according to Holden.
"What's great about Apple Pay is that it includes a combination of tokenization and biometrics with the Touch ID feature," Holden said in an interview with Retail TouchPoints. "I think we will see that combination deployed to an increasing extent, given the heightened consumer concerns about security."
The study concluded that stakeholders need to emphasize the role that both mobile payment and loyalty can play to persuade retailers to further engage the consumer.
"One of the problems today is that people focus too much on the payments side," Holden stated. "The opportunity shouldn't be siloed and businesses need to use content and other aspects of mobile to engage with the customer throughout the purchase lifecycle and beyond. Businesses can use content for initial engagement, they can tack on coupons at the entrance of the store and there can be post-selling engagement with the consumer that will have used NFC to purchase the product. It's all about being proactive, thinking outside of the box and using the tools that are sometimes being used against you. That's what the clever retailers are doing."