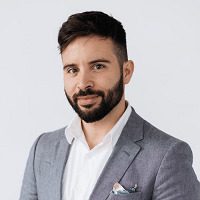 Every presidential election cycle, marketers prepare for the national conversation to be overtaken by politics. It's never been a time to launch a new product or try to make a splash. But this year, political advertising spend stands to be unprecedented — in both volume and strategy — and savvy marketers should be ready with a backup plan, depending on their ad strategy.
First, spend this cycle will be massive, and massively digital. GroupM is predicting that $15 billion will be spent on political advertising in 2020, up 87% from 2016. More interestingly though, eMarketer had already seen a 200% rise in digital spend during the midterms — and that was before COVID made people even less likely to answer their door when a political canvasser knocked.
This huge lift in spend is also heavily concentrated: more than half will be spent in October, most is spent on Facebook and Google (though I imagine connected TV will be a breakout star this cycle), and it's primarily spent in a few key battleground states. As of July, Biden was already spending in Michigan, Wisconsin, Pennsylvania, Arizona, North Carolina and Florida, and party leaders are pushing him to add Texas, Georgia, Nevada and Ohio to that list, too.
So in short: billions will be spent on Facebook and Google in a single month, targeting people in a few key states.
While this may seem a little intimidating, it doesn't mean your holiday sales will be overridden by the election. There are strategies that you can put in place now to ensure you're ready to weather any CPM impact you may see.
1. Ensure your owned channels are primed and ready
Your email and SMS lists will be critical if it becomes too expensive to reach your customers online. Increase your list-growth efforts in August and September so you're ready to capitalize on these owned audiences. Since you'll need these folks through the end of the year, be sure to use smart segmentation alongside a robust one-to-one message program to avoid spamming your list.
2. Go where there isn't a bidding model
After Mike Bloomberg's one million dollar Jerry Media flop, politicians likely won't touch the influencer space. September and October may be the perfect time to shift acquisition spend away from bid-based prospecting placements on Facebook and into greener pastures. The podcast space has moved away from the direct-response model and is proving itself to be an effective awareness play. Similarly, direct mail doesn't have a bidding model either (though who knows if there will be a post office in two months).
3. Look beyond Facebook and Google
It might mean dusting off some old playbooks, but consider moving a portion of your budget into old school approaches. You can get great rates going publisher-direct right now, and you'll likely get some added-value or native placements to complement the spend.
Most of us went into marketing for the creativity, not the algorithms. So get your team together (safely and remotely) and start thinking about what you can do differently. Election cycles are always unpredictable, so even the smartest retailers should have a backup plan to ensure their holiday lead-in is productive.
---
Kevin Forsyth is AVP of Strategy and Enablement at Wunderkind (formerly BounceX), a leading performance marketing channel that allows digital businesses to deliver one-to-one messages at unprecedented scale by remembering their visitors better than ever before. Recently, the company launched its SMS marketing product to help retailers recover lost COVID-19 revenue.