"The debate is over — retail media is now almost universally recognized as one of the most effective methods of commerce marketing," declared The Mars Agency in its third annual Retail Media Report Card. If retail media is indeed past the initial phase of proving its worth, then the logical next question is: Where does it go from here?
One thing to be sure of is that retail media is set to grow significantly in both size and scale. According to Emarketer estimates, retail media networks are slated to bring in $106 billion in U.S. ad spending by 2027 — more than double the $45 billion expected from the sector this year.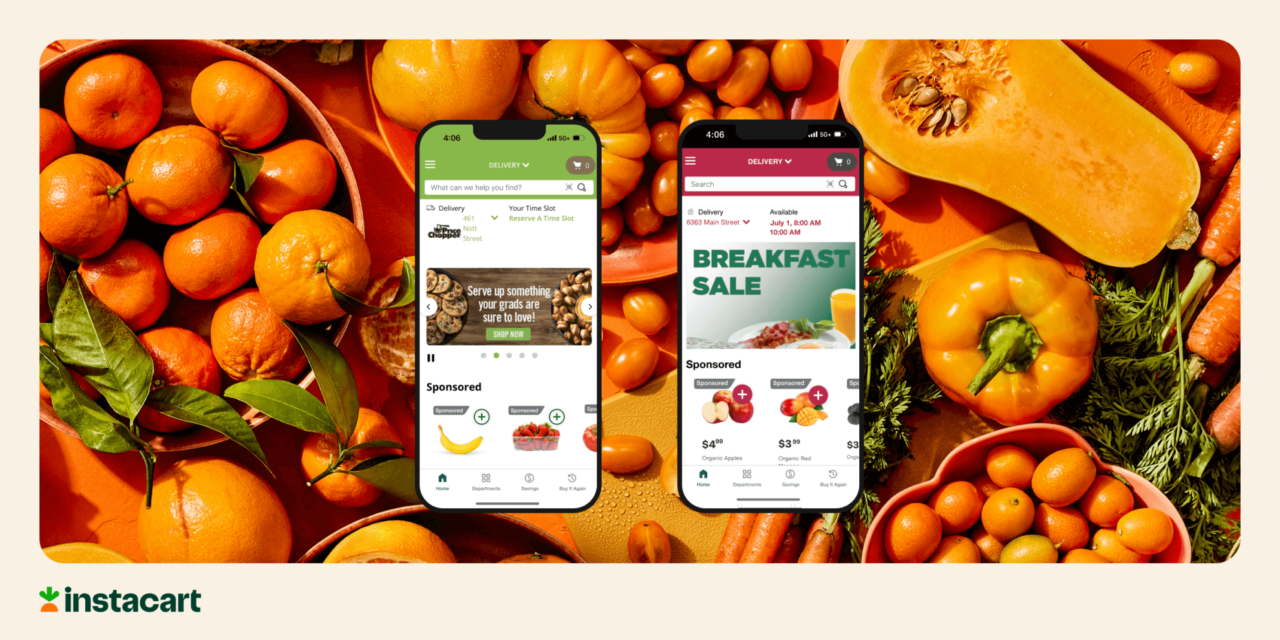 Some of that growth will come from the ongoing entrance of new players. In just the last few weeks Northeast Grocery (parent company of Price Chopper/Market 32 and Tops Friendly Markets) as well Midwest grocery chain Woodman's have entered the retail media mix. Carrefour Group and The Publicis Groupe also launched their retail media joint venture, aimed at the European and LatAm markets, a mere six months after it was first announced with 13 retailers already on board.
But what will really drive retail media's growth over the next few years will be a maturation of the business itself, with retailers branching out beyond the basic website-based offerings of retail media 1.0 into fully realized, closed-loop media systems that tie back to actual retail transactions. "We're seeing retailers link up directly with publishers and media companies, and so we've seen an increasing number of streaming TV partnerships," said Andrew Lipsman, Principal Analyst for Retail and Ecommerce at Insider Intelligence during a recent session at the Retail Innovation Conference and Expo (RICE). "There's also digital publisher partnerships [with the likes of Pinterest and Meta] as well as demand-side platform (DSP) partnerships for programmatic [advertising]."
Despite the rapid development of media offerings from retailers like Walmart, Target, Kroger, Lowe's and Dollar General, Amazon still has a sizeable lead in the space, due primarily to the fact that it essentially created retail media. Insider Intelligence anticipates that Amazon will capture roughly 77% of the U.S. retail media market in 2023, nearly 12X more than its nearest competitor, Walmart. And in its latest report card, Mars crowned Amazon the "best-in-class market leader" among all the players in the space today.
Even with Amazon taking the lion's share, it appears there's still plenty to go around. Forrester estimates that one-quarter of retailers are already generating more than $100 million in revenue from their media networks, and that is likely to grow significantly as these companies continue to build out their offering and work to close the gap with Amazon. Two of the biggest ways they are currently doing this are with:
In-store retail media offerings; and
Off-site integrations in tandem with enhanced closed-loop measurement.
Moving (Further) into Stores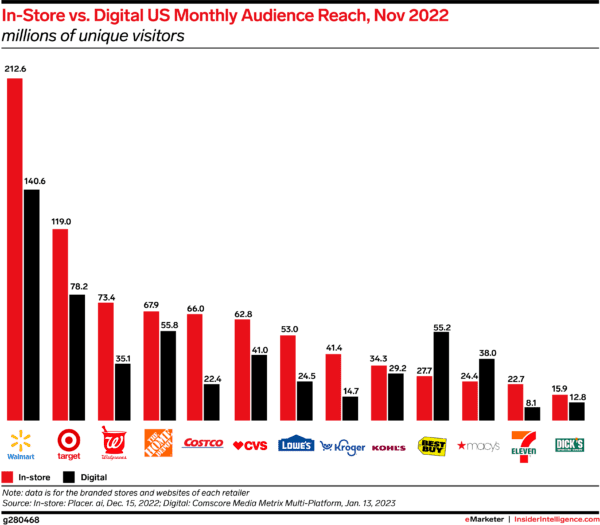 If there's one advantage other retailers have over Amazon, it's their stores, and that physical footprint will become increasingly important to retail media in the coming years. At the RICE session Lipsman pointed out that almost all of the $45 million in U.S. retail media spending anticipated for this year comes from digital audiences, but most retailers have a much larger in-store audience than they do online, with as many as 85% of purchases still happening in stores.
Adding those eyeballs into their advertising offerings will help retailers "stack up really well as media companies," said Lipsman, who added: "We think of the store not as driving traffic, but instead as a media channel, [a platform for] delivering advertising experiences to audiences, and those are audiences that may convert into a sale within that same shopping trip."
And retailers are still finding new places within stores to run these ads. Screens on cooler doors have been a popular starting point, as have placements at self-checkout stations, but Lipsman also pointed to opportunities in other aisles across the store as well as the potential of things like product demos and audio ads, like those Walmart is now rolling out.
Kroger recently announced an expansion of its partnership with one of the leaders in retail media, Cooler Screens, to bring screens to 500 stores following a three-year pilot. And while the screens themselves won't be live in stores until later this year, Cooler Screens already is holding what it's calling "in-store upfronts" to presell that ad inventory. Earlier in June, Cooler Screens began accepting reservations for ad slots from Q4 2023 through 2024.
Marketing solutions company Vericast also recently announced a new partnership with Intel to design its own in-store media network offering for retailers. The company recently piloted the new solution with a "globally recognized beverage company" across 50 independent convenience stores in Dallas and New Orleans, with digital displays placed throughout the stores and on beverage coolers. The campaign delivered an estimated 350,000 verified customer impressions, according to Vericast, and 85% of consumers who visited the custom landing page they were led to opted in to providing data.
Keeping the Customer Experience Top-of-Mind
In-store ads can be a natural extension of the media offerings that retailers have been building online. However, early trials of these integrations haven't been without a few bumps and bruises. Walgreens and Cooler Screens are currently embroiled in a high-profile legal battle over that retailer's decision to discontinue its partnership for screens in its cooler aisles after CEO Rosalind Brewer allegedly "decided she did not like how the screens looked."
Indeed, customer experience considerations will be paramount for these kinds of in-store activations. "We've thought about this a lot, and I think it's important to be very deliberate about that customer experience," said John Storms, Head of Sales and Business Development at Lowe's One Roof Media Network at the RICE session. "For us it really is about having that truly relevant experience, so we're beginning this fall by testing audio — I think that's a very natural way to introduce this and still keep the CX experience clean.
"And then beyond that, [we're looking at], where is the dwell time?," Storms added. "Think about an order pickup area where you might have customers in line. What could a screen experience look like there? We've also got our Pro Desk where customers are sitting, waiting to talk to someone — those are the moments that make more sense than trying to pop up in areas where you're truly trying to convert."
Expanding the Loop and then Closing it
The other big area of opportunity for retailers now is the integration of offline sales data with their online advertising campaigns, said Lipsman. Often referred to as "closing the loop," the ability to tie marketing campaigns directly to transactions is the key to the superiority of retail media over more generalized advertising platforms.
"We did some research last year where we asked a number of media ad buyers about 13 different attributes that were most important to them in a retail media network," explained Lipsman. "At the top of the list was traffic quality and traffic scale. That's all about on-site search, and that makes sense because that's where most of the dollars are going today. But number three was in-store and omnichannel sales data. They wanted to know how those ads were driving sales in-store. [Even though] 85% of sales are still happening in store, that data isn't always linked together. When you start to bring that into the equation, everything changes and budgets can move in a totally different way."
Retailers are well aware of both this opportunity and the challenges in making it a reality. According to Dustin Cochart, Director of Insights at Dollar General's DG Media Network, finding the right partners at each level is absolutely crucial to success. For example, Dollar General works with Bridge for first-party identity resolution, Liveramp to match those customer IDs to other platforms like The Trade Desk, and other solutions to "stitch those customer IDs to specific POS data," Cochart shared during the RICE session.
"It's extremely important to be as prescriptive as possible with the data, and almost bring in different stakeholders at every point so that you have multiple sets of eyes evaluating how the data will come to life, because a retail media network's core value proposition is its audiences and its measurement," said Cochart.
To this end, Uber recently teamed up with Omnicom Media Group in a data collaboration partnership aimed at offering "highly valuable insights to make media plans better, innovate measurement and optimize on incrementality" for advertisers on its burgeoning media network. "With 130 million monthly active platform users globally, the power of Uber's advertising offering is how we are able to understand consumers' next destination in real time and reach them with relevant messages that align to immediate intention," said Mark Grether, VP and General Manager for Uber's advertising division in a statement. "As we look to the future of mobility and retail media, this new partnership taps into OMG's vast data and partnerships, enabling us to take on a new level of precision in intelligent targeting, insights and activation for advertisers."
Walmart continues to test new campaign and measurement mechanics with the companies participating in its Walmart Connect Partner Lab. The retailer announced that NBCUniversal would be joining the Lab to test out closed loop advertising in tandem with the network's live sports streaming content, as well as bring together NBCU ad inventory with Walmart's CTV targeting and measurement capabilities.
"Sports enthusiasts are an unmatched audience, and with the power and scale of NBCUniversal's digital advertising capabilities, combined in a privacy-minded way with Walmart Connect's shopper data, we're able to add even more value for advertisers," said Joe Cady, EVP of Advanced Advertising and Partnerships at NBCUniversal in a statement.
Walmart also recently piloted a program with TikTok that combined TikTok video ads with Walmart Connect's targeting and closed-loop measurement capabilities.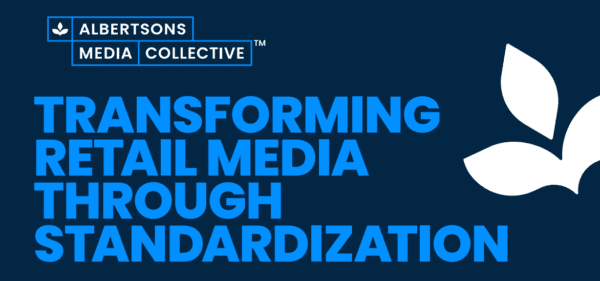 And Albertsons Media Collective is tackling the tricky problem of standardization across retail media platforms with the release of a preliminary framework for standardization to make purchasing and measuring retail media campaigns easier for brands. "While retail media is booming, the lack of standardization has produced an unnecessarily complex, inefficient and costly ecosystem," said Kristi Argyilan, SVP of Retail Media for Albertsons Companies in a statement. "For retail media to achieve its full promise, we must tackle the issue of standardization head on."
"There is a modernization aspect to all of this as well," added Lowe's Storms. "Post-pandemic a lot of retailers have focused on really understanding what their structure is and trying to modernize some of those more archaic systems. Closed loop is really becoming table stakes for retail media network providers to be able to provide that brand- and SKU-level impact, not only online but in store."