There was a time, about five or so years ago, when voice commerce was going to be the next big thing. But one too many frustrating interactions with Siri and news items about smart speakers spying on users were enough to dampen the fervor.
According to Shilp Agarwal, Co-Founder and CEO of voice commerce platform Blutag, the real problem in the early days was that companies "tried to do too much" with their voice experiences. "[Early adopters] basically said, 'Hey, everything that you can do on the web, let's let them do it on Alexa or Google," said Agarwal in an interview with Retail TouchPoints. "People tried to design whole conversations, which led to a terrible experience. It was a situation where if somebody had no computer, no phone, all you had was a smart speaker, and you had to get something done, yes you could do it, but it would never be your first choice. People don't want to have a conversation with a voice device — they just want to get stuff done."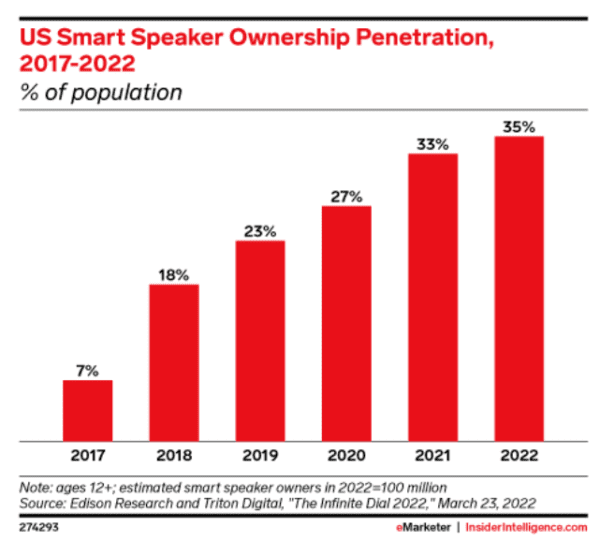 Despite these setbacks, smart speaker ownership is still rising in the U.S. and around the world, albeit slowly, and voice-enabled commerce is growing as well. As of January 2022, 35% of people aged 12 and over in the U.S. owned a smart speaker, according to Insider Intelligence. And in 2021, the global value of voice-assisted ecommerce transactions amounted to almost $5 billion, with Statista projecting that that figure would grow 4X by the end of this year.
The voice experiences that have been successful so far are simple ones — playing music, checking the weather — and on the commerce side, reordering and creating shopping lists. Companies also are getting smarter about how they use the voice platform.
For health and wellness brand Copper Compression, the real win with its voice experiences is brand recall; any sales through the voice channel are just a nice bonus. "I love that the name Copper Compression is spoken in people's homes on their devices — for us, it's around 1,500 to 1,600 times a month," said Matthew Mangione, Head of Growth Strategies and Operations at Copper Compression in an interview with Retail TouchPoints.
"Throughout the online shopping journey, there's so much focus on eyeballs on the brand — how many times does somebody see the logo? How many times did somebody see the name of the brand?," said Agarwal. "But how many times does somebody actually get to hear the name of you brand? Hearing the name of the brand creates a different kind of brand recall because you're connecting with another one of [the consumer's] senses."
While it may not yet be a sales driver at the scale that early advocates hoped, voice commerce is still very much an emerging opportunity for brands, fueled by:
The less tangible, but still very valuable, benefits that come from connecting with consumers through their ears;
The emergence of third-party solutions that make it easy to build voice skills and connect smart speaker activity directly to brands' DTC sites, opening up opportunities for them to learn more about their customers and retarget them with marketing messages; and
Developments in both hardware and software that are creating new voice-based opportunities for brands.
'It's About our Name Being Spoken in Houses'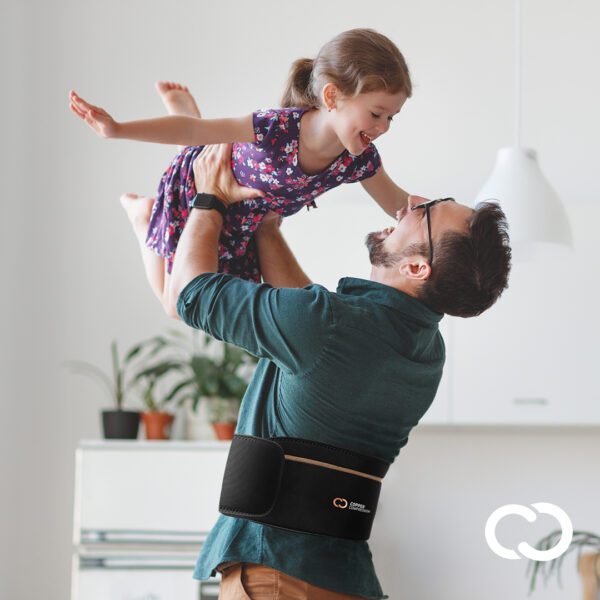 Copper Compression sells therapeutic, copper-infused health aids targeting both fitness and pain relief customers. The company launched on Amazon in 2014 and now has distribution in Walmart, Target and Costco, as well as its own DTC site. The company was acquired by Adjmi Apparel Group in 2019, and Mangione has been there since the beginning (he even served as a product model in the early days). While he's no longer called upon to showcase products, Mangione's still up for anything: "I like to say I'm a beta fish because I love beta programs — I want to get involved in all the cool new stuff." Which is what led him to voice.
To create its first voice experience, Copper Compression turned to Blutag and has worked with the company ever since. They began with a "track with Alexa skill," which allows customers that purchase from Copper Compression's DTC site to receive audio alerts about their order status. The company is having fun with the process — brand sponsor, pro quarterback Drew Brees, serves as the voice of the skill, "so when you log into the skill is says 'Hi, welcome to Copper Compression. This is Drew Brees,'" explained Mangione.
The company now has 14,000 registered customers that have used its order tracking skill, and it also offers reordering and purchasing through voice, as well as informational skills that will teach customers about the benefits of copper-infused clothing.
"It hasn't been a really big driver of sales for us, but that's not what we're going for," said Mangione. "The barrier of entry was low, the connection part was really easy and it's not costing us a ton of money. If it grows into [a sales driver], that's great, and we have some ideas for how to do that, but it's more about our name being spoken inside of their house."
While the voice skill itself might not be driving sales, the name recognition it breeds does. "When people search on Amazon for 'Copper Compression knee brace' versus just 'knee brace' we get a [much larger] return, so that brand awareness is really important to us," explained Mangione. "We're trying to touch consumers in as many different places as we can with the brand name, and the voice skill helps us do that in a unique way that not many of our competitors do. I just want people to hear our name so when they go online, 'Copper Compression' will be included in their search."
The focus on branding rather than transactions aligns with Copper Compression's business model, noted Agarwal: "Copper Compression has a slightly different use case because reorders are not as frequent. In other categories like beauty or food where there's a lot of replenishment, that's where we see a focus more on the transaction, and we see big boosts in repurchase rates."
That's not to say there aren't direct benefits to Copper Compression from the skill itself. Blutag did a six-month study of the company's orders and found that "the more times they heard the name of the brand, the more money they were spending," said Agarwal. "By the time somebody had heard the name of the brand through their smart speaker 15 times, they were spending 32% more with the brand."
Not to mention that those 14,000 customers who have enabled Copper Compression's Alexa skill are also a pool of highly engaged customers, and Mangione is working on new ways to build a deeper relationship with those high-value customers.
'Alexa, send me to CopperCompression.com'
While brands can build their own Alexa skills directly through Amazon, working with a company like Blutag offers a very important benefit: companies can build skills that link to their DTC site rather than Amazon.com. "It's on Amazon Alexa, but it drives to our Shopify store and not to Amazon; that's still insane to me," said Mangione.
Interestingly, it was an Amazon Pay representative who first introduced Mangione to Blutag, which helps explain why Amazon is willing to let companies use its hardware to push shoppers to their own sites.
"The reason Amazon Pay likes what we do is because when you buy a product as a first-time user, Alexa leverages Amazon Pay [to process the transaction] — it uses the default payment method on your Amazon account and places the order in the Copper Compression Shopify store," explained Agarwal. "I think that making Alexa the default voice assistant for people is a bigger prize for them than trying to make somebody buy from Amazon.com. They just care that you used Alexa and you used Amazon Pay — the fact that the sale didn't actually happen with them is mattering less and less to them."
For those who've been following Amazon's recent moves, this likely won't come as a surprise — the philosophy is very similar to the reasoning behind the new Buy with Prime offering. Additionally, this approach opens up the Alexa ecosystem to all merchants, even those that don't sell on Amazon.
For Copper Compression, which does sell on Amazon, there are still big benefits to driving traffic and engagement through its DTC site, including higher margins and, most importantly, the opportunity to turn a casual purchaser into a returning customer.
"Once they become an Amazon customer, I can't find out too much about them, I can't send emails to them," Mangione added. "But if they go through CopperCompression.com, now I have an audience that I can build on, I can market to them and I can build similar audiences that I can touch on Facebook or Google ads."
Adding Video to the Voice Realm
The world of smart speakers has evolved quite a bit since the early days of Siri and Alexa. "Initially it was more about replenishable items — groceries, baby, pet and beauty were big for us," said Agarwal. "But now that a lot of these voice assistants also have screens attached to them that's changing. And Fire TV and Roku now have remotes with voice built in, so people are starting to interact with their televisions using voice as well. It's becoming more relevant for retailers of all types."
Another benefit: reaching customers who aren't able to access the internet easily through traditional hardware, like those with disabilities and the elderly, which is why Agarwal said voice assistants have become so popular in places like senior homes.
As Copper Compression's voice strategy evolves, Mangione wants to tap into some of these advanced opportunities, adding value to its voice skills with informational videos and offering exclusive promotions for orders placed through Alexa.
"As we create new products [we're looking at how] we can incorporate content into video voice skills, where we offer things like five exercises that you can use for your carpal tunnel syndrome, and then of course it suggests a product afterwards," Mangione said. "We are also working through questions, so if somebody says, 'Alexa, tell me how I can treat my hand pain,' the answer is something like 'According to CopperCompression.com, these are five things you can do to relieve hand pain.' It's another entry point to capture people by giving them information and getting them familiar with the brand.
"The feature that I'm really waiting for though," said Mangione with a laugh, "is that it recognizes when you fall asleep and then subliminally says, 'Buy Copper Compression.'" (Just a joke folks — sleep selling is not a thing.)