The 13th annual 11.11 Global Shopping Festival, also known as Singles' Day, has once again broken its own sales records. Alibaba itself generated RMB 540.3 billion (U.S. $84.54 billion) in gross merchandise volume (GMV), up from $74.1 billion in 2020, and total sales across all platforms (including Alibaba rival JD.com) for the 11-day campaign topped $139 billion.
But breaking sales records isn't what Alibaba wants to talk about. Amid regulatory scrutiny and a push from Beijing for "common prosperity," Alibaba toed the government line and focused its messaging on sustainability and social responsibility.
"This 11.11 Global Shopping Festival, we delivered steady and quality growth that is a reflection of the dynamic Chinese consumption economy," said Yang Guang, VP of the Alibaba Group in a statement announcing 11.11 results. "We also leveraged the power of 11.11 as a platform to fulfill our social responsibility. This year's festival was a meaningful milestone as part of our commitment toward building a sustainable future."
For the second year in a row, 11.11 extended across 11 days instead of just one — from Nov. 1 to Nov. 11 — with pre-sales events kicking off on Oct. 20, the earliest start date ever. A total of 290,000 brands and 900 million consumers participated across Alibaba's various platforms — not bad for an event that started with 27 brands 12 years ago.
At an NYC event on Nov. 10, executives from several of this year's 11.11 brand participants, including Diane von Furstenberg (DVF) and skincare line Supergoop!, shared insights and experiences about participating in the world's largest retail event, including:
The focused consumer attention during 11.11 is a prime opportunity for overseas brands to introduce themselves to Chinese consumers;
Selling on an online platform such as Tmall gives brands deep insights into what resonates with consumers, along with the ability to quickly shift strategies in response;
Having a hero product that will build brand recognition is a pillar of success on these crowded marketplaces; and
Livestreaming is absolutely critical to connect with Chinese consumers, and the same will soon be true in the U.S.
Focusing on Social Responsibility, not Sales
While this year's 11.11 continued the event's growth streak, that growth was the slowest ever, at 8.5% YoY. In fact, the 2021 festival was marked by a noticeably muted tone compared to previous iterations, from the pre-event marketing through to the closing celebrations. While the ongoing effects of COVID-19 and supply chain issues played key roles, the primary driver was pressure from the Chinese government.
President Xi Jinping has put out a broad call for the county to achieve "common prosperity" by finding ways to narrow a growing wealth gap in the country. In tandem with this larger objective, the government has been tamping down the rampant growth of some of the country's biggest companies, including Alibaba, which earlier this year was fined a record $2.75 billion for monopolistic practices. Alibaba has since fallen in with the party line — Founder Jack Ma has apparently taken up an interest in farming (no joke), and the company added "common prosperity" to its corporate goals in September.
In the kick-off to 11.11 in October, Alibaba's Chief Marketing Officer Chris Tung described this as a coming-of-age moment for the festival, and the company: "In the early stages of 11.11, we focused on growth — the same way that parents would focus on a child's height and strength," said Tung. "But as a child becomes a teenager, the parents shift their focus to nurturing the child's sense of responsibility: the role he or she plays in society. That is what we're doing now. 11.11 is about how to best leverage Alibaba's latest technology to support brands and merchants in driving sustainable and inclusive growth in more efficient ways."
For the first time, Alibaba put up a dedicated vertical on Tmall for eco-friendly low-impact products during the 11.11 sales, which featured 500,000 products with official "Green Product Certification" from more than 2,000 merchants. The company offered additional discounts on items in the green vertical and issued RMB 100 million (approximately $15.7 million USD) of "green vouchers" to incentivize sustainable purchases. The company's used goods marketplace Idle Fish also launched a service that encourages users to recycle unwanted gadgets and electronic appliances in return for deals on energy-efficient products.
But despite the somewhat meeker tone, Alibaba is still an economic powerhouse. In a video address at the NYC event Michael Evans, President of Alibaba Group, celebrated this fact: "I often hear from international business leaders that their businesses would not have grown and be in the position of strength they are today without China," he said. "China remains an incredibly important market for brands to find growth today, but also for growth in the future. China's long-term consumption is set to double to $12.7 trillion by 2030, an important indicator of how consumption in retail will drive economic growth in the future."
An Increasingly Global Affair
Of particular note this year was the growth in participation from international brands. More than 1.3 million new products were offered by the 29,000+ overseas brands that participated via Tmall Global this year, with some 2,800 overseas brands joining for the first time.
"Chinese consumers are also looking for the best products from all over the world, and that's why this is an important opportunity for American businesses," said Evans. "We're proud to work with thousands of businesses across the U.S., and this year nearly 200 new and emerging brands from the U.S. have launched on our cross-border B2C marketplace Tmall Global."
11.11 Becomes Growth Driver for DVF
While luxury brands traditionally don't take part in shopping holidays, this year a record number of high-end labels (more than 200) joined the 11.11 festivities, including first-timers such as Hermès and Saint Laurent.
DVF has been selling in China for about 11 years, but it didn't enter the online marketplace until a few years ago. This year marks the brand's second 11.11 festival with a Tmall flagship presence. At the NYC event, the company's President and CEO Gabby Hirata spoke about the growing importance that 11.11, and the China market as a whole, play in the brand's business.
"The China market is so important for DVF that [Founder] Diane [von Furstenberg] made me the President and CEO of the whole company," said Hirata, who grew up in Beijing and came to the U.S. as an undergrad.
Sales from China now account for 51% of DVF's global revenue, and the brand's presence on Tmall is a significant driver of that, according to Hirata. When DVF first launched on Tmall in 2019, sales on the platform made up 1% of the brand's total China business, now sales on Tmall account for 9%.
Engaging Online: Be Ready to Pivot and Find Your Hero
In these past 20 months or so on the Tmall platform, Hirata said DVF has learned an immense amount about their Chinese consumers and how best to engage them. When it first launched on Tmall, Hirata said the company didn't approach Tmall customers any differently than the DVF retail customers they had nurtured over the last decade.
But Hirata and her team quickly realized that the shopper on Tmall was different from the one shopping the brand's physical stores, most notably they were slightly younger. In response, the DVF team rolled out some lower-priced items such as high-end T-shirts, believing they would appeal to the younger consumer base.
"We quickly learned, though, that that 25-year-old who came to the DVF flagship store on Tmall [didn't want something cheaper], she actually wanted something iconic; easy to wear, but recognizable as DVF," said Hirata. "So we started giving her the simple, solid color wrap dress in our signature fabric, and that suddenly became the hero product."
Supergoop! marked its first 11.11 on Tmall Global last year and had a similar experience: "The last 18 months have been beyond our initial expectations," said Amanda Baldwin, CEO of Supergoop! at the NYC event. "We thought we would be much more in test-and-learn mode. Instead, it's been more test, learn and sell a lot of Supergoop. But the testing and learning has been really informative. China is a huge market, and we're learning a lot about where we are differentiated and what we can bring that's different than the options that may already be available."
Both Hirata and Baldwin stressed the importance of showcasing key SKUs. "It's very important to have hero product for your Tmall strategy," said Hirata. "There are so many players on the marketplace, and people really don't have the patience [to sift through a huge catalog]."
Evans: To See the Future of Retail, 'Look to China Today'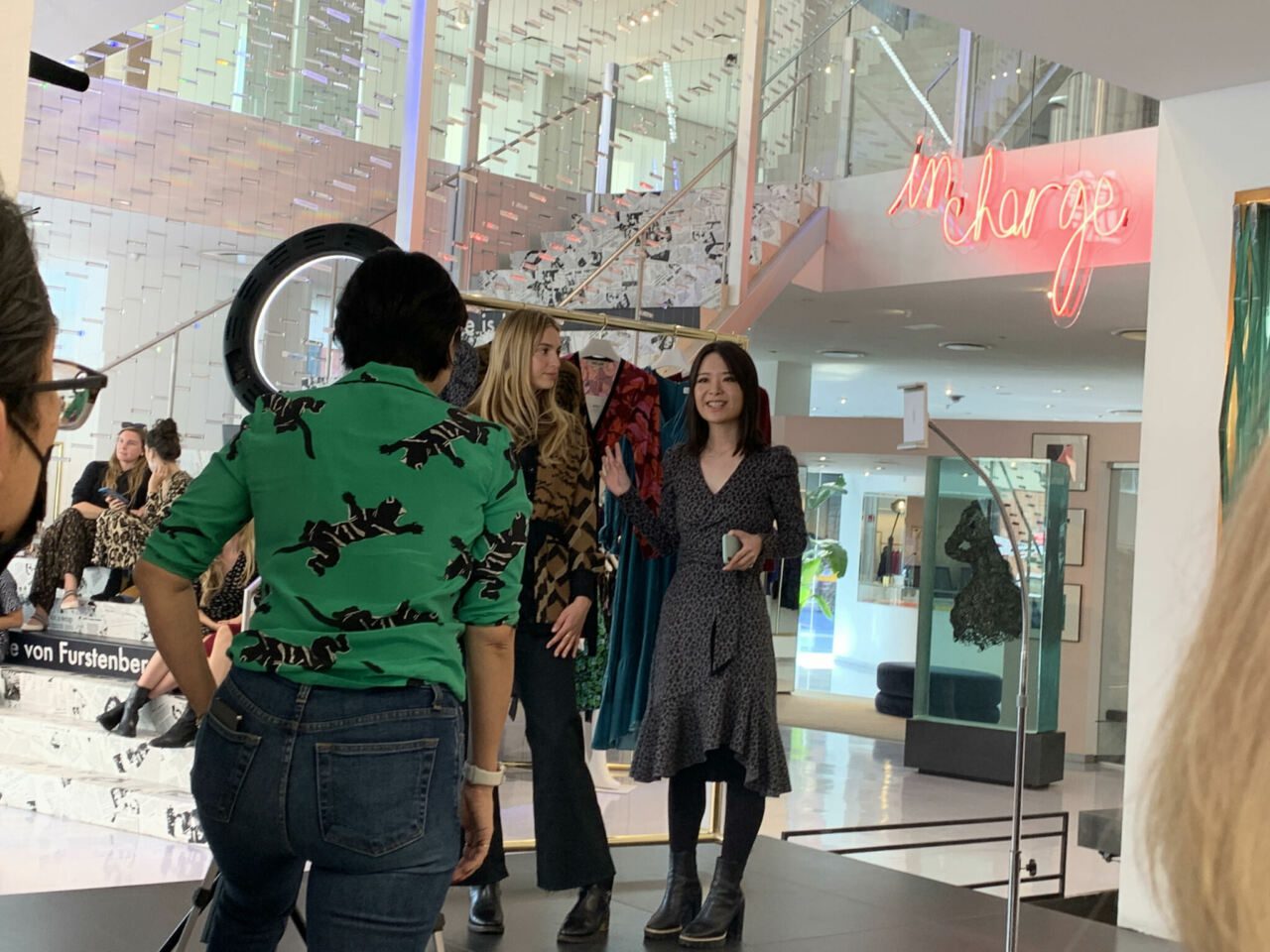 Another way to stand out, and a critical element of 11.11 success, is livestreaming. High-end handbag brand Mansur Gavriel launched its Tmall store in September 2021 and dove right into its first 11.11 festival.
"We did our first livestreaming last week," said CEO Isabelle Fevrier at the NYC event. "It's a great avenue to get our brand out there. For many of us, [the challenge is] how do you compete, how do you stand out from the masses of brands? Livestreaming is a great tool in terms of reaching a much broader audience and figuring out what resonates with them."
Hirata herself hosted a livestream from the DVF flagship store in NYC's SoHo to kick off the last day of 11.11 on Nov. 11. She was joined by Diane von Furstenberg's granddaughter Talita von Furstenberg, who modeled some of the brand's newest offerings. "Chinese customers love to hear directly from headquarters in New York," said Hirata. "They crave that immediate, authentic connection with the brand owners and brand founders from Europe and the U.S. Livestreaming gives us that opportunity to talk to the Chinese audience as if we're in the same room."
A common practice in China, livestreaming is slowly gaining traction in the U.S. and will soon become mainstream here as well, predicted Alibaba President Evans. "I've always believed that if you want to know what the future of global retail will look like, just look to China today," he said. "You can't talk about retail in China without talking about livestreaming. Alibaba first pioneered this technology five years ago, and it remains the single most important tool for consumer engagement."