Aditi Pany grew up in India, the daughter of a first-generation entrepreneur (her father manufactured telephone exchanges) and an interior designer. She didn't immediately follow in either of her parents' footsteps; instead, "like most other Indians I studied engineering," she recounted with a laugh.
But that degree came in handy. After getting her MBA at Stanford, she returned to India and spent the next decade in retail, just as ecommerce was taking off in the country. During that time, she helped to launch AJIO.com, serving as COO of what is now one of India's largest fashion ecommerce sites.
"It was a really exciting high-growth time in India's ecommerce journey, and it was a fantastic, enormous learning experience for me in ecommerce, supply chain, merchandising, digital marketing, all of that, but I hit a midlife crisis," Pany said in an interview with Retail TouchPoints. "I started to ask myself, 'What do I want to do for the next two or more decades that I'm likely to be working? Do I want to sell clothes or do I want to do more?'"
Spoiler alert, she went with the latter and it brought her full circle, back to the entrepreneurial and artistic roots of her parents.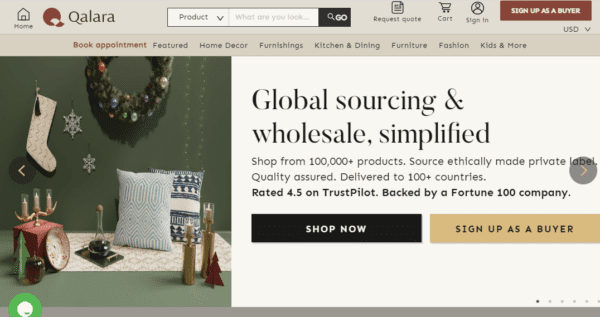 In 2020 she launched cross-border B2B ecommerce platform Qalara, which connects Indian and Southeast Asian artisans, producers and manufacturers with buyers around the world and where she now serves as CEO. A key tenet of the platform is driving sustainable consumption by tapping into the naturally eco-friendly materials and business practices of her home region.
"I wanted to build something that had social impact but could also scale, and in my desire to find an intersection point of these two there were a few trends that converged," said Pany. "I had been at the heart of the digitization in the B2C space, but hadn't seen it in B2B, so that was one white space right there. The second opportunity that resonated with me personally was the evolution of consumers looking for more sustainable consumption opportunities. [And] with all this digitization, there are so many more small- and medium-sized merchants around the world that need to source to sell. I saw an opportunity to build a platform that makes it easy for buyers around the world to access more responsibly produced products and gives [them] access to global markets in a more efficient way."
The Democratization of Distribution
The "white space" in this case came from the fact that sourcing products from faraway regions isn't a challenge that could easily be solved by existing technology.
"It's no longer just the top 100 big retailers selling goods — there are millions of small- and medium-sized retailers that are now buying and selling around the world thanks to marketplaces, thanks to Shopify, thanks to distribution being democratized," said Pany. "But if you want to source from India or Southeast Asia or even the Middle East it's difficult. You can participate in trade fairs, but that's expensive. Or you can travel there, which is again expensive. And you can't just land in India, you need to know where to go, where are the manufacturing clusters and so on. These businesses need a way to effectively, easily find products that meet their aesthetic need, and that's very difficult to do today."
Enter Qalara, which two years on from its launch features more than 1,000 producers selling over 150,000 ready-to-ship and made-to-order products, primarily in the home and lifestyle category. The bulk of Qalara's buyers are SMBs hailing from four core regions — North America (primarily the U.S. and Canada), the UK, Australia and the U.A.E., although the site has shipped goods to customers in more than 50 countries to date. "These could be online retailers that have their own Shopify stores, wholesalers that stock in a certain set of stores or even interior decorators and home stagers," explained Pany.
Being "COVID born," as Pany describes it, was actually beneficial for the business given that the pandemic tended to be a propellent for digitization, which impacted B2B markets just as it did B2C. Qalara wasn't immune to the resulting supply chain challenges, but because the platform is backed by India's largest private sector conglomerate, Reliance Industries, Pany said her company was able to "leverage really good freight rates, especially on the ocean side, despite the volatility globally."
But perhaps the most beneficial outcome of all that upheaval was a broader recognition of the West's over-dependence on China for sourcing and manufacturing. "The pandemic made people realize just how concentrated the risk is in putting all of your supply chain in one region," Pany said. "You can't replace China, but [the buyers we talk to now are] very clear that they want a 'plus one,' they want to diversify.
"Some businesses are moving because of the geopolitical environment and the risks associated with that, others are moving because they're looking for newer materials," Pany added. "And for new materials it's a somewhat level playing field at the moment. In fact, this part of the world has some advantages because of easier access to those new materials and much lower labor costs than China. In the more industrial manufacturing, China's production efficiency is really solid, but in more labor-intensive manufacturing, especially with natural materials, labor costs are actually a lot cheaper here because of the concentrated labor specializing in these production methods."
'Coming Full Circle'
The name Qalara is a combination of the Hindi word "kala," meaning "art" or "craft," and the Sanskrit word "ira," which means "earth." Both elements are deeply ingrained in product fabrication in this part of the world.
"Growing up in India, plastics were not really a part of our lives," recounted Pany. "The milkman would come, and we would take it in our containers. Even a lot of the consumables in our home were [packaged] in wood or other local materials. That was the starting point: India and Southeast Asia already produce and consume a lot of [everyday] products today — from photo frames to bottles to spoons to combs — in eco-friendly materials that are locally produced with locally available materials. These are inherently less harmful to the environment and generate employment.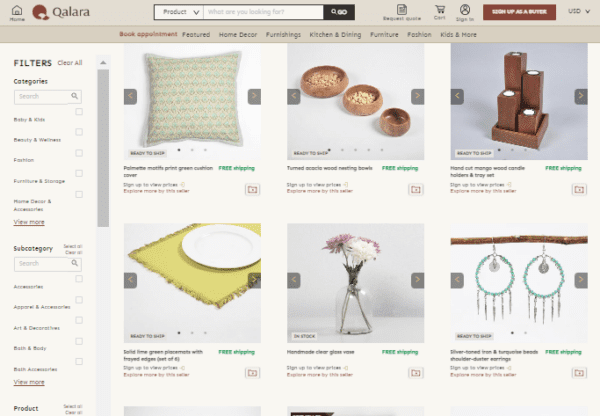 "For me it was about coming back full circle and [tapping into the fact that] manufacturing in this part of the world has evolved and there's a lot of innovation happening in utilizing these materials in newer applications," said Pany, citing bamboo and other materials being applied to eco-friendly options for kitchens or bathrooms. "It was basically saying, how do we take this and make it easily available?," she noted.
Qalara does that through a managed marketplace (where Qalara itself manages shipping and logistics as opposed to a third-party marketplace).
Vendors are vetted for quality and sustainability, although Pany is careful to point out that doesn't mean that every vendor has official designations as such. While many sellers on the platform are Sedex or Fair Trade certified, "we find all the time very responsible producers — because we go and see the facilities for ourselves — who may not have the certifications. It could be, for example, a small artisan cooperative that is entirely run by women and they don't have certifications, but we know who they are and what their inherent mission is," she said, noting that Qalara has its own internal criteria to determine alignment with the platform's sustainability mission.
This process of visiting and checking in on vendors during production is all part of Qalara's "hands-on approach," which enables the platform to ensure quality and reliability. "Qalara isn't a true marketplace, because we realized that in order to make it reliable, responsible and affordable there are inherent economies of aggregation that we [the platform] can bring," explained Pany. That's why, not only does the Qalara team handle factory and workshop inspections and check-ins, it also manages all aspects of fulfillment, including consolidating products in its own warehouse, logistics, shipping and customer communication. Even drop shipping, which Qalara launched in summer 2022, is fully managed by the company.
"In the next three to five years I can definitely see this evolving into a more hybrid model where we have a real marketplace versus managed," said Pany. "The ecosystem that B2C has enabled has helped B2B, but especially in cross-border B2B, there are still some areas, logistics in particular, that are behind where B2C is today. I'm sure in the next five to seven years, cross-border payments, cross-border supply chain and enabling technologies will evolve."
Pany also plans to evolve Qalara beyond the home and lifestyle space with expansions into other categories where the region has unique offerings that will appeal to global consumers.
"I want to get into organic spices and [household] staples," she said. "This part of the world produces some of the best spices and Moringa powders. And beauty product ingredients — organic beauty has traditionally been something that India is known for. We're also seeing the materials we work with make their way into newer categories, like hemp products in the bathroom."
As competition heats up in the space, Pany is counting on her company's head start and the backing of what she calls a "patient, strategic investor."
"Since we launched, I think there have been five or six startups in this space, all funded by the marquee VCs — Sequoia, Lightspeed, Accent, all of them — so it's a really hot space," she said. "But we've been very fortunate to have the backing of this large company that has given us the ability to do things a little bit ahead of the curve and take risks in terms of betting bigger."