Carolyn Bojanowski has been with Sephora since the days when "Friendster was the social media channel of choice," as she puts it. For those who are a bit fuzzy on social media history, that equates to 16 years. In that time, Bojanowski has seen her fair share of shifts and transformations in the business, but even still 2020 stood out, as it did for many retail executives.
As the company's SVP and GM of Ecommerce, Bojanowski was at the center of the storm. With a well-established website, app and loyalty program, Sephora was able to take the almost overnight shift to ecommerce in stride. The LVMH-owned retailer did have to play a bit of catch up, though, when it came to omnichannel fulfillment, fast-tracking the roll out of services like BOPIS and launching new innovations such as virtual beauty consultations. The unique circumstances of the pandemic also led Sephora to what might have seemed at the time like an unlikely partnership with Instacart — one of the delivery platform's first major deals beyond grocery.
Now, as Sephora doubles down on brick-and-mortar in a new partnership with Kohl's and with the opening of 200 new stores this year, the retailer is at a critical juncture in its omnichannel journey. Bojanowski shared key learnings from pandemic pivots such as the Instacart partnership and rollout of Instagram Checkout, and gave us a glimpse of what lies ahead for the beauty retailer in an exclusive interview with Retail TouchPoints.
Retail TouchPoints (RTP): With all the new services you launched during the pandemic, did you see your customer base shift or expand in any way?
Carolyn Bojanowski: There was always a group of clients who were store loyalists — we'd throw everything and the kitchen sink at them to get them to try online, and they would not budge. With the pandemic, that was one cohort that came to us. Also, if you remember, at the time places like Amazon were really focused on shipping out toilet paper and hand sanitizer, so we gained some share from places that just weren't prioritizing beauty, especially prestige beauty.
RTP: Was Sephora's Home Chat feature something that you introduced because of the pandemic?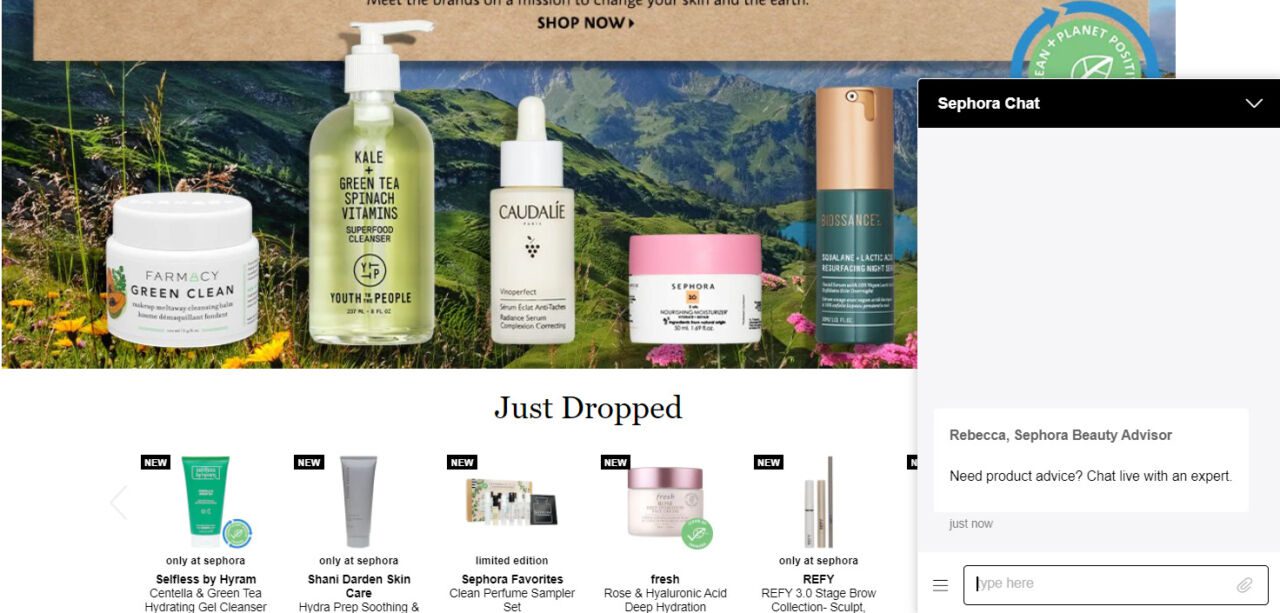 Bojanowski: We have this army of incredible beauty advisors in our stores who are just the best in the business in terms of product knowledge, and one idea that we had during the shutdown was, how can we leverage them to connect with clients who are only able to shop the website? We started testing and thinking about ways for them to connect with clients on Sephora.com, and it was incredible what we saw as we were piloting that last year.
First of all, we had this vision that everyone would want to do a video chat, but what we learned was nobody wanted to video, but everyone was very comfortable chatting. That was a huge insight: clients don't actually want to interface via video, so why do our beauty advisors need to be in-store? Now we've evolved Home Chat to allow beauty advisors to work from their homes on a part-time basis and augment the in-store experience by chatting with clients on Sephora.com.
We're seeing lots of engagement, huge numbers in terms of conversion and AOV, and a really happy beauty advisor population that has this flexibility now from a work perspective.
RTP: Anything else on the omnichannel front that you have your eyes on now stores have reopened?
Bojanowski: One thing that Instacart accelerated for us is [we realized] we have a client who really is expecting same-day delivery. When we first partnered with Instacart, I was the first one to be like, really? Someone's going to buy lipstick or foundation through Instacart? It was just a little bit new for me, but clients love it, and they want it. There really is this appetite for same day, I think not only because of our circumstances right now, but because everyone has gotten really good customer service and fast deliveries from all of these different competitors and avenues, so now it's a table stakes sort of expectation.
RTP: What other ways have you seen customer expectations shift after the last year?
Bojanowski: I think there's just this expectation now that whether it's BOPIS or curbside or Instacart, all experiences should be seamless, quick and easy. If they have one bad experience, they're never going to do it again. But if they have two good experiences, they're hooked for life, so the bar is high.
RTP: Tell me about a little bit about where social commerce fits into your ecommerce strategy.
Bojanowski: We launched Instagram Checkout and shopping about a year ago, and I'm super excited about the future potential of this concept. What we've learned is that there are new clients out there to be had. There is engagement and reach potential that Sephora.com alone could not achieve. We just did a Facebook Live and the engagement we're seeing and the amount of views is pretty off the charts.
I do think that Sephora brings something interesting to the ecosystem of social commerce, because we are a well-trusted ecommerce and retail entity where, for example, if I buy this foundation via Instagram Shopping and it doesn't work for me, I know I can return it to a store. I trust that I can have that omnichannel experience. It's cool because as they're learning, we're learning.
RTP: How is Sephora maintaining the quality of its customer experience on these third-party platforms?
Bojanowski: The way we've approached it is, it should be as seamless as if you're checking out on Sephora.com. That has been the mandate from Day One — it can't be 18 clicks to get to checkout, and if you're a Beauty Insider [a member of Sephora's loyalty program], it should be obvious that you got your points. That's what we're working toward with our partners at Instagram and Facebook. Certainly there are some beta moments, we can't have everything at launch, but that has been the North Star. I don't care if you discovered it on Instagram and you're still on the Instagram app, if there is a client complaint or return, they're coming back to Sephora, so it should feel as good as our website.
RTP: As you look ahead, what innovations are you excited about coming down the pike?
I'm excited about personalization. I know that that term has been out there for a while, but I do think with everything that's happening in terms of connections across digital retail, social commerce, Instacart even, we are able to build a more holistic picture of our clients — how they want to shop with us and what they want to see.
Something like Home Chat, to me, is the epitome of personalization. It's not about me just serving you up a carousel because I think that you're going to like pink lipstick. Instead, you have this chat where we found you the best shade of lipstick, and now you're able to save those chats, so when you go to the store you can look it up in the app and try it out in person. It's this holistic approach to the client journey. I envision a future where you have a favorite person that you chat with on Sephora.com the same way that you might have someone at the store who you seek out. I could see that sort of clienteling aspect come into it.
RTP: How do you balance that level of personalization against data privacy concerns?
Bojanowski: What's interesting and kind of cool about Sephora is our clients are willing to share when they know that it helps them get to a better product recommendation. It's not this creepy, 'Hey I saw you browsing.' It's, 'Hey, take a quiz and tell me what your concerns are. Now let's save this quiz for the next time you go in-store. Are you okay with that?' I think beauty has a unique take on personalization because it really is in the spirit of, let me get you your best shade match or let me give you a better experience.
RTP: Is there anything else exciting going on that we didn't get a chance to touch on?
Bojanowski: Another thing that launched during the pandemic actually, is our partnership with Klarna, the pay-in-4 payment provider. As we think about new clients and new ways clients are shopping, I think that's another piece of that puzzle.