Associates play a crucial in the omnichannel customer experience. They create a face for the brand and use their personal experiences and opinions to guide shoppers seamlessly through the decision-making journey. But with the industry's "great digital shift" accelerated by COVID-19, retailers have had to find ways to use technology to support their people — especially store stylists. That is why Canadian menswear retailer Harry Rosen sped up its digital transformation to bring one-to-one relationships online.

A family institution since its founding in 1954, Harry Rosen has always been lauded for its highly personal service and needed a way to empower customer advisors as all 17 of its stores faced closures during the pandemic. The digital transformation initiative, aptly called "Project Herringbone" internally, was initiated by Ian Rosen, VP of Digital and Strategy and son of CEO Larry Rosen, who took the helm in 2018. Originally a multi-year plan, the project turned into a six-month sprint supported by Bold Commerce.
"We're lucky in that COVID-19 didn't make our plans, it just forced us to make very quick decisions," Ian Rosen said in an interview with Retail TouchPoints. "We knew we couldn't afford to wait any longer, so we trimmed a one- to two-month planning period to two weeks, including weekends. We brought the team together to establish a design architecture and went out with a minimum viable product."
Rosen noted that going to market so quickly without a completely polished experience would normally be "pretty unthinkable." But headless commerce allowed Harry Rosen to be agile and "think creatively" about the experience they wanted to create in a scalable way — starting with new digital selling capabilities.
Customers now can connect one-to-one with their preferred stylists from their homes by participating in online and video chats. Stylists pre-select items based on clients' needs and preferences and then fill virtual shopping carts for them to review. If shoppers begin their journey in a store, they can easily finish it online. Rosen explained that because many consumers don't want to spend a lot of time in stores, clothing advisors can get their sizing in person and then digitally send curated looks for them to review and purchase.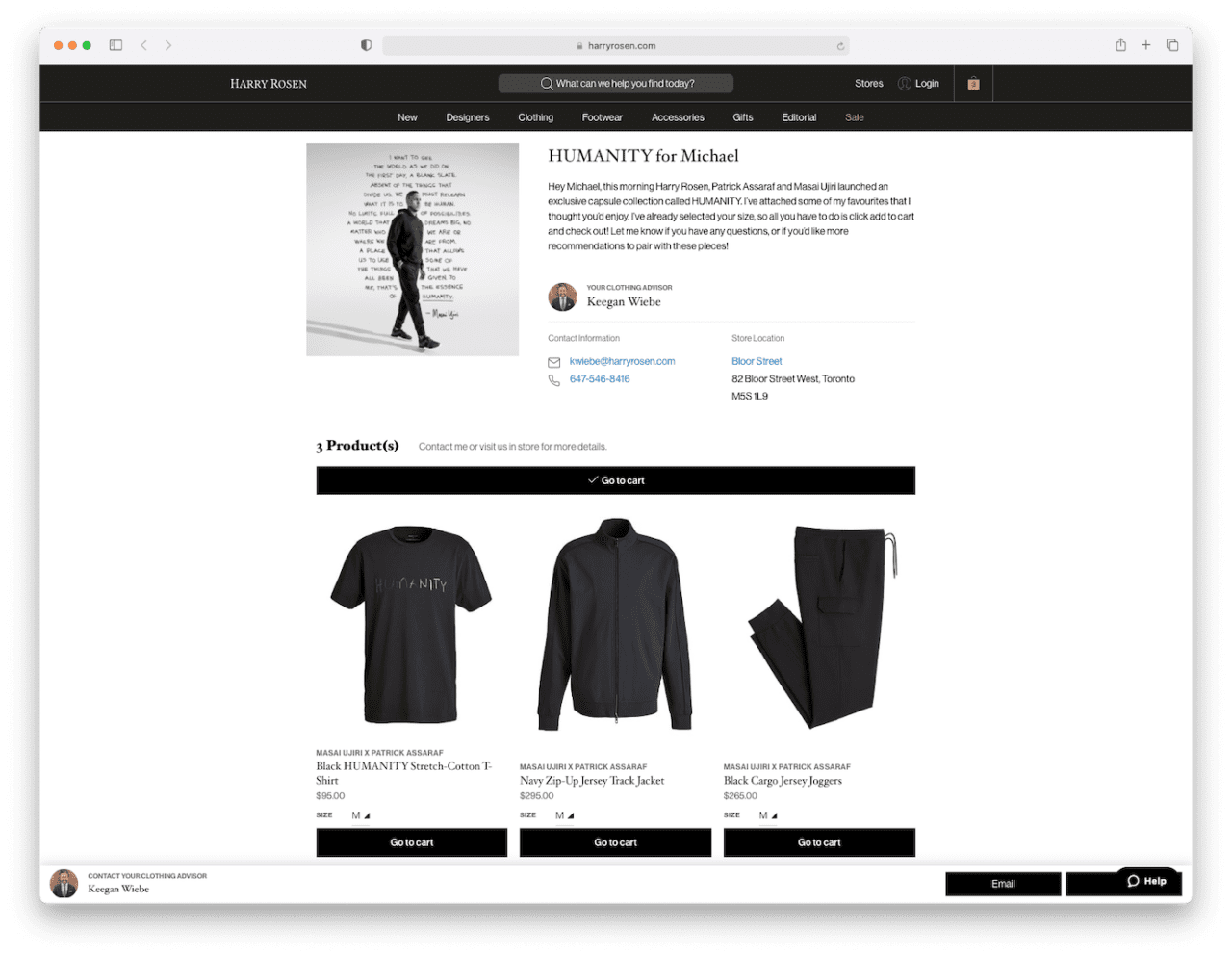 "Headless commerce allows us to say, 'Let's not stop at selling off the website, let's empower our 450 clothing advisors to serve up digital experiences to their client,'" Rosen said. "That's when you start changing the game of what ecommerce is, how you personalize it and leverage your existing assets, including your people and stores."
Designing a Quick, Hassle-Free Experience
Prior to partnering with Bold Commerce, Harry Rosen tried to implement out-of-the-box assisted selling software. However, this solution didn't embed seamlessly into advisor workflows, making adoption a struggle. The retailer was able to design this assisted selling experience end to end so that it integrated organically into stylists' process. And because Harry Rosen offers advisors full commission for client purchases, whether they make a purchase in-store or online, even the most tech-averse stylists have been willing and eager to embrace the digital selling experience, Rosen explained.
"There were a lot of past decisions we made that ultimately benefited us and we'll lean into those," Rosen said. "We don't have to reconsider our compensation models in our store [with this new offering] and that's huge."
Beyond the digital selling experience, Harry Rosen has embraced headless commerce to create a curated and intuitive user experience based on in-depth consumer research. All individual elements are accessible via APIs, so the Harry Rosen team can continue to refine and optimize customer experiences. Key features include one-click checkout for pre-filled shopping carts, expanded payment options such as Alipay and WeChat Pay, a hassle-free returns process, and seamless omnichannel fulfillment options.
"We found the path we were going on wasn't about finding one great software partner. It was about putting together a group of partners that could work together well."

Ian Rosen, VP of Digital and Strategy, Harry Rosen
Rosen believes his team now is truly "future-ready" and can make more data-driven decisions to improve the client journey. For example, the team recently began customizing site merchandising based on top searches versus top page visits. This allows Harry Rosen to promote more top-of-mind products and capitalize on high purchase intent.

With their ongoing partnership, Harry Rosen and Bold Commerce will continue to explore ways to create a fast and seamless experience. "As we spelled out our vision for where we wanted to go with [the checkout experience], this is phase one of a long plan to get customers in and out quickly."