During the heart of the holiday season, experiential toy retailer Camp launched Gift Finder, an interactive tool designed to help site visitors find the perfect gift for everyone — from infants to adults. Now, the Camp team is reflecting on its success and implementing a plan to further improve the product discovery tool for year-round revenue creation.

"We look at average order value (AOV) and conversions on a daily basis across the whole site — and the learnings [for Gift Finder] boil down to the fact that there were higher conversions within this experience than we initially expected," said Rose Seyfried, Senior Product Manager at Camp and creator of the Gift Finder tool in an interview with Retail TouchPoints. "As a team, we had a suspicion that people want little bit-sized pieces of context, curation and help. They want suggestions that are easy to digest and easily presented and clear. I'm confident this experience has proven that."
As a team of one, Seyfried has the unique opportunity to collaborate closely with her peers in the growth team, which links tech and marketing closely together. She focuses on discovering ways to digitally represent what the Camp brand has become known (and loved) for: unique moments of discovery and delight. Gift Finder started as a "seedling of an idea" in Seyfried's mind about two years ago, with the goal of effectively representing the curation and expertise that "sets Camp apart" from other retailers.

"Our in-store experience is so magical and amazing, so one of the big focuses for our website is to really try to bottle that and also make sure we're leading with our offerings," Seyfried explained. "In addition, we need to be very clear from a UX standpoint and make sure people understand where to go, what to do and what's offered, without clouding the journey. My day to day is focused on figuring out how the tech and the product work together to fuel our entire ecosystem."
Bringing People to Hone Ecommerce Curation
Historically, Camp has used long-form and high-value content, such as gift guides and blogs, but Seyfried believed there was a better way to integrate this knowledge and discovery into the organic shopping flow online. She wanted to make sure the Camp value proposition was "surfaced in a way that was going to really serve the user," and a key vehicle for this has been product discovery questionnaires.
While these are certainly not new to the ecommerce world, the Gift Finder was designed to hand-pick a robust combination from more than 600 items for different age groups: 0-2, 3-5, 6-8, 9-12, teen and adult. Visitors need to answer only one question to get a fair share of results, but the more "data" they share about their needs, the more targeted the list will be.

Within each age group's product results, there are Staff Picks, helpful tips and quips created by the Camp team. Additionally, prompts have been tailored based on how individuals are more likely to shop for these specific ages. For example, those shopping for an infant may want to focus on practicality and development, whereas individuals shopping for a teenager are more likely to search for fun gifts that align with their likes and interests.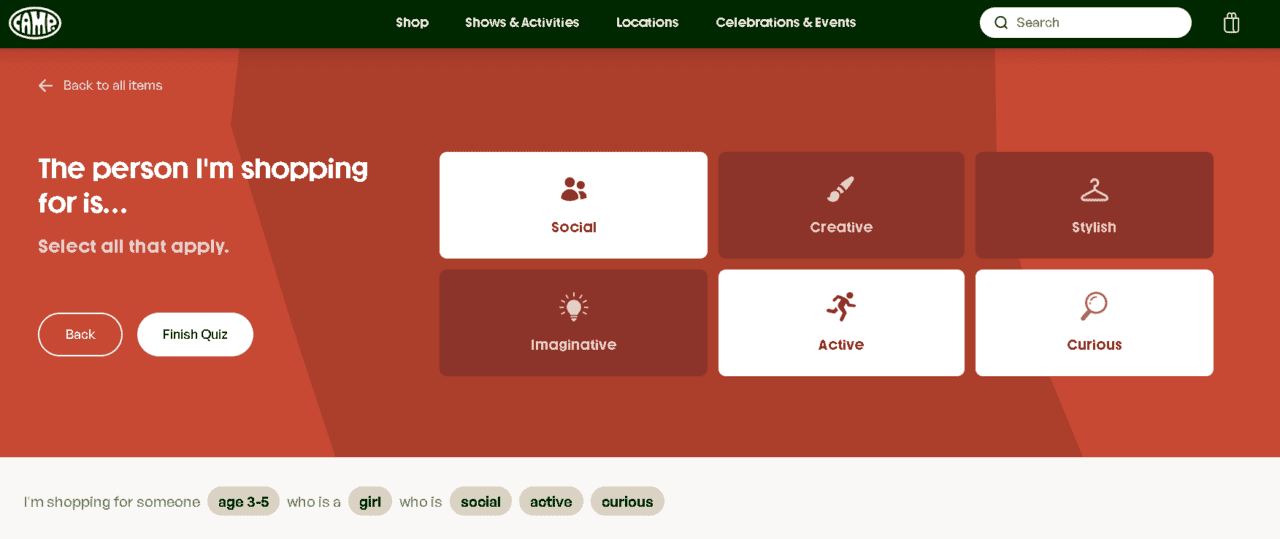 "We wanted it to be an additive experience and we didn't want it to feel like we were asking a lot of our users; that's why with one tap, you already start getting results," Seyfried explained. "There are some robust quizzes out there that are really cool, but I think there is a tendency among consumers to be a little wary of how much work they have to put in to get something out of it. That's why it was important to me that we had this layer on top of our shopping experience that would help them narrow down results but also give them some of the editorial context that we like putting out into the world."
Because the Gift Finder includes so many different products and possible "end states," Seyfried first focused on building the engine of the tool. She collaborated closely with the merchandising team to uncover priority items for holiday and then tagged items based on category, collection and other keywords, which required a lot of data entry and sorting.

After uploading the 600 products, they began to play with the engine and crafted a set of results based on the different age groups and inputs. Seyfried used decision trees to craft different scoring methods to ensure that each question asked resulted in viable results and recommendations. "In parallel, we were flushing out the UI designs to make sure it was prominent but not prohibitive in the overall user experience, and that we could get people to the quiz effectively," Seyfried added. Camp implemented a robust marketing approach, including email and advertising, to promote the tool and drive engagement.
Turning a Holiday Initiative into an Evergreen Offering
The timeline from concept to a most-viable-product (MVP) was tight, but after seeing the success of the tool during the holidays, Seyfried and her colleagues opted to make this a year-round offering that would constantly be improved and expanded into the ecommerce experience.

"We have a lot of qualitative feedback and a lot of people who have been very positive about it," Seyfried said — but of course that doesn't mean there isn't room for improvement. "We can always be better and always be upping our numbers, so there are plans to evaluate and see where we can make changes and optimize things."

Making the Gift Finder tool a reality required input from many different players. The process validated the ongoing need for cross-functional collaboration and including team members across the entire organization for input.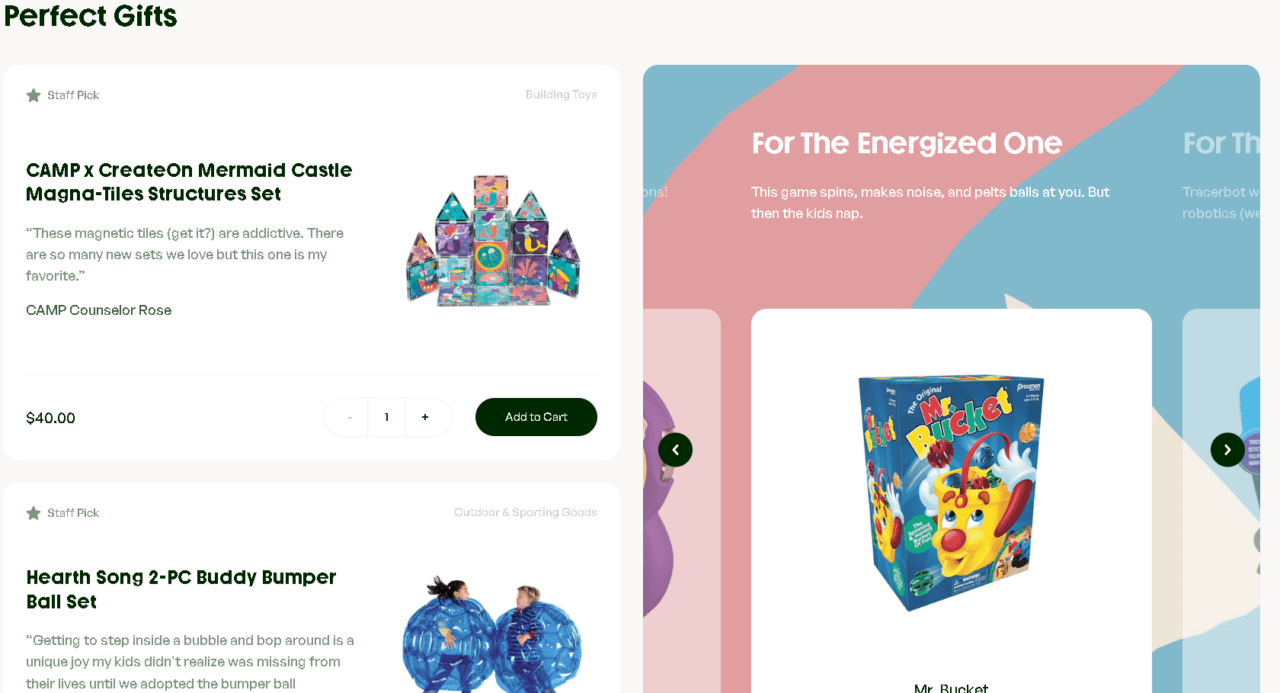 "The cool side effect of this is that it forced all of us, including our merch team, to articulate why we have certain items [on our site], why we chose them and what we love about them," Seyfried said. "Our team always has that in mind when they're talking with vendors, but it doesn't always get to the customer. The actual exercise of sourcing all that insight and putting it together was a great alignment tool for us."

Seyfried is especially excited to bring Camp "counselors" deeper into the curation and content creation process moving forward. After all, they not only have deep product expertise but also close connections to the customer. "It's really important to me that Staff Picks are real and come from our counselors, whether they're from Camp corporate, Camp Labs or our stores," she said. "I would love to spend more time in the stores talking to our counselors, and I'd love to build that into our process because they are so knowledgeable."