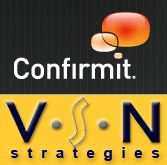 As the consumer becomes more empowered, with the help of technology and social media, retailers need to rethink their strategies in order to successfully engage today's shoppers in a meaningful way, and ultimately retain their business.
In a recent webinar, titled: Digital Disruption and the Retail Experience, executives from VSN Strategies and Confirmit discussed the role of Big Data in the process of understanding the shopper experience and how mobile solutions are required in order to gain the most leverage out of customer feedback.
"Consumer products and retailing are evolving into a new normal," said James Tenser, Founder of VSN Strategies. "It's marked by vastly more information, but systematically has less control. That sounds ominous, but I think it's not. I think it's more of a sign of opportunity than a source of concern."
Retailers have somewhat lost their sense of control of the shopper experience with their brands due to the expanding digital and social world. The data retailers collect from consumers has not only grown exponentially, but has become faster as well. Two statistics that bring these trends to light include: Walmart conducts 1.2 million transactions per hour; and Google delivers 246 million searches per hour.
"Keeping these big numbers in mind, we can think about the implications for the retail establishments and the brands that we manage to help create this powerful context behind all of our merchandising and marketing efforts," said Tenser. "So we're in the discovery process now of how fast data penetrates the selling proposition at retail both in-store and on the web and every moment of truth along the way."
The best way to break down a shopper's experience is to evaluate it through the five pillars of the SCAMP model, according to Tenser. Analyzing the shopper's reactions within each of these parts of the experience helps retailers better organize and understand the vast quantity of data that is being pumped into their database.
SCAMP stands for:
Service
Convenience
Ambiance
Merchandising
Price
"Today's in-store experience is permeated by a mist of digital, mobile and social experiences," said Tenser. "So how do you manage these huge factors in a world where shoppers are showing up at your store pre-exposed and pre-decided? A good start would be to understand the shopper's digital experience when it comes to these five pillars."
Leveraging Mobile Enhances VOC Programs, Engagement
As many as 6.6 billion adult consumers around the world own a mobile device; and at least one smartphone exists in every household in the U.S. By leveraging mobile devices within a complete marketing strategy, merchants can better engage with shoppers and offer a better customer experience.
"Mobile is the tool that retailers need to use when the customer's feedback really counts," said Miguel Ramos, Mobile Practice Lead at Confirmit. "Your customers like to use their phones on a daily basis to capture life events and their personal insights. Mobile is definitely reshaping the retail world."
Because mobile devices allow shoppers to be constantly connected, it may be the ideal channel for successful Voice of the Consumer (VOC) programs.
"The value of VOC programs, especially when you implement it in engaging and social ways, is that retailers can reduce the cost of generating content and increasing the endorsement of their product," said Ramos. "VOC programs help retailers define their strategy, listen to the customer base and act on that feed to offer a better brand experience."
To learn more, click here to access a complimentary on-demand version of the webinar.