In a year when retailers needed to pull out all of the stops to drive traffic and conversions, the Retail Advertising and Marketing Association (RAMA) acknowledged those who outshined their competitors with innovative marketing with the 2009 RACie Awards, as part of the 2009 Retail Advertising Conference in Las Vegas.

Broken down by advertising medium, the awards recognized retailers who thought outside the box in 2008. Kohl's reigned supreme with ten honors, most notably for its "Life In Rythym" campaign, which outdid its competitors in the newspaper, outdoor, TV spot and multimedia categories. Kohl's "Simply Vera by Vera Wang" campaigns also made waves in the magazine, private label and multimedia sectors.
Best Buy was a top player thanks to its "BlueShirt," "Geek Squad" and "True Stories" campaigns. The electronics retailer dominated the digital interactive and multimedia categories and took home silver honors for innovation. Best Buy was also awarded the top honor, the Peter Glen Award for Community Service for its BlueShirt Corps Cause Marketing Initiative.
Office Max's "Elf Yourself 2009" campaign brought back the laughs in the digital interactive and digital media Web categories. The office supply retailer kept the humor in full swing with its "Back-to-School Penny Pranks" TV spots earning Gold honors in the multimedia category. Office Max also earned silver honors in the private label packaging category for its 4WRK brand, and took home bronze honors for innovation for its "Fashion Week Lounge."
Walmart and JC Penney were each acknowledged with three honors—Walmart for its Christmas TV spots and JC Penney for its digital interactive promo, gift card innovation and "Back-to-School High School" TV spots. Target earned recognition for its innovative gift cards, one that doubles as a digital camera and the magic gift box gift card. The Target GO International campaign won bronze honors in the digital interactive category.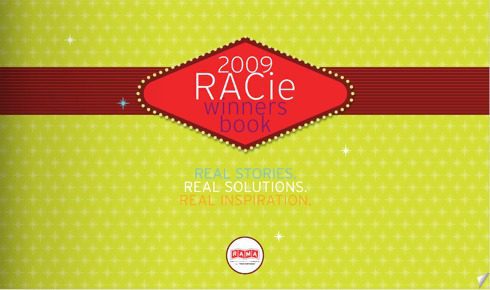 Other winners in the TV single spot categories include The Home Depot for the "It's Time" Olympics commercial. Circuit City's "Mixed Signals" spot earned recognition, as well as Build-A-Bear Workshop's "Wish" spot. The single media print campaign category honored Saks Fifth Avenue for its "Great Gifts—the Conundrums campaign, as well as Toys "R" Us for its holiday campaign.
A detailed look at this year's winners is available via the RACie Winner's Book, an interactive guide to the top campaigns in retail.