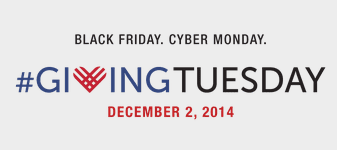 Now in its third year, #GivingTuesday has gained the support of several big-name brands and retailers, including The Avon Foundation For Women, Dell, JCPenney and Walgreens. Taking place on Dec. 2, 2014, the charitable event now has more than 18,000 dedicated partners in the U.S. and thousands more in other participating countries.
First implemented by the New York 92nd Street Y and the United Nations Foundation, #GivingTuesday was established in response to the commercialization and consumerism prevalent during the holiday season. Characterized as a worldwide movement, #GivingTuesday encourages brands, businesses and consumers to drive change within their communities.
The rising popularity of #GivingTuesday alludes to consumers' increased desire to contribute to social causes, especially during the holiday season. In fact, Black Friday and Cyber Monday shoppers are 11-fold more interested in charitable giving than normal Internet users, according to research from Exponential.
Below is a breakdown of how brands and retailers are celebrating #GivingTuesday:
The Avon Foundation For Women has pledged to raise money to benefit domestic violence organizations this holiday season in partnership with the National Domestic Violence Hotline. Consumers can donate to The National Domestic Violence Hotline and the Avon Foundation will match every donation made, up to $500,000.
Dell, the United Nations Foundation and Rapid7 will host a #GivingTuesday happy hour and #UNSelfie station to drive awareness of the day and generate support for UNICEF, Boys and Girls Club, Girl Scouts and the Ronald McDonald House.
Evereve, a women's fashion retailer, is partnering with the global microfinance organization Opportunity International to launch the "Giving Is Hot" campaign. Starting on December 2 and extending through the end of the month, $10 from every pair of jeans sold in stores or online will go toward a loan for a female entrepreneur overseas to start her own business, provide for her family and transform her community. Donations will be matched by fashion retailer CAbi and Minneapolis-based marketing agency Latitude.
The Family Dinner Project will kick off #familydinnerforward, a campaign and contest crafted to inspire families to give. To participate, consumers can snap a dinner and giving-related photo and share it via Twitter or Instagram using the hash tag #familydinnerforward. All photos tagged on Twitter or Instagram with #familydinnerforward between December 2 and 16 will be entered to win Lenox prizes.
JCPenney is helping military families and children in the U.S. through the United States Organizations and Boys & Girls Clubs of America. JCPenney will invite children from local Boys & Girls Clubs of America to visit a JCPenney store and take part in a special shopping experience that allows them to select gifts for their families while being treated to a photo opportunity with a local hometown celebrity. JCPenney also will make a $50,000 donation to Boys & Girls Clubs of America and a $50,000 donation to the USO. During December, the retailer also will invite all shoppers to round up their in-store and online purchases to the nearest dollar and donate the difference to JCPenney Cares. Customer donations will fund programs that support military families through the USO and Boys & Girls Clubs of America's affiliated Youth Centers on U.S. military installations worldwide. JCPenney is encouraging followers to share images of their holiday giving occasions on social media using #JustGotJingled. Participating JCPenney stores are in Kansas City, Seattle, Atlanta, New York City, Dallas, San Diego and Los Angeles.
JOHNSON'S Baby is working in partnership with Academy and Grammy-Award Winning artist Jennifer Hudson and Save the Children to donate essential resources, including JOHNSON'S baby care kits and a special grant to help moms raise their babies. People can participate by creating baby care kits for a family in need and share how they are giving back on social media using the #MoreHandsMoreHearts hash tag.
Numi Organic Tea has joined #GivingTuesday to raise money for a new initiative with charity: water. With the program, called "Together for H2OPE," Numi Organic Tea is asking consumers to share moments of gratitude for access to clean, safe water on Twitter and/or Instagram with the hash tag #4H2OPE. For every individual who shares their #4H2OPE moment on December 2, Numi will donate five dollars to charity: water.

Walgreens, in collaboration with the United Nations Foundation, will donate the value of one pneumonia vaccine to Shot@Life for every pneumonia vaccine administered in its pharmacies between November 28 and December 2. Donations received during the five-day period — up to $25,000 — will be matched by the Bill & Melinda Gates Foundation.
Click here to learn more about #GivingTuesday and its partners.