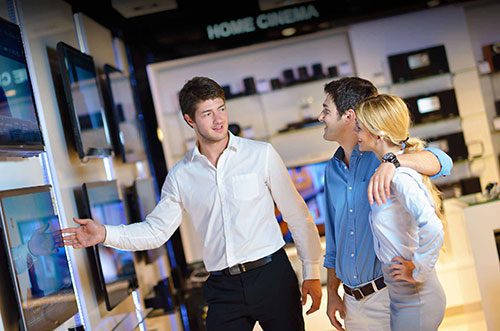 A common modern retail myth is that customers do not want sales associates to approach or interact with them unless they are specifically sought for. This fable is now shattered, according to a survey titled: Impact of Sales Associates on the Shopper's Purchase Journey.
The survey, conducted by Grail Research for Mindtree, shows retailers the opposite of the traditional tale: increased interaction, combined with appropriate training and automated technologies, lead to a positive uplift in shopper value. In fact, shoppers rely on interaction with sales associates to make purchasing decisions, especially in more complex product categories like consumer electronics, home improvement and others. When customers receive help, it leads to significant increases in transaction amounts as well as in repeat purchases.
Key survey findings include:
43% of shoppers who interact with a store associate are more likely to purchase a product, and their transactions have 81% more value compared to those who don't interact with an associate;
12% of these shoppers are more likely to revisit the store; and
91% of sales associates strongly agree that positive interactions with shoppers result in higher conversions, yet 94% feel this requires more advanced technology tools and training that they currently don't have access to.
Conversely, shoppers are less likely to make a purchase if they are not reached out to proactively by a store associate. According to the survey, 40% of shoppers are unable to locate a store associate when they need help during a typical shopping trip.
Employees Are Valuable Assets, But Only If They're On The Floor
Sales associates are aware that their influence leads to more sales conversions. However, their efforts are spread thin — they assist both serious shoppers and casual browsers, reducing their efficiency and conversion ratios.
"Sales associates have a daily challenge of balancing operational activities and attending to shoppers," said Gaurav Johri, SVP and Head, Platforms and Solutions Group for Mindtree. "On average, a sales associate spends 50% to 60% of the time in operational tasks (inventory management, stock replenishment, etc.) making it very challenging for them to serve shoppers at all times. Given the cost pressures, adding more sales associates is not an option. Rather, retailers can leverage technology tools and mobile devices to proactively assist shoppers in a timely manner."
Technology And Training Are Paramount
The survey identified a gap that exists in terms of assistance provided in the store. Associates would like to have access to technologies that help identify shoppers in need of assistance, improving their productivity. However, few brands have capitalized on this need.
Companies should identify an automated technology platform that has the ability to:
Notify sales associates to locate and target the right shopper once they have entered the store;
Share recommendations on additional products based on product category; and
Provide timely training on new products and features.
"There is no question about the importance of training in ensuring store associates are equipped to deal with today's highly informed customers," Johri said. "However we need to also recognize that the old fashioned methods of training store staff need a relook. Store associates are younger, have shorter attention spans and are very comfortable consuming short burst content on their mobile devices. At the same time, the need to frequently train associates on a wide range of hard and soft skills is even greater. Adopting technologies like personalized mobile micro learning will help retailers achieve a much higher degree of training effectiveness."
A key focus of in-store technologies should be enabling the right store associate to serve the right shopper, at the right time. "The most significant implication of the study is that retailers need to make the store associate an integral part of the customer engagement and omnichannel strategies," Johri said. "The tradeoff is not between digital technology and human interaction but rather equipping store associates with digital technology to deliver a great customer experience.
"A key part of successful omnichannel retailing is all about delivering timely and helpful recommendations to shoppers that help them feel more confident in making a purchase," Johri added. "There is a huge untapped opportunity for retailers to increase conversions and enhance customer loyalty in the store."